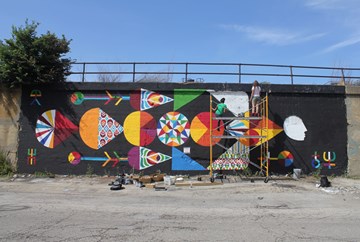 By: Sophie Nibbio
July 17, 2017
"Cities that are culturally alive and vibrant are cities that are succeeding," Mayor Rahm Emanuel said as he kicked off Chicago's 50x50 Neighborhood Arts Project, which will create new sculptures, murals and other public artworks in each of Chicago's 50 wards this summer and fall. The $1 million program celebrates 2017 as the Year of Public Art and is "an investment in Chicago's neighborhoods.
"I think this is a tremendous way to support not only our artists but for that engagement of a community with the artists, that live in that community, that work in that community, that have died in that community to give something to enrich that neighborhood," Mayor Emanuel said during the June 22 press conference at the National Museum of Mexican Art in Pilsen. "In every neighborhood in Chicago there are talented artists, working across all mediums, who can add to the cultural fabric of their communities."
Joining Mayor Emanuel at the press conference were heads of city departments: Department of Cultural Affairs (DCASE), the Chicago Park District, the Chicago Transit Authority (CTA) and the Chicago Public Library.
"The 50x50 Neighborhood Arts Project was initiated to enhance the quality of life throughout Chicago— and to celebrate the legacy and future of Chicago's public art," said DCASE Commissioner Mark Kelly in prepared material. The 50x50 Neighborhood Arts Project has also teamed up with the Chicago Department of Family and Support Services (DFSS) to create opportunities for a Public Art Youth Corps paid internship program as part of One Summer Chicago.
One goal of the 50x50 Neighborhood Arts Project is to celebrate each neighborhood's unique diversity. Artist Sam Kirk, who will be working with Ald. Carlos Ramirez-Rosa in the 35th ward, said that ward is "historically a Puerto Rican neighborhood and now it's become a lot more diverse so I know that they're looking to have something that celebrates not only where the neighborhood has been, but where it's coming to, so we're going to be doing a lot of work looking at the history of the ward and all of the different ethnicities that are there."
The Year of Public Art celebrates the 50th anniversary of both the unveiling of the Picasso sculpture in Daley Plaza in 1967 and the Wall of Respect that once stood at 43rd Street and Langley. Chicago's public art collection now includes over 500 pieces at more than 150 municipal facilities including police stations, libraries, and CTA stations across the city. One reason is the Percent-for-Art Ordinance passed in 1978 and administered by DCASE, which stipulates that 1.33 percent of the cost of renovation or construction of public buildings be used for public art.
CTA and DCASE will partner to install illuminated light boxes at select stations this year as part of the Year of Public Art. CTA's art collection has doubled under Emanuel, city officials said, and now includes 60 mosaics, art glass and sculptures on all eight rail lines.
The city's public art collection also encompasses the Chicago Park District – where people especially connect with it, said artist Cheryl Pope.
"I think this is such an opportunity for young people to look around the city of Chicago both in their neighborhood and as they traverse and go to other neighborhoods to learn about themselves through the reflections of the stories of the city," said Pope, who will be working in the 48th ward with the 50x50 project.
"In my studio I have a statement from Muhammad Ali that says 'what you are thinking is what you are becoming.' I think with the young people in the city, 'what you see is what you are becoming.' "