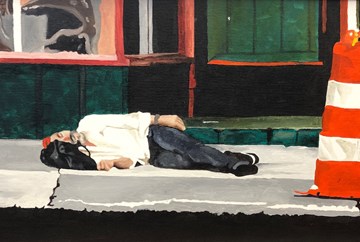 By: Chijoke WIlliams
September 9, 2019
Art is a transformative force in and of itself, as well as an undeniable platform for change. Those with the ability to convert blank potential into stunning actuality are few and far between.
We call these people artists.
Those who can take the same transformative ability and apply it to their community, revitalizing and changing, are rarer still.
We call these people leaders.
Jonathan Romain sits comfortably on the intersection of these two identities. The Peoria native has been a professional artist for more than 20 years and dabbled with art in his youth as well. His first artistic earnings came in 1983, when Romain won first place in the Buckingham Fountain Art Fair at the age of 15. Though the judges were impressed by his work, Romain found it lacking in comparison to other artists. As a result, he didn't fully devote himself to his work until some time later.
Two weeks after graduating from Bradley University in 1990, Romain began serving a 15-year sentence on drug charges. While in prison, he refamiliarized himself with art and, pushed by the twin motivations of love for art and fear of destitution, decided to pursue it professionally.
"Coming out of prison pursuing art was one of the most challenging things I ever did and worth all the sacrifices I ever made." Romain said. While he enjoys most media, he tends to prefer oil painting because of the flexibility and forgiveness it offers.
Today, Romain has earned wide acclaim, and has run a gallery in Chicago for 10 years. He even travels to art shows every month to sell his paintings across the country.
He has also made a project out of capturing the homeless experience. "I've been photographing homeless people for 20 years now, and I often wonder about the stories behind them... Everybody comes to that point in their own unique way."
"People look at homelessness in a vacuum, when I personally think that if you make a wrong turn, the wrong decision....things can spiral so far out of control that you lose all grip on reality… You can find yourself in predicaments that otherwise you would never dream you would be in.
"I think back on the book by Ralph Ellison, "Invisible Man." That story is precisely about what I'm saying, a guy who started off with a lot of promising things going on in his life ended up, through no fault of his own, being homeless in New York City. This guy was a human being among millions of people every day...and nobody saw him."
Romain plans to take his series of photos further, converting them into a series of paintings. Clearly, transformation is a defining theme in his life.
Springboarding from his successful gallery in Chicago, Romain is turning his creative vision toward growth and entrepreneurship. The artist bought an old Peoria school from the city for $30,000, and plans to convert it into an art studio and community space.
"I want to bring artists in to fill the space up with energy and creativity. The objective is to create a mecca of creativity," he said last year in an interview with the Peoria Journal Star.
"I want to get young people thinking about entrepreneurship. I want them to start looking at themselves for answers," he added.
Romain has been an influential force in Chicago and Peoria's art scenes for years. Now, with his efforts turned toward community arts and inspiring a new generation of  youth toward entrepreneurship, the intersection of art and leadership is soon to become much more crowded.
Jonathan Romain is the featured artist for the 2019 "Homeless Online Art Bazaar," a collaboration between Chicago artists to end homelessness.
Visit: www.Homelessonlineartbazaar.com