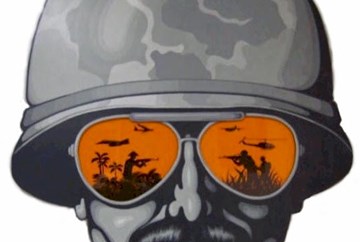 By: Stella Kapetan
November 11, 2019
When 75-year-old Forest Park resident Maurice Costello returned from Vietnam in 1968, he tried to cope with his memories of the horrors of combat by suppressing them.
"I was trying to put the war out of my head completely, to pretend I never went," Costello said. This led to years of drug and alcohol abuse and a life with no direction. But his passion for creating art helped him find peace.
"I'm content - if not very happy - of where I have gotten to," Costello said. He has chronicled his wartime experiences and journey to the present in a collection of his artwork for the exhibit "Maurice Costello: Back to 'The Nam'" at Chicago's National Veterans Art Museum. It runs through Jan. 25, 2020.
Recently at the museum, Costello recalled fun-filled days and earning good grades in school while growing up in Clinton, IN, with his parents and two older brothers.
"I'd go to the park all the time," Costello said. "I'd play baseball and basketball. I spent summers at the pool." In second grade, he made his first drawings: religious pictures he gave to the nuns to stay on their good side.
"I learned early on if I drew holy pictures I could avoid the ruler," Costello said. After he finished high school, he did layout and original drawings for a print shop, followed by a stint running a printing press at R.R. Donnelly & Sons. Although he was not thinking of art as a permanent career, he tried to get transferred to their art department but was unsuccessful.
Life took a turn that would profoundly change his life in February 1967 when he was drafted and then shipped off to Vietnam.
He was assigned as a mortar man and went on missions with the infantry where he provided them with heavy cover during many battles, including the TET Offensive (surprise attacks by Vietnamese rebel forces in January 1968) – one of the war's bloodiest and longest.
Costello was discharged and returned home in July 1968 to R.R. Donnelly and got married. The job and marriage were over in less than a year. He drifted into the hippie movement with its drugs and alcohol lifestyle.
"I bummed around for awhile," Costello said. "I didn't want to deal with reality for awhile." It was only years later that he realized these feelings and behavior were effects of his war experiences and the negative reaction many Americans had to Vietnam veterans, which led him to keep his war service to himself.
"You didn't want to talk about it with somebody who maybe would want to call you a baby killer or warmonger," Costello said.
Costello began to question the reasons the United States had gone to war, his role in it and if he should have participated. He attended some anti-war rallies, albeit halfheartedly.
"I'm kind of protesting but not a sign carrier," Costello said. "I didn't feel like getting into anything. I went to rallies because there was going to be drugs and music."
He drifted from job to job until in 1974 at age 30 when he had a yearning to return to art and enrolled in Indiana State College.
It was here that he started to rebuild his life when he met Cathy, a fellow student and the woman who would become his wife in 1976.
"She turned me around," Costello said. "I had a real reason for going on. I had a purpose for living." It was with this devotion to her and their children Bethany and Neil that he quit drugs and alcohol cold turkey.
He went on to teach middle and high school art in Indiana and became a guidance counselor for 23 years, eventually becoming the director and earning a Master of Fine Arts. Although he put painting on a back burner while concentrating on his career and family time, he managed to paint five murals of student life throughout the high school where he taught. He retired in 2007.
Costello returned to his love of creating art in 1999 at age 55 when he entered a contest to design a T-shirt for a Vietnam veterans reunion that was in town. Although his portrait of himself as a soldier didn't win, he expanded on it and won honorable mention at a local college competition. The peace he felt throughout the creative process freed him to talk more about the war with his family and led him to paint four more self-portraits that make up the exhibit piece "Autobiography." The series portrays his progression from a small town, naïve teenager before the war to the content man he is today.
Each 4 by 3 1/2 foot portrait is Costello's stoic face that dons a pair of glasses with sheer lenses that contain images of people and objects in black silhouette that represent Costello's life and society at that time.
The first is of 19-year-old Costello before the war "carefree driving in my Corvette with the top down," and other scenes of adolescence set in lenses with a reddish tint because "I looked at the world through rose colored glasses," he said.
It is followed by Costello as a soldier wearing a helmet while an American and Vietnamese soldier shoot at each other in orange lenses that symbolize Agent Orange. Costello's mood during his hippie period around age 25 in the late 1960s is captured in the blue tone of his skin, below-chin-length hair, facial hair and round glasses that contain images of Jimi Hendrix and a National Guardsman representing the Kent State shooting.
The healing Costello found with his family is depicted in the fourth work through his warm, tan skin tone, and a color photo of Cathy holding their young children. The lenses are sheer because "...I'm in the present and the present is real to me," he said. "There is no need for blue. The blue is gone. I'm feeling good about reality. I'm into my family. They are it. Family is as good as it gets. All about that other stuff is in the past. It shows there is hope, there is light at the end of the tunnel."
Today's good life is portrayed in the final installment. Costello sports a slight grin and a cream color fedora because "I always wear a hat now," he said. The Chicago skyline and his Florida home are in reddish lenses, similar to those in the teenage, pre-war self-portrait. "I've come full circle. I look at the world through rose-colored classes again," he said.
Although Costello had questioned during his hippie period if he should have resisted the draft, he now has no regrets about going to war. "I'm at peace with my role in it. I got drafted and went. I did what I had to do to survive and help my buddies stay alive." But he is still "not necessarily OK with the country's role" in it. He and Cathy traveled to Vietnam last year "to forgive and seek forgiveness. We were the aggressor. We were in their country. If someone came here you wouldn't roll over and play dead. When you look at it from that perspective you can forgive," he said, adding that he also found the forgiveness he had sought.
Costello hopes the "Autobiography" inspires veterans of Vietnam and other wars who have not yet found peace: "I wanted to show there is hope for a person who went through what I went through and be OK. If a person was in Vietnam and they haven't found hope yet. Life can be good again."
See the "Autograph" and Costello's other artwork at National Veterans Art Museum, 4041 N. Milwaukee Ave., Chicago, 312-326-0270, nvam.org