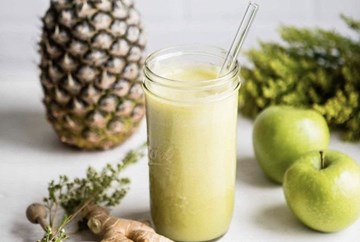 By: Sydney Wirtz
December 9, 2019
In the Chicago pedway on Randolph, vendor Steve Garron went to Balú Smoothies and More. They sell healthy smoothies and protein shakes for a very fair price. A 16-ounce smoothie is $5.99, and a 24-ounce smoothie is $6.99. Made-to-order protein shakes are $6.99.
All the ingredients are organic and have hidden health benefits and extra vitamins. Steve's personal favorite is the Chocolate Thunder smoothie. Some of the healthy ingredients added to this smoothie include cinnamon, ginger, and bananas, which help with reducing blood pressure, treating nausea, increasing energy, and much more. Steve is particularly excited about getting the extra potassium from the bananas.
Even though they are healthy, they still taste delicious. Steve says the Chocolate Thunder smoothie tastes like a chocolate banana milkshake. While he hasn't had one of the protein shakes, he has heard that they are just as tasty, and the protein is an added benefit.
Even if you aren't a member of LA Fitness, you are still welcome to come get a smoothie or protein shake. Steve thinks it's a great option for those working downtown, since it can be hard to eat healthy and affordably, especially at work. You can get one healthy meal a day for less than $10. If you work on the pedway, you don't even have to go outside.
It's easy to quickly grab a shake or smoothie to go, or you can use the lounge, which plays music and has a TV.
Balú Smoothies and More was founded by Brett Axell, who used to manage the LA Fitness where Steve is a member. LA Fitness gave Axell the opportunity to open the smoothie bar on site, which was an entrepreneurial dream of his, he said. He hopes Balú is the first of many.
The smoothie bar has a good and positive environment that welcomes everyone and encourages healthy eating. Steve loves the environment and smoothies, and wants everyone to know about this easy, healthy, and affordable option for lunch that you can even customize if there's an extra ingredient you want to add.
Balú Smoothies and More has plenty of five-star reviews praising the wonderful service and great smoothies, unique in Chicago. If you find yourself downtown and in need of a quick and healthy lunch, Balú Smoothies and More is a place to be.
BALÚ
Location:
55 E. Randolph
Price Range:
Under $10 / per person
Hours:
Monday - Friday
7 a.m. - 9 p.m.
Saturday
8:30 a.m. - 6 p.m.
Sunday
9:30 a.m. - 4:30 p.m.