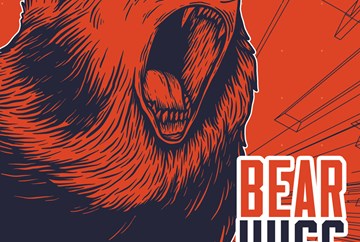 By: Jake Bolling
September 2, 2019
This year marks the 100th season of Chicago Bears football, and to honor their centennial season, the Chicago Bears are supporting non-profit organizations that matter most to the fans and that are making a positive impact around Chicagoland and Illinois.
"The Chicago area has been great to us, so we wanted to give fans the chance to help direct the $1 million in grants towards causes they're passionate about as part of our centennial celebrations to show our appreciation," said Chairman George H. McCaskey. "We're looking forward to seeing the positive impact these organizations will continue to have on those they serve."
"The Chicago Bears have been a part of the fabric of the city for 100 years and we felt it was important for us to continue our commitment to the community by having fans help us identify charities that were important to them," added Bears Director of Community and Alumni Relations Matt Simeone. "It was important to our founder, George S. Halas, to give back to the community and it continues to be important to the Chicago Bears organization today."
The Bears encouraged fans to nominate their favorite charities and local organizations could also apply online. As a result, a diverse committee at the Chicago Bears organization had over 500 applications from which to select nine finalists who would best represent fans and the organization. "There was a lot of discussion and debate because all of the charities were very deserving, but in the end the committee was able to pare down the list to determine the winners," Simeone said.
The Chicago Bears announced nine of the 10 grant recipients for the Bears100 Community All-Pros initiative on July 23. Fans will choose the 10th grantee from among three finalists via chicagobears.com from 10 a.m. Monday, September 16 until noon Monday, September 23.
Each of the nine organizations below will receive a $100,000 grant and be recognized at a home game during the 2019 season:
1.
Habitat
for
Humanity: The mission of Habitat for Humanity Chicago is putting God's love into action. Habitat for Humanity brings people together to build homes, communities, and hope. Habitat Chicago builds affordable homes across the city. In recent years, the organization has focused its efforts on two South Side neighborhoods, West Pullman and Greater Grand Crossing. In West Pullman, the organization has built 18 new, affordable, and energy-efficient homes and is committed to building 46 in all. In addition to building homes, Habitat Chicago also educates future home buyers in home care and community leadership. Habitatchicago.org Game day recognition: August 8 vs. Panthers
2.
Easterseals DuPage and Fox County's mission is to enable infants, children and adults with disabilities to achieve their maximum independence and to provide support for the families who love and care for them. Easterseals.com/dfv Game day recognition: August 29 vs. Titans
3.
Chicago
Furniture
Bank: The Chicago Furniture Bank [StreetWise Vol. 27 No. 16, April 22 - 28, 2019 ] collects donations of gently used furniture and household goods and distributes them to families and individuals transitioning into supportive housing. CFB provides dignity, stability and comfort to Chicagoans moving into supportive housing by allowing clients to hand pick entire homes' worth of furniture. Chicagofurniturebank.org Game day recognition: September 5 vs. Packers
4.
Blessings
in
a
Backpack provides food on the weekends for children who might otherwise go hungry. The nonprofit feeds 87,000 children in 45 states and the District of Columbia. Blessingsinabackpack.org Game day recognition: September 29 vs. Vikings
5.
Hephzibah
Children's
Association
of
Illinois has a mission to help children thrive and families flourish through innovative, community-based programs. The association operates two group homes for children age 3-12: its diagnostic treatment center, where abused and neglected children undergo several months of stabilization and evaluation and its residence, for severely traumatized children who need more time to heal. The children may have had failed adoptions or foster placements and may have lost parents through addiction, chronic illness or mental instability. Hepzhibahhome.org Game day recognition: October 20 vs. Saints.
6.
Gigi's
Playhouse changes lives and provides hope through consistent delivery of free educational, therapeutic and career development programs for individuals with Down Syndrome, their families and the community, through a replicable playhouse model. Gigisplayhouse.org Game day recognition: October 27 vs. Chargers
7.
Midwest
Shelter
for
Homeless
Veterans: MSHV's mission is to end veteran homelessness in northeast Illinois and neighboring communities so that no person who has defended our nation's homes is left behind. MSHV operates shelters; housing for men and women vets; a commissary for free clothing, household items and personal products; an employment program; and Supportive Services for Veteran Families (SSVF), a rapid rehousing and homelessness prevention program in DeKalb, DuPage, Kane, Kendall, Grundy, Will and LaSalle counties. Helpaveteran.org Game day recognition: November 10 vs. Lions
8.
Cradles
to
Crayons provides children from birth through age 12, living in homeless or low-income situations, with the essential items they need to thrive – at home, at school and at play. It supplies these items free of charge by engaging and connecting communities across Chicagoland. Cradlestocrayons.org Game day recognition: November 24 vs. Giants
9.
Cara unlocks the power and purpose within our communities and ourselves to achieve real and lasting success. With bootcamps and businesses that get people back to work, since 1991, Cara has helped people affected by poverty (and often the challenges of recovery, domestic violence, episodic homelessness and incarceration) to get and keep quality jobs and also to rebuild hope, self-esteem and opportunities for themselves and their families in the process. Carachicago.org Game day recognition: December 5 vs. Cowboys
The organizations below are candidates for the 10th grant of $100,000, which will be chosen through fan voting via chicagobears.com from 10 a.m. September 16 until noon September 23. The winning charity will be recognized at the December 22 game vs. the Chiefs. The other two finalists will each receive a $10,000 grant.
10.
Center
for
Enriched
Living exists so that people with developmental disabilities can be fully included in the community, achieve personal success, and enjoy a good quality of life. It sees a future where every person with a developmental disability is an equal, valued and contributing member of the community. Centerforenrichedliving.org
11.
Center
on
Halsted advances community and secures the health and well-being of LGBTQ people of Chicagoland. Its programs range from volleyball, dance performances and cooking classes to rapid HIV testing, group therapy and vocational training. It partners regularly with other organizations and groups from across Chicago and the U.S. to provide additional programming and it serves as an incubator for smaller LBGTQ non-profits. Centeronhalsted.org
12.
Mobile
Care
Chicago: The mission of Mobile Care Chicago is to deliver no-cost medical and preventative care, education and support to low-income children and families within their native communities aboard mobile medical clinics. Its asthma vans have kept children out of hospital emergency rooms and thus reduced school absenteeism. Mobilecarechicago.org
"We are excited to work with the 10 winning charities throughout the upcoming season and learn more about the great work they do," Simeone said.  "It has been an insightful process that has helped us identify organizations that we haven't necessarily been involved with before."
100 YEARS OF TRIUMPHS
Highlights of the 1920s The Bears were founded in 1920 as the Decatur Staleys by George S. Halas. In 1921, Halas moved the team to Chicago, and they won their first league championship as the Chicago Staleys. In 1922, the team was renamed the Chicago Bears. In 1925, Halas signed University of Illinois football star Red Grange, which gained recognition for professional football.
Highlights of the 1930s The Bears won the 1932 NFL championship and set a league record by winning 18 straight regular-season games in 1933-34.
Highlights of the 1940s The Bears revolutionized the NFL by introducing the "T" formation – a fullback and two halfbacks lined up behind the quarterback before the snap -- and won NFL titles in 1940, 1941, 1943 and 1946.
Highlights of the 1950s The Bears won the 1956 Western Conference Championship and played in their first NFL title game since 1946.
Highlights of the 1960s The Bears won the NFL championship in 1963 and drafted Dick Butkus and Gale Sayers with back-to-back first-round picks in 1965.
Highlights of the 1970s Walter Payton set an NFL single-game rushing record with 275 yards in a 1977 win over the Minnesota Vikings and the Bears earned wild-card playoff berths in 1977 and 1979.
Highlights of the 1980s The Bears capped one of the most dominant seasons in NFL history in 1985 by pummeling the New England Patriots 46-10 in Super Bowl XX. They also won five straight NFC Central titles from 1984-88.
Highlights of the 1990s The Bears earned a wild-card berth and upset the Vikings in the first round of the playoffs in 1994, and Erik Kramer set single-season team passing records with 3,838 yards and 29 touchdowns in 1995.
Highlights of the 2000s The Bears captured three division titles, winning the NFC Central in 2001 under Dick Jauron and the NFC North in 2005 and 2006 under Lovie Smith, advancing to the Super Bowl in 2006.
Highlights of the 2010s The Bears reached the NFC title game in 2010 under coach Lovie Smith and won the NFC North in 2018 with a 12-4 record in Matt Nagy's first season as coach.
SPORTSWISE: OUR FAVORITE BEARS MEMORIES
The SportsWise team (vendors Russell Adams, John Hagan, and Donald Morris with guest, intern Jake Bolling) share their  favorite Chicago Bears moment - excluding winning Super Bowl XX!
Jake
Bolling: "I think it was Devin Hester's 92-yard kick return at the start of the Super Bowl in 2007, which gave the Bears an immediate 7-0 lead over the Indianapolis Colts. Even though we lost that game, I remember being so excited, jumping up and down in my living room, screaming with my family. It was the best Bears moment I've ever seen, at least in my lifetime."
Donald
Morris: "The Chicago Bears are doing a lot of great things. We're talking over 100 years and looking at what's going on. My best memory was the runs Walter Payton made during that Super Bowl win in 1985 [22 times for 61 yards, according to ESPN.com]. We talk about recollecting or remembering great moments. Another great moment was Willie Gault's kick. The mistakes were minimal. It's like they forgot the bad team and just put on their A-face. They played an A-game, and that's what I would like to see. You can always look toward the team that won the championship as the team to aspire to."
Russell
Adams: "One of my favorite ones was Walter Payton's 275-yard rushing game [against the Vikings in 1977]. That was a record. It was Payton left, Payton right, Payton up the middle, he was running all over the place. It was so fun because 275 yards, that's a lot of runs man, but I really enjoyed that game because it was against the Vikings. I'll never forget it."
John
Hagan: "I'll take you back to Thanksgiving Day 1980. It was the Chicago Bears vs. the Detroit Lions. Detroit was up by two scores at halftime. The final play of regulation, the Chicago Bears are down 17-10, and the quarterback runs the ball into the end zone and somehow, he does not get tackled. Now the game goes into overtime. On the very first play of the overtime period, the Chicago Bears receive the ball, and guess what Dave Williams does. He runs from one end zone to another for a touchdown return. It was one of the fastest overtime endings ever. That was very exciting.
Jake: The Bears are supposed to be Super Bowl contenders this year. How do you think quarterback Mitchell Trubisky will do this season?
Donald: I feel like he will be focused and on target this season. They seem to be doing exceptionally well during practices this year, according to the coach. Every time the Bears take off their loser mentality and put on their winner one, look out! The monsters of the midway may very well be coming back next year.
Russell: They Bears shouldn't get their confidence level too high. They need to approach this season one game at a time. Don't automatically think about the Super Bowl. Mitchell is great but I'm not sure about him. He was 16th last year in the league for quarterbacks. At the same time, I think that they are going to be OK now, they have a great defense, running back and offense.
John: You can talk about the Super Bowl all you want, but you have to prove it on the field. Even though I like Mitchell Trubisky and Coach Matt Nagy, they need to work like Joe Montana and Bill Walsh.