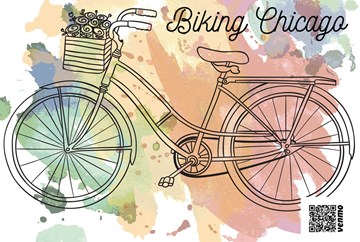 By: Jake Bolling & Suzanne Hanney
July 15, 2019
Don't believe the myth that bicycling is just for the wealthy: 40 percent of American adults who bike have annual incomes under $20,000, according to a study by PeopleForBikes, a Colorado and Washington, D.C.-based industry group that also advocates at the state and national level.
In Chicago, 16 percent of bicycle commuters have incomes between $100,000 and $149,000 but an equal number make under $24,999 annually, according to the nonprofit advocacy Active Transportation Alliance. The largest number of bicycle commuters (41%) make $50,000 to $99,999 and the remainder (27%) make $25,000 to $49,999.
Moreover, 1 in 3 Chicago bicycle commuters (33%) have no other vehicle available.
The largest percentage (61%) are 25 to 44 years old; 21 percent are age 16 to 24 and 15 percent are age 45 to 59.
"A bike is much better than a car," said StreetWise vendor Murry Mills. "When you have a bike, it's like you're free. You don't have to pay for gas, you don't have to pay for insurance or parking either. You just own a bike and you just go."
"It's a game changer, it's opened up a lot of avenues. I don't have to take buses and I save money at the same time," says StreetWise vendor Dean Smith.
Smith rides his bike daily from 15th Street and Wabash Avenue in the South Loop to the Walgreens at 1372 N. Milwaukee Ave., where he sells the magazine from 5 to 9 p.m. weekdays.
Smith rides north on Wabash Avenue to Washington Street, then takes Dearborn Street to Grand Avenue, and continues west to Milwaukee Avenue. He makes the trip to his Wicker Park sales location in less than 30 minutes -- including the time he spends on bridges looking at the Chicago River.
"Don't even attempt to get a bike on a train from 2:30 to 7 p.m.," said Smith, who used to take the CTA Red Line to Jackson and then the Blue Line to Division Street and Milwaukee Avenue. "[The bike] made spending $3 a trip absolutely unnecessary – and every little bit adds up." 
Bicycling Magazine named Chicago the best big city for bicycling in the U.S. in 2001 and in 2012 the fifth most bike-friendly city overall. At that time, Chicago had over 200 miles of on-street bikeways, which are buffers or marked lanes to separate them from motorists. 
Bikeways make streets safer, "because pedestrians and motorists will have a better knowledge of where and when to expect to see bicyclists," Mayor Rahm Emanuel said in the 2012 introduction of his Streets for Cycling Plan 2020. The Plan identified a 645-mile network of on-street bikeways, the largest number of protected bike lanes in the U.S.
"Bicycling is a reliable, fast, affordable, healthy and fun form of transportation," Emanuel said, and his vision was to make Chicago the most bike-friendly city in the nation.
Chicago mirrors trends across the U.S., with 1.6 percent of people here bicycling to work since 2012, compared to just 0.5 percent in the 1980s. Protected bike lanes, bike share and parking facilities would make these numbers grow, according to the Active Transportation Alliance.
Beside improved health for the bicyclists, the benefits are better air quality for everyone, according to the alliance. As Chicagoans make an estimated 125,000 trips daily by bike, they are keeping 47 million pounds of carbon dioxide emissions out of the air annually. Each vehicle mile replaced by a bicycle prevents one pound of greenhouse gas emissions.
The benefits would be greater when biking's share of local trips rises from 1.6 percent to 5 percent of all local trips, according to the Chicago Bike 2015 Plan. This plan sought the continued success of Divvy bike share and completion of a bikeway network – later elaborated in the Streets for Cycling Plan 2020 -- to meet that goal. Commuting was heaviest closest to the Loop, the alliance acknowledged, so expansion could only come by reaching deeper into new neighborhoods.
Divvy will be expanding to all 50 wards, following Chicago City Council approval of a proposal by Emanuel and the Chicago Department of Transportation  in April. With $50 million from Lyft Inc., the new Divvy sponsors, an additional 175 stations and 10,500 bikes will bring the Divvy total to 16,500 bikes at 800 stations.
And for the first time ever, the Illinois long-term capital budget has also included money for walking and biking projects: $50 million annually. The funding would be distributed through the Illinois Transportation Enhancements Program (ITEP), with at least 25 percent dedicated to high-need communities, based on median income and property tax base, Kyle Whitehead of the Active Transportation Alliance wrote on its blog June 10.
The ITEP money could be spent for pedestrian refuge islands, new trails, upgraded crossings, protected bike lanes and other safety infrastructure.
Streets for Cycling 2020 followed public meetings on the North, South and West Sides in 2012, and the formation of nine community advisory groups that identified the best streets for bikeways in their sections. The 645 miles of bikeways planned in Streets for Cycling 2020 include:
•
60
miles
of
Spoke
routes in and out of the Loop such as Clark Street, Milwaukee Avenue, Lake/Randolph Street, Archer Avenue, Vincennes Avenue, South Chicago Avenue and State Street/Wabash Avenue
•
275
miles
of
Crosstown
bike
routes, long continuous paths across the city such as Elston Avenue, Halsted Street and Dr. Martin Luther King Jr. Drive from 26th to 51st Streets
• 310
miles
of
Neighborhood
bike
routes
on quiet residential streets with low vehicle speeds, such as Berteau from Lincoln to Clark Street
The majority of funding for Streets for Cycling 2020 through the year 2015 came from a $32 million Congestion Mitigation & Air Quality (CMAQ) grant matched by $8 million in local funds. CMAQ is federal funding for surface transportation programs that reduce traffic and air pollution.
Smith has already realized an improvement in his personal health from biking to work. He has cut his smoking in half – a pack will now last him three days – since he started bicycling. "And I can't afford cigarettes at $12 to $15 a pack."
Despite five surgeries on his knee, including an ACL replacement from a cadaver and multiple surgeries on his foot, Smith still finds bicycling easier than walking five blocks to the L.
"If I don't like something, I can just leave," he said of the mobility he finds on a bike. "You see things differently because you're in it. Some of the best things in Chicago are free. The lake is the best thing. You might come upon a private party, a couple of hundred people having a blast, with six or seven bongo drums."
Alonzo Hall is another StreetWise vendor who commutes to work by bicycle -- and the CTA. Hall rides from his home near 61st and Drexel to the Green Line at 63rd and Cottage Grove, which he takes to Clark and Lake Streets, then switches to the Brown Line. (Because of his bicycle, he prefers to stay on the elevated platform rather than come downstairs at Lake Street to the Red Line.) He transfers from the Brown Line to the Red Line at Belmont and continues to the StreetWise offices at Wilson, where there is an elevator. To reach Food Stuffs in Evanston, where he sells the magazine, he gets back on the Red Line and then transfers to the Purple Line at its Howard terminal.
Hall bought his bike at a flea market for $150 and has had it for three years.
Smith rides a bicycle he bought from an old friend for $140 paid in $20-installments over seven weeks. The friend told him the bike was valued at $1400 and Smith also bought a new front tire.
For many, a bike goes beyond a mode of transportation. The increased productivity and efficiency a bike provides can open the door to employment, education, better health and self-empowerment.
StreetWise participant John Hicks has his own window washing business in Chicago and uses his bike to transport himself and his supplies from each worksite.
"Here there's no need for a car, so why get one," Hicks said.
"Getting pulled over, violations or parking tickets is too much. A bike is good, there's no headache."
Working Bikes, located at 2434 S. Western Ave. in Chicago, brings the benefits of cycling to people regardless of income, both here and globally. The Chicago 501 (c)(3) nonprofit is dedicated to recycling bikes, fostering bike culture and donating bikes in Chicago, Latin  America and Africa.
With hundreds of donated bikes in its warehouse, Working Bikes' team of expert mechanics refurbish models to be sold to the public or given away. Cycle of Power is their adult donation program, where low-income people receive a referral from a service group or church for a free bike, helmet, lights and lock. Cycle of Peace is a similar program for youth in Chicago. Roughly 1,000 bikes were donated locally in 2018.
"We believe in bikes as tools of empowerment," said Trevor Clarke, executive director of Working Bikes. "They help people set their own schedules and control self-determination. It allows for a little more autonomy in society."
Working Bikes' mission is not limited to Chicago. Its global donation program shipped 6,400 bikes last year to partner groups in El Salvador, Guatemala, Panama, Nicaragua, Uganda, Lesotho, Sierra Leone, South Africa, and Ghana.
Working Bikes' partner, the Village Bike Project in Ghana and Sierra Leone, for example, donated bikes to Mustafa, Yakuba and Dauda last year. The three students all live in Ghana's Sahkpalgu community and must travel four to 10 miles to their respective schools. The boys all love science and math but found it difficult to concentrate at school after walking several hours in the early morning. They used to miss classes because of their long commute, but thanks to their bikes, they are now able to get to school quickly and safely.