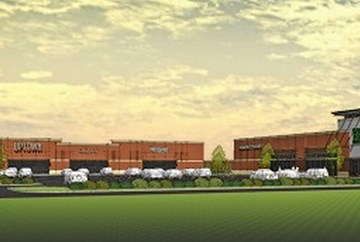 By: Suzanne Hanney
September 26, 2016
It's a Wednesday morning in August and Tyrone Scurlock is visiting the farm stand at Growing Home's Wood Street Farms in Englewood, asking if he can order a case of collard greens for Thanksgiving. Scurlock lives nearby and began eating fruits and vegetables and avoiding fast food last January. At the time, he couldn't walk and could hardly breathe, he said. But now he feels a lot better and his pants size has gone from a 48 to a 43.
Later at Growing Home's 1st and 3rd Wednesday Night Market outside Kusanya Café, 825 W. 69th St., Arica Morgan is selling her Salubria Holistic Beauty Products. A graduate of Kendall College in culinary arts and nutrition, Morgan said she started Salubria because she found maintaining a beauty regimen to be strenuous and expensive while she was in school. Then she realized that many of the ingredients she used in her kitchen could double up on her skin and hair.
Salubria's product line includes triangular soaps in Japanese origami wrap; organic deodorants comprised of coconut oil, arrowroot, beeswax and baking soda; a hair tonic of raw apple cider, mint and green tea, peppermint and rosemary, and more. Marketing Salubria extensively at the night market, online, and at popup stores has become a full-time job for Morgan since the product line launched in May 2015. Before that, she apprenticed at the non-profit Kusanya Café, where executive director Phil Sipka helped her with marketing, mentors, packaging and taxes.
Kusanya comes from the Swahili word "to gather," so the coffeehouse provides more than $1 coffee and $2.50 cappuccino. Conceptualized by Englewood residents who were tired of leaving the neighborhood for meetings, Kusanya opened in late 2013. It seeks to offer handcrafted drinks and food on a par with the best in Chicago: savory breakfast sandwiches like the "Lupe Tobasco" or lunch items such as the "Tuna Turner" or "Mozz Deff," (fresh mozzarella, basil and tomato). Simultaneously, it is a place to find local artwork and music, open mic nights, women's discussions, yoga classes, and business startups.
Kusanya employs five people and Sipka would like to expand that number through broadening the market for fair trade and direct trade Sumatran, Ethiopian and El Salvadoran coffee that the café buys in Bridgeport, then roasts, bags and delivers from next door. The new Whole Foods supermarket opening September 28 at 63rd and Halsted in Englewood has already reached out to Kusanya to carry the coffee, he said. Morgan is also working to bring Salubria there.
Growing Home Executive Director Harry Rhodes was on a task force that started Kusanya in an effort to transform Englewood from a "food desert" to a "food destination." The effort was part of a Quality of Life plan with a specific strategy focused on "healthy lifestyles that include physical fitness, good nutrition and better use of health-care resources." The reason was that Englewood had shown rates of obesity, cancer and heart disease above the city's average.
In addition to Growing Home's weekly farm stand and twice-monthly night market, the task force encouraged community gardens, walking clubs and more healthy food options at small grocery stores. But the neighborhood planners acknowledged that one goal – attracting a full-service store with a large produce selection – would require "additional partners."
Three years ago, Mayor Rahm Emanuel and Whole Foods announced the opening of a store at 63rd and Halsted. In June, city officials said that Whole Foods will also build a $32.4 million warehouse in Pullman to serve the Midwest. The 140,000-square-foot facility will receive $8.4 million in TIF assistance to help pay for site preparation, including grading, demolition and utility installation; it will employ 175 people when complete in 2018.
The nonprofit Community Neighborhood Initiatives (CNI) is doing the site preparation for both the Pullman distribution center and the 63rd and Halsted Street site, known as "Englewood Square." CNI President David Doig told the Chicago Sun-Times that Englewood Square, which will also include a Starbucks, Chipotle, and 10 retail stores, "is a significant project for a lot of reasons. That corner is kind of the epicenter of Englewood, so it's great to see retail returning, jobs created. Our hope is this will seed other development at that corner, then radiate west on 63rd, north on Halsted."
Indeed, the intersection has a station on the CTA Green Line. Kennedy-King College, one of the City Colleges of Chicago, operates Washburne Culinary Institute there. And in the 1920s, when Englewood's population was nearly 90,000, it was the city's second busiest shopping area, according to the Encyclopedia of Chicago.
Rosalind Moore, director of programs at Teamwork Englewood, said that "those in the know and those who know better" believe that the new Whole Foods and companion stores will be "wildly successful," despite "the perception of Englewood as a god-forsaken place filled with violence" as shown in news media coverage of two people killed over Labor Day in the neighborhood's Ogden Park.
"But the weekend before that there was no media when we had the 54th annual Englewood Back to School parade in that same park all day. It was festive and there was no violence at all," Moore said.
"That story you won't see, people outside Englewood will never know that," she added. "We have an annual 5K, an annual jazz festival. There's culture and community, a park advisory council and arts. There's a lot there that people who come and tour are very surprised to see."
The retail/food chains have done their research, Moore said, and are not just focused on Englewood, but on nearby southwest side neighborhoods and surrounding suburbs. Englewood residents themselves travel to the Whole Foods store in Hyde Park or to Mariano's in the South Loop, "so that dollars leave our community." A Teamwork Englewood study estimated this retail leakage at $69 million annually among the neighborhood's 80,000 residents.
Because Englewood has five different members of the Chicago City Council, events tend to just happen without full community awareness. Whole Foods' proactive outreach and meetings avoided this pitfall, Moore said.
"I think Whole Foods is a model for how you enter a neighborhood like Englewood. They did a good job of being inclusive and inquisitive, finding out what the community really wanted and needed and being responsive to that versus just coming in and saying 'We're here and this is who we are. Everybody just get in line.' There was none of that and I think they won the support of the community by doing that."
The foremost desire of community residents, she said, was for local hiring. They also wanted the food to be affordable and for seniors to have a place.
Among roughly 100 employees, Moore has heard that 75 percent are from Englewood. The workforce is not just 16- to 24-year-olds but includes some seniors.
The company accomplished this not just with hiring fairs but through workforce development workshops. People learned how to write a resume, how to apply for a job, what customer service entails. Whole Foods has also offered forums to encourage neighborhood food entrepreneurs to put local products on the shelves.
And it is building local capacity by granting $40,000 in seed money for a Quality of Life Business Plan competition. Entrepreneurs were encouraged to come up with products and services needed in the community. The application deadline was September 15; finalists will make their public pitches December 15.
Teamwork Englewood started as part of the New Communities program sponsored by Local Initiatives Support Corporation (LISC) and the MacArthur Foundation. Its first Quality of Life plan in 2005 coincided with the $250 million Kennedy-King College construction. There was a lot of buying and bidding up property, which many of these speculators were forced to sell in the 2008 recession.
Now Englewood is working on its second Quality of Life plan simultaneous to the opening of Whole Foods. "I think that people who are authentic in terms of seeing growth in Englewood welcome this opportunity. It's a time for homeowners in Englewood to be encouraged to stay and invest, for entrepreneurs who care about this community to build their businesses," Moore said.
Growing Home Welcomes Whole Foods
A Tupac Shakur poem about "the rose that grew from concrete" best describes Growing Home (GH), Chicago's first and only USDA-certified organic high-production farm, says outreach assistant Maria Moon.
By "keeping its dreams," the rose "learned to breathe fresh air…when no one else ever cared." GH not only brings produce to the Englewood food desert, Moon said, it also provides paid job training to people whose barriers – past incarceration, drug addiction, homelessness – would otherwise make it hard for them to focus.
Production assistants can also receive help from Cabrini Green Legal Aid to expunge their records or deal with issues such as child custody. It is one of more than 30 organizations that partners with GH to offer wraparound services. "Someone who comes here feeling hopeless can go from being discouraged to being motivated," Moon said.
Growing Home (GH) production assistants do all the typical farm work: seeding, transplanting, harvesting, washing, weighing, packaging, with an eye to developing precision, teamwork and the pace to meet deadlines. Last year GH's Wood Street Farm, 5814 S. Wood St., and adjacent Honore Street Farm yielded 30,844 pounds of organic produce: 200 kinds of vegetables, baby salad mix to arugula, mustard and collard greens, 40 varieties of tomatoes.
Production assistants have 40 regular customers at the Wood Street farm stand every Wednesday from May to October. They also sell at the Green City Market and Logan Square Market, both summer and winter. And GH is a purveyor to restaurants that use locally-grown food.
After the 14-week program, production assistants move on to jobs across Chicago's food chain. Employer-partners have included Shake Shack, Christy Webber Landscapes, Eataly -- and Whole Foods.
"We see Whole Foods as a good partner," GH Executive Director Harry Rhodes said of the supermarket opening September 28 at 63rd and Halsted. "They have an outreach worker who is from the community. They've been sponsoring community meetings, organizing, getting input from the community for the store, getting people to a job fair. They want people to feel like it's a store of the community, with people like themselves they see working there." There has been a competition for local artists to decorate the interior and the store manager has spoken to GH production assistants about what he seeks in prospective hires.
GH was invited to Englewood in 2005 by a LISC new community team and Teamwork Englewood, which were working on a Quality of Life plan. They saw urban agriculture as a way to link healthy food, physical activity and jobs, Rhodes said.
Wood Street Farm opened in 2006. In 2010, GH and the Chicago Community Trust founded the Greater Englewood Urban Agriculture (GEUA) task force, which includes roughly 80 stakeholders, from aldermen and city officials to urban farm activists. Their focus is to reframe Englewood's empty lots into an urban agriculture district, to use farming and related food businesses to stimulate the neighborhood's economy.
"We're trying to turn Englewood from food desert to food destination," Rhodes said.
Honore Street Farm opened in 2011, the same year that GH helped pass a Chicago City Council ordinance that streamlined urban agriculture. Now the program is at capacity, Rhodes said, training 50 people this year and planning for 60. It is in the predevelopment stage of expanding in Englewood.