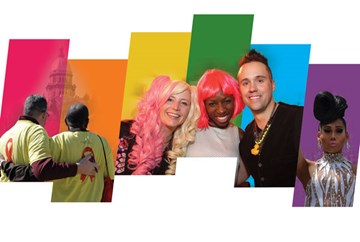 By: Jenni Spinner
June 13, 2016
PITCHING IN AND HAVING FUN
June's Pride Month decks all of Chicago out in a rainbow-colored celebration. There's an endless stream of cocktail parties, dances, street fests—and of course, the colorful, vivacious parade that winds through the neighborhoods.
There's more to the city's LGBT community than fun and frivolity, however. Dozens of organizations provide healthcare, housing help, counseling, legal aid and other support throughout the year. These hardworking groups rely upon volunteers to get the job done.
In between hours spent building HIV/AIDS prevention awareness, helping at-risk youth secure housing, assisting LGBT seniors and other work, these groups celebrate the community and welcome others to join in the fun. If you're looking to become part of the LGBT community, here's how you can pitch in, socialize or both—during Pride Month, and beyond.
HELPING OUT
While all of these nonprofits work to help the LGBT community thrive, many focus on specific areas while larger organizations (such as Lakeview's Center on Halsted) offer diverse types of programming targeting different groups. One of Center on Halsted's specializations is service and social programs for LGBT seniors, a group that's been underserved in the past.
According to Center CEO Modesto "Tico" Valle, the dynamic slate of senior services—from housing assistance, to yoga and movie nights—helps previously isolated citizens find a place in the community.
"Instead of planning for the end of their life, they're actually celebrating and beginning new lives and new friendships," he said.
Volunteer help is vital to nearly all Chicago LGBT groups. Equality Illinois—which promotes equal treatment and social justice through education, advocacy and civil rights protection—welcomes help in a number of areas.
"Volunteers are needed for our educational programs, outreach festivals like Pride and Market Days, and fundraising events, as well as at our annual Gala, with more than 1200 attendees every February," said Michael Nordman, Equality
CELEBRATING
Few LGBT gatherings are as big and bold as the Pride Parade, but they're still lively, enjoyable events. From formal fundraising galas to intimate cocktail hours, these happenings gather likeminded people in a fun setting.
Lambda Legal, a national organization that provides legal advocacy and services, has a full calendar year-round: women's happy hours at a wine bar, the annual Bon Foster gala, its Into the Woods summer bash, and more.
"These create a social gathering for folks to meet, whether they're interested in our social justice work, are active in the movement, or just want an opportunity to socialize," said Crispin Torres, Lambda Legal's community educator.
About Face Theater has at its core a serious mission: promoting awareness of and discussion around sexuality, gender identity, HIV/AIDS and other vital LGBT issues. However, the group gets its point across through entertaining, award-winning theatrical productions.
"The plays are created by members of our community," he said. "They're starring members of our community, and they're going to be about the things that we're currently facing."
BUSINESS AND PLEASURE
Many organizations mix fun and service at events. The AIDS Foundation of Chicago (AFC)—which works to secure healthcare, housing, equal rights and other things for people living with HIV/AIDS; and which promotes HIV prevention—raises funds through its Team to End AIDS athletic training program. Participants secure donations as they train for marathons, triathlons and other races—and as those athletes enjoy the sun and fun of runs on the lakefront trail, they rely on support from others.
"We especially need help, when it comes to T2, from volunteers to support training runs on Saturday mornings and during the week," said Brian Solem, AFC communications director. "That's a big opportunity over the summer."
Some groups help the community (and each other) through social gatherings. The Chicago Gender Society (CGS)—which provides a safe place for participants to explore their gender identity—holds meetings, socials, parties and other events throughout the year. CGS vice president Karen Lynn said these events offer fun as well as support.
"CGS is an organization that many first timers join as a way to get out and socialize," she said. "Just being out with others and sharing experiences is a big step forward."
Whether you want to lend a hand, have a blast, or mix fun and service, these 10 LGBT orgs would be happy to have you. Contact them to learn how you can take part.
ABOUT FACE
What It's About: Using theater to build community and advance conversation around issues of gender identity and sexuality.
Helping Out: Volunteers who help out with shows and production preparation may be rewarded with tickets to plays and the annual gala.
Having Fun: Besides the adult and youth plays produced throughout the year, About Face holds its Wonka Ball
fundraising gala each spring.
Reaching Out: facebook.com/aboutfacetheatre,
aboutface.org, 773-784-8565
AFFINITY COMMUNITY SERVICES
What It's About: Focusing on Black LGBT women and youth, the group tackles health and wellness, leadership development and community building.
Helping Out: In exchange for helping out with office work, event planning and providing services, volunteers may receive heads up on upcoming events, discounted ticket prices for special events and appreciation gifts.
Having Fun: The Affinity calendar features monthly happenings, from meet-and-greets for LGBT parents, drop-ins at churches, leadership networking and dances, and fundraising parties.
Reaching Out: facebook.com/AffinityCommunityServices, affinity95.org, 773-324-0377

AIDS FOUNDATION OF CHICAGO
What It's About: Assisting with medical and behavioral health care, housing, case management and advocacy for people with HIV and AIDS, as well as building awareness and providing resources to prevent infection.
Helping Out: AFC welcomes all types of volunteers, but people with specialized skills such as web programming, graphic design and other areas are especially appreciated. During warmer months, the Team to End AIDS athletic arm relies on volunteers to help at marathon and triathlon training sites.
Having Fun: Calendar highlights include the tasty World of Chocolate gala, the Team to End AIDS athletic/fundraising program; and the August Dance for Life.
Reaching Out: facebook.com/aidschicago,
aidschicago.org, 312-922-2322
BROADWAY YOUTH CENTER
What It's About: Part of Howard Brown Health Center, BYC helps the city's LGBT with shelter, medical care, social services and other essential care.
Helping Out: The center welcomes donations of clothing; single-ride Ventra cards; pharmacy gift cards to help with prescriptions; and personal hygiene goods.
Having Fun: Watch the BYC Facebook page for events; in April, the annual Cupcake Wars is a tasty throwdown.
Reaching Out: facebook.com/BroadwayYouthCenter, howardbrown.org/byc, 773-935-3151
CENTER ON HALSTED
What It's About: Building community and the health of Chicago's LGBT community.
Helping Out: More than 1,000 people visit the center daily to use the computers, seek counseling, explore health services, and tap into housing and employment resources.
Having Fun: In addition to daily social gatherings hosted at the Lakeview location, the Center also throws special events such as the annual On the Red Carpet Oscars party, the spring Human First gala, and more.
Reaching Out: facebook.com/CenterOnHalsted
centeronhalsted.org, 773-472-6469
CHICAGO HOUSE
What It's About: The group offers aid to people and families disenfranchised by HIV/AIDS, LGBTQ discrimination, homelessness and other causes: housing, job services, medical linkage and retention services, and more.
Helping Out: Interested volunteers have many opportunities—stuffing safe sex kits, writing logs, entering data, HIV prevention outreach and more.
Having Fun: In addition to the Spring Brunch and Fashion Show, the group holds events throughout the year.
Reaching Out: facebook.com/Chicago-House-And-Social-Service-Agency-32220649869, chicagohouse.org, 773-248-5200
CHICAGO GENDER SOCIETY
What It's About: Providing a safe place for people to explore their gender identity.
Helping Out: While CGS currently doesn't need volunteers, showing up at events and lending support to other members helps them in their gender exploration.
Having Fun: CGS holds socials throughout the year for members and newcomers to get to know each other and have fun; it also throws special parties like its May Kentucky Derby shindig, December holiday gathering and float in the Pride parade.
Reaching Out: facebook.com/chicagogender,
chicagogender.com, chigendersoc@aol.com
EQUALITY ILLINOIS
What It's About: Advancing equal treatment and social justice through education, advocacy and protection of the rights of the LGBT community.
Helping Out: The group needs help for educational programs, outreach, booth help at Northalsted Market Days and other fests, and various fundraising occasions.
Having Fun: The group's June Pride includes its Tribute Reception dinner party on June 2, and a lake cruise on June 5; other events throughout the year include White Sox outings, attending Broadway in Chicago productions, networking nights and more.
Reaching Out: facebook.com/equalityillinois,
equalityillinois.us, 773-477-7173
GAY FOR GOOD CHICAGO
What It's About: Gathering LGBT individuals to work on service projects throughout the community
Helping Out: Each month, members pitch in on a social welfare or environmental service project. Past outings include sprucing up the Lincoln Park Conservancy's North Pond, packing food at the Greater Chicago Food Depository and helping at a local shelter.
Having Fun: Outings combine service and smiles—as they're working to make Chicago a better place, they're enjoying the sunshine (weather permitting) and making new friends.
Learn More: facebook.com/groups/233430116720985
LAMBDA LEGAL
What It's About: Securing the civil rights of LGBT and HIV-positive people through education, legal work and public policy advocacy
Helping Out: The group leans upon helpers for office work, at Lambda Legal events, information booths at summer street fests and more.
Having Fun: Lambda Legal hosts a monthly happy hour for women, as well as annual events like the Into the Woods outdoor party, Bon Foster gala and more.
Reaching Out: facebook.com/lambdalegalchicago,
lambdalegal.org, 312-663-4413