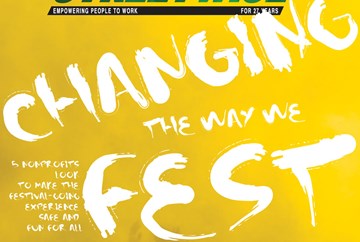 By: Jake Bolling & Lacey Latch
July 29, 2019
Music festivals are a huge part of Chicago's summer calendar and an amazing opportunity for people to have fun and come together as a community. In recent years, this sense of community has been bolstered by the presence of local nonprofits and charitable causes at some of the world's largest music festivals. Bonnaroo, Coachella and Lollapalooza have all sponsored numerous initiatives advocating for social change at their events. Mental health, anti-harassment, environmental awareness and sobriety now have a place at festivals, providing fans with ways to get involved and give back to the world around them while still enjoying the music.
HARMONIUM
Sobriety is a hard battle to win and when you add the temptations that are plentiful at music festivals — alcohol, drugs and everything in between — it can quickly become a more negative experience than a positive one.
Harmonium is a non-profit that was created at the Bonnaroo Arts & Music Festival in 2002 to build a community of support for those who want to remain clean and sober during music festivals. Importantly, the group is not affiliated with Alcoholics Anonymous or Narcotics Anonymous and holds a non-judgemental stance on any and all substances. Harmonium puts forth a message of compassion, not condemnation.
Most members of the group are recovering from substance abuse problems but all they require for inclusion is a basic desire to remain sober while still enjoying what music festivals have to offer. Further, by forming a community of like-minded individuals, Harmonium is able to lessen the feeling of alienation that many sober people can feel as hundreds of people around them indulge in drugs and alcohol throughout the festival.
Now, Harmonium typically has lounges and tents at festivals for  those involved in the organization who want to remain sober as well as anyone else at the festival as a place to relax and reaffirm their mission. Harmonium ensures that sobriety has a welcome place at music festivals and that the main draw of these festivals remains the music and memories.
HOPE FOR THE DAY
Hope For The Day is a 501 (c) (3) non-profit founded in 2011 by Jonathan Boucher, who grew up just north of Chicago and got involved in the music industry at age 13 by putting on punk metal shows while creating community spaces where people felt they could belong.
In 2010, Jonny's boss and mentor, music festival promoter Mike Scanland, completed suicide. He was the 9th person Jonny knew to have done so. Mike's passing compelled Jonny to act. Hope For The Day was created as a way to honor not only Mike, but all the friends and family members Jonny knew who had died by suicide.
According to the movement's website, over 800,000 people complete suicide every year across the world, with exponentially more going unreported. In the U.S. alone, 121 people complete suicide daily. With suicide completion rates surging to a 30-year high it has become the second leading cause of death amongst 12-24 year olds.
Despite its effect, mental illness is the lowest funded disease in America. Suicide is a preventable mental health crisis, but not many people are willing to talk about the problem. Modern education systems teach safe sex, drug policy and various other facets of physical health, but nothing about mental health. There is no discussion about the good and bad days, or how to handle the latter.
Hope for the Day breaks the silence surrounding mental health. The movement achieves proactive suicide prevention by providing outreach and mental health education through self-expression platforms. Hope for the Day is structured as a grassroots movement centered around peer led programs for peer-to-peer proactive prevention.
"All mental health is conversations," said Boucher. "The more I talk about it, the more others will want to talk about it, ask for help and share their stories."
Substance Abuse and Mental Health Services - 1 (800) 662-4357
The Trevor Lifeline - 1 (866) 488-7386
Suicide Prevention Lifeline - 1 (800) 273-8255 (Veterans Press 1)
Sexual Assault Hotline -1 (800) 656-4673
More resources at hftd.org
MUSICARES
Established over 20 years ago, MusiCares provides a safety net of critical assistance for music people in times of need. MusiCares' services and resources cover a wide range of financial, medical and personal emergencies, and each case is treated with integrity and confidentiality. MusiCares also focuses the resources and attention of the music industry on human service issues that directly influence the health and welfare of the music community.
"I've been fortunate enough to be able to make a living playing my guitar in clubs and bars since I was 19 years old. I'm 50 now and a few years ago my alcoholism almost killed me. I desperately wanted to stop, but my disease had progressed too far and I couldn't. MusiCares helped me get into treatment [and] I'm sober today because MusiCares cared enough and for this I am eternally grateful," said a MusiCares addiction recovery client.
The music community does not just include musicians. Producers, engineers, lighting technicians or any music professional can be eligible to receive aid through MusiCares. The only requirements are proof of work in the music industry for at least five years or credited contribution to at least six tracks.
According to senior director Erica Krusen, MusiCares is essentially the Red Cross of the music industry.
"[People in the music community] don't have 401(k)s, they don't have a lot of savings, so there's no security as far as insurance, health and finances are concerned. That's where we come in," Krusen said.
More than 15,600 music people were served by MusiCares through a combination of financial assistance, Healthy Essentials programs and addiction recovery aid in 2016. The total amount of emergency financial assistance given to MusiCares clients reached $4,715,000. The MusiCares staff are all licensed social workers or therapists and dedicated to serving the music community.
MusiCares' Healthy Essentials programs provide another vital service to the community through hosting free, one-day clinics at festivals across the country. From hearing tests to mammograms, the Healthy Essentials programs offer necessary health information and services to the artists and festival crew.
Learn more: https://www.grammy.com/musicares
OUR MUSIC MY BODY
The peace and love, free-spirited ethos of music festivals has become almost as common as the festivals themselves. Regularly promoted as being an escape from the everyday woes of normal life, music festivals are presented as a guaranteed positive experience packed with music, food and festivities. Yet underneath that rosy depiction is a much more realistic and sinister reality wherein sexual assualt and harrassment continue to plague large-scale music festivals.
Our Music, My Body is a non-profit that was created to combat this reality at major festivals and raise awareness of the prevelance of sexual assault and harrassment in the music scene. At the core, Our Music, My Body advocates for an all-encompassing no tolerance policy for all forms of harassment at festivals.
Importantly, much of the reported harrassment at music festivals takes place amongst busy crowds, loud music and all-around chaos. This further complicates both prevention and quick, appropriate response, making Our Music, My Body's presence all the more crucial.
For the past couple of years, OMMB has had booths set up at Lollapalooza, Riot Fest and Pitchfork to advocate their mission and amplify their message. In 2017, OMMB implemented anti-harassment guidelines and policies at Chicago's three biggest festivals as well as a few more locally focused events. On the ground at these festivals, OMMB representatives provide violence prevention and response lessons to staff and festival attendees.
In the end, Our Music, My Body is dedicated to the mission of making music festivals safe for all, in turn leading festivals themselves back to the realm in which they were born — an ideal space to escape everyday life through live music.
ROCK THE EARTH
The environmental impact of large-scale music festivals is an often overlooked byproduct of the overall experience. Entire fields of grass are flattened and reduced to mud after days of heavy foot-traffic and trash litters the festival grounds at the end of each day. By utilizing the platforms of a wide range of musicians and artists, Rock the Earth aims to unify the community of music and art fans to come together and fight for the environment.
Since its inception in 2002 by environmental attorney Marc Ross, Rock the Earth has developed a robust base of volunteers that further extends their reach across the country and elsewehere around the world. At last year's Bonnaroo Music & Arts festival, Rock the Earth set out to educate concert-goers about our nation's laws and policies regarding public land use and conservation.
Now as part of the League of Conservation Voters Education Fund, a non-profit that advocates for environmental protections, Rock the Earth intends to further disseminate their message to music fans nationwide. Currently, their three major initiatives revolve around advancing the development of clean energy, protecting public lands, and saving lands that have been designated as state and national parks.
By partnering with artists and the music industry at large — musicians, concert venues, and festivals — whose work often bridges cultural and political divides, reaching people at their core and creating shared experiences, Rock the Earth hopes to connect with people and engage them in civic action that will lead to better environmental conditions for all communities.