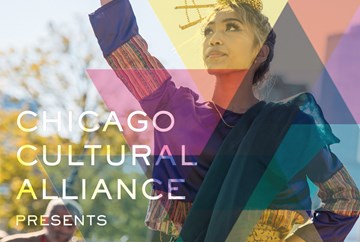 By: Suzanne Hanney
September 23, 2019
CHICAGO CULTURAL ALLIANCE UNITES COMMUNITIES
As controversial immigration policies cause fear and anger, Chicago's native and immigrant cultural heritage museums have an antidote: Inherit Chicago, a month-long festival of music, food and programming intended to promote cultural understanding, justice and solidarity.
Inherit Chicago brings together over 30 cultural centers and heritage museums, members of the Chicago Cultural Alliance, to produce programming in 20 diverse neighborhoods throughout October.
"At a time when many communities are under attack, we as members of the Chicago Cultural Alliance want to band together as a positive force for cultural understanding and solidarity," said Heather Miller, executive director of the American Indian Center, a founding member of the Alliance.
Inherit Chicago kicks off September 29 with World Dumpling Fest at Navy Pier, in collaboration with the World Music Festival produced by the City of Chicago Department of Cultural Affairs and Special Events (DCASE). The 12-7 p.m. event will feature performances from global and local music groups, heritage-based artists and of course, dumplings of various names from neighborhood restaurants. There will be pierogis from Kasia's Deli, bao and sui mai from Chinese Friendship Restaurant, coxinha de galinha and bolinho de aipim from Sinha Elegant Brazilian Cuisine & Catering, and more.
By introducing a food that is similar around the world, the Dumpling Fest creates an easy way to understand that diverse cultures have different responses to common concerns, said Emily Reusswig, executive director of the Cultural Alliance. "You may have the same tradition of a wedding but you wear a red dress in China for good luck rather than a white dress as in the U.S."
The festival then moves to neighborhoods for intercultural programs that span diverse topics: from traditional drumming as resistance to a mash-up of classical and Latin music.
The American Indian Center, Japanese Service League, and HANA [Korean] Center, for example, will collaborate on a program that explores the way each culture uses drumming. When Koreans were under Japanese rule, drumming was a form of resistance, Reusswig noted. Native Americans also historically used drumming for activism, Miller added. Even today, drums are used in protests about the Dakota oil pipeline that crosses the Plains. But drumming is also celebratory, and the three groups will improvise on a brand-new piece at the event.
"For us as a Native American organization, we struggle with the same issues as our immigrant brothers: people marginalize us, they don't think of us as being alive," Miller said. "As we provide this education to the greater Chicago community, they will see not just stereotypes but a living, breathing culture you can access and find a way to engage with us on this particular level."
Similarly, Segundo Belvis Ruiz Cultural Center (SBRCC) has focused on the role of arts in social justice movements in Puerto Rico, especially the influence of Afro-Caribbean music, which was used in the fights against slavery and for freedom, and more recently, in the ousting of the island's governor, said Omar Torres-Kortright, executive director of SRBCC. Its collaboration with the Muslim American Leadership Alliance (MALA) will be an open mic where artists offer comedy, drama or poems about their own experiences.
The Filipino American Historical Society of Chicago, meanwhile, will launch the book "Journey for Justice," about Larry Itliong, a co-founder of the United Farm Workers union with Cesar Chavez. Itliong emigrated from a small village when he was 15 and led the strike against grape growers in Delano, California, in 1965. Filipinos were the main labor force, but they had been working the fields since the 1920s and many were in their 60s, according to NBCNews.com. Mexican labor was new to the scene, and they joined the strike after Itliong approached Chavez.
The event will feature Gayle Romasanta, co-author of the children's book about Itliong as well as a staged reading for a play in the works by CIRCA Pintig theatre. But part of the story is the alliance, said Ruben Salazar, executive director of the Filipino American Historical Society, because October is both Filipino American History month and Hispanic Heritage Month, "a celebration of two cultures, two immigrant communities."
Core members of the Chicago Cultural Alliance are "first-voice institutions," Reusswig said, many of them founded when their members needed help. Perhaps they were migrating to Chicago, like Puerto Ricans and Dominicans, or in the case of Japanese-Americans, they were newly released from WWII concentration camps. These institutions may still be working for immigration services, but they may also be providing elder care and starting a museum to preserve their culture. Authenticity is a given.
"Chinatown in Chicago is very different from Chinatown in Los Angeles, Reusswig said. "The Chinese both contribute to and are affected by Chicago culture. Heritage institutions here are different from those in other cities. It's beneficial as a Chicagoan to experience them. We are a part of Chicago's history."
Several museums have "national" in their names. This is no Chicago variation of a Texas boast.  Instead, it reflects the leadership role these institutions have taken, Reusswig said.
"For many it is to stake their claim on what makes their museum and community in Chicago worthy of the 'National' title," she said. "For the National Cambodian American Museum & Killing Fields Memorial, it was because they are recognized by communities around the US for their museum and contributions to keeping the memory alive of the Killing Fields," which was the late 1970s genocide of at least 1.7 million Cambodians by the Khmer Rouge.
The National Hellenic Museum, meanwhile, holds the largest collection of Hellenic objects and history in the US, Reusswig said. And for the National Indo-American Museum, "it was about staking claim to the neighborhood of Devon and its cultural heritage. While the museum does not have a space, they consider the neighborhood a 'living museum' and distinct from other cities in the US lacking an Indo-American neighborhood."
Making people feel comfortable in their spaces is part of these institutions' mission. "We want this to be an opportunity to understand they are creating this culture in Chicago: traditions, rituals, food is the culture of today and tomorrow," Reusswig said. "We need to celebrate and ask ourselves, what do we want for the future of Chicago. Do we want a welcoming, global city?"
CHICAGO CULTURAL ALLIANCE MEMBER ORGANIZATIONS
The Chicago Cultural Alliance is 41 cultural heritage museums, centers and historical societies spanning 28 neighborhoods, seven suburbs and 30 different cultures, which banded together to support a more inclusive Chicago. Its first-voice, community-based platforms engage people in dialogue and meaningful action. The alliance also creates opportunities for engagement, because working alone is challenging. Its 19 partner members include Choose Chicago, the Art Institute of Chicago, Chicago History Museum and more that invest resources in cultural vibrancy. Core members listed below are First-Voice, community-driven organizations that preserve a specific cultural perspective, experience and living history through programs, exhibits or collections work.
HANA Center's mission is to empower the Korean American community through education, social service, organizing/advocacy and culture. 4300 N. California Ave. Chicago, IL 60618; 773-588-9158; www.hanacenter.org
Korean Cultural Center of Chicago (KCCOC) provides a physical facility where everyone in the Midwest can promote Korean heritage. 9930 Capitol Drive, Wheeling, IL 60090; www.kccoc.org
Irish American Heritage Center nurtures and strengthens Irish culture and heritage through programs emphasizing Irish music, literature, drama, traditional dancing, fine arts and the constructive contributions of the Irish and Irish-Americans to the United States and also through an annual July festival. 4626 N. Knox Ave., Chicago; 773-282-7035; irish-american.org
Japanese American Service Committee of Chicago engages people of all ages to experience Japanese American history and culture and to improve their well-being through innovative, high quality programs and services tailored to the multicultural community. 4427 N. Clark St.; 773-275-0097; www.jasc-chicago.org
Trickster Art Gallery is a Native arts institution dedicated to meeting the needs of artists by providing a vehicle for artistic expression in all disciplines and by cultivating, exhibiting, and disseminating contemporary indigenous American art. 190 S. Roselle, Schaumburg, IL 60193; 847-301-2090; trickstergallery.com
Turkish American Cultural Alliance (TACA) is a 501 (c)(3) not-for-profit that promotes Turkish art, culture, history and heritage. It facilitates interaction among members to promote and foster continuing good relationship and understanding regardless of their background. 3845 N. Harlem Ave., Chicago, IL 60634; 773-530-1388; www.tacaonline.org
Muslim American
Leadership Alliance
(MALA) is a 501(c)(3) civic and community organization committed to promoting individual freedom, diversity, and celebrating heritage. MALA provides a platform for people to share their individual stories; nurtures emerging community leaders; and unites Americans of all backgrounds to advance constructive solutions to extremism and human rights abuses. 47 W. Division St., #159, Chicago, IL 60610; 773-888-3275; www.malanational.org
National Cambodian Heritage Museum and Killing Fields Memorial provides exhibitions and resources about the southeast nation's 4,000-year-old heritage, which was almost lost during the Vietnam War and Cambodia's own civil unrest, as well as a peaceful site for survivors to unite and heal. 2831 W. Lawrence Ave.; 773-878-7090; www.cambodianmuseum.org
National Hellenic Museum interprets the American experience through the history of Greek immigrants and the contributions of Greek Americans to the American mosaic, while celebrating Greek culture's impact on the world. The NHM's educational approach draws from its rich depository of over 20,000 artifacts, photos, books, historic newspapers and the Frank S. Kamberos Oral History Center, which gathers audio and video recordings of interviews with Greek Americans from every walk of life. 333 S. Halsted St., Chicago, IL 60661; 312-655-1234; www.nationalhellenicmuseum.org
National Indo-American
Museum promotes understanding of the linguistic, religious, socioeconomic and regional diversity of Indian Americans, as well as their history and culture and contributions to American life. It also offers insider tours focused on Indian food and sacred sites. 6328 N. California Ave., Chicago, IL 60659; Info@iahmuseum.org; www.niam.org
National Museum of Puerto Rican Arts & Culture promotes, integrates and advances Puerto Rican diasporic arts and culture via classes, workshops, readings, exhibitions and programming. 3015 W. Division St., Chicago, IL 60622; 773-486-8345; nmprac.org/
Casa Italia is a home for all Italian-American organizations in the Chicago area. Here, the community meets to pursue common goals, preserve their past, celebrate its heritage and pass values to future generations. 3800 Division St., Stone Park, IL 60165; 708-345-5933; www.casaitaliachicago.net
Illinois St. Andrew
Society - Chicago Scots - nourishes Scottish identity through services and fellowship to support the Caledonia Senior Living and Memory Care campus. Chicago Scots hosts the annual Highland Games as well as Scottish history and genealogy clubs. It houses the world's only Scottish-American museum and hall of fame. It is open to all Scots - by birth, heritage or inclination. 2800 Des Plaines Ave., North Riverside, IL 60546; 708-447-5092; www.chicagoscots.org
Balzekas Museum of
Lithuanian Culture is the largest museum in the United States devoted to the Lithuanian nation, language, history, culture and politics (before, during and after Soviet occupation). It shows the Lithuanian-American experience. Genealogy consultation is also available. 6500 S. Pulaski Road; 773.582.6500; www.balzekasmuseum.org
Swahili Institute of Chicago promotes African language, culture and history. 10707 S. Hale Ave., Chicago, IL 60643; 773-785-1430; swahiliinstitute.org
Arab American Action
Network (AAAN) strives to strengthen the Arab community in the Chicago area by building its capacity to be an active agent for positive social change. The grassroots nonprofit's strategies include community organizing, advocacy, education, providing social services, leadership development, cultural outreach and forging productive relationships with other communities. 3148 W. 63rd St.; 773-436-6060; www.aaan.org
Bronzeville Children's
Museum is the first and only African American children's museum in the country. Its exhibits offer hands-on play for children age 3-9 that impart knowledge about healthy eating, African-American inventors, S.T.E.M. (science, technology, engineering and math) and Bronzeville landmarks. 9301 S. Stony Island Ave., Chicago, IL 60617; 773-721-9301; www.bronzevillechildrensmuseum.com
Open Center for the Arts' mission is to provide a space where all artists can come together to educate, showcase, refine, and develop their talents as well as support entrepreneurship opportunities in the arts while connecting their growth to the community. 2214 S. Sacramento Ave.; 872-444-5229; www.opencenterforthearts.org
Latvian Folk Art
Museum's mission is to collect, preserve, and exhibit Latvian folk art; to maintain suitable exhibit and preservation space; and to present programs to further the understanding of Latvian culture. 4146 N. Elston Ave., Chicago, IL 60618; 773-919-3936.
Mitchell Museum of the American Indian is the only museum in the Chicagoland area that focuses exclusively on the history, culture and arts of the North American native people. 3001 Central St., Evanston, IL 60201; 847-475-1030; www.mitchellmuseum.org
Assyrian Universal Alliance Foundation (AUAF) is a non-profit organization inspired by Assyrian heritage, serving as a bridge between traditions and different generations in the hopes of building a stronger, more connected community. AUAF was founded in 1978 in response to the mass migration of Assyrian refugees to the United States after Iraq became unsafe for its Assyrian minority. Chicago has the largest population of Assyrians outside the homeland. auaf.us
Swedish American Museum interprets the immigrant experience for children and adults and promotes an appreciation of contemporary Swedish-American culture through its arts and educational programs and its permanent collection. 5211 N. Clark St., Chicago, IL 60640; 773-728-8111; www.swedishamericanmuseum.org
Segundo Ruiz Belvis
Cultural Center's mission is to preserve and promote appreciation of the culture and arts of Puerto Rico, specifically its African heritage. Its programs offer families opportunities in leadership, education, cultural awareness and creative expression. 4046 W. Armitage Ave., Chicago, IL 60639; 773-698-6004; www.srbcc.org
Puerto Rican
Arts Alliance
preserves Puerto Rican culture by maintaining its traditions, promoting its arts, providing educational opportunities in arts programming, and cultivating pride in its heritage for future generations. Over the past 20 years, PRAA has offered high-quality, one-of-a-kind arts experiences and arts education programs to 30,000 participants annually. It operates three community centers (PRAA Center, Humboldt Park Field House and Latin Music Project Center) and partners with Chicago Public Schools (CPS) and organizations across the Midwest to offer after school classes and events on-site. 300 N. Elbridge Ave.; 773-342 – 8865; www.praachicago.org
South Side Community Art Center's mission is to seek out and teach talented young artists; provide gallery space to exhibit the works of artists; develop a body of collectors of African American art; and to serve as a reference for African American artists throughout the greater Chicago metropolitan area and surrounding communities. 3831 S. Michigan Ave., Chicago, IL 60653; 773-373-1026; www.southsidecommunityartcenter.com
American Indian Center's mission is to promote fellowship among Indian people of all Tribes living in metropolitan Chicago, create bonds of understanding and communication between Indians and non-Indians in this city, advance the general welfare of American Indians into the metropolitan community life, foster the economic and educational advancement of Indian people; to sustain cultural, artistic and avocational pursuits, and perpetuate Indian cultural values. 3401 W. Ainslie St., Chicago, IL 60625; 773-275-5871; www.aicchicago.org
Bronzeville Historical
Society works to preserve and protect the African American history and culture of Chicago. bronzevillehistoricalsociety.wordpress.com
Casa Michoacan is an educational nonprofit organization dedicated to the promotion of cultural, social, sporting activities and between the Mexican and immigrant Michoacán community with a transnational vision. 1638 S. Blue Island Ave., Chicago, IL 60608; 312-491-9317; www.fedecmiusa.com
Chicago Japanese American Historical Society is a volunteer, non-profit 501(c)(3) organization dedicated to preserving and presenting the history of the Japanese American community in Chicago through museum collaborations, historical research, and conservation. 847-448-8101; www.cjahs.org
Chinese American Museum of Chicago's mission is to promote the culture and history––through exhibitions, education, and research––of Chinese-Americans in the Midwest. The museum opened to the public on May 21, 2005; after a devastating fire in September 2008, it was closed for renovation and reopened in 2010. 238 W. 23rd St., Chicago, IL; 312.949.1000; www.ccamuseum.org
DANK Haus German
American Cultural Center's mission is to preserve and promote German culture, heritage, and language through activities including maintaining a center consisting of a museum, art gallery, library, and language school, and organizing educational and social programming focusing on and emphasizing the history, traditions, and contributions of Germans and German Americans. 4740 N. Western Ave.; 773-561-9181; www.dankhaus.com
Ethiopian
Community
Association of Chicago
(ECAC) is a not-for-profit, non-political, tax-exempt organization committed to serving the educational, cultural, psychological, and socio-economic needs of Ethiopians in Chicagoland and the surrounding areas: 15,000 people since 1980. 1730 W. Greenleaf Ave., Chicago, IL 60626; 773-508-0303; www.ecachicago.org
The Dominican-American
Midwest Association (DAMA) is a nonpartisan, nonprofit organization seeking to address the needs of all Dominicans and Dominican-Americans in the region. After the assassination of the Dominican dictator and political unrest, Dominicans began to settle in Chicago in the mid-60s. As an urban middle class, they took jobs in the meatpacking, garment, electronics and service sectors and were also self-employed. P.O. Box 3536, Oak Park, IL 60303; 708-822-7280; www.damamidwest.org
Filipino American Historical Society of Chicago is a cultural institution whose mission is to collect, record and preserve artifacts and documents of history of Filipino Americans of metropolitan Chicago; it also educates about Filipino American history and Philippine heritage. 5472 S. Dorchester Ave, Chicago, IL 60615; 773-947-8696; bit.ly/2NFGpY3
Haitian
American
Museum of
Chicago
promotes Haitian history, culture, art and creates a gathering place for Chicagoans and visitors to explore Haitian art, culture, history. 4654 N. Racine, Chicago, IL 60640; 773-213-1869; www.hamoc.org
Ukrainian Institute of
Modern Art preserves and promotes contemporary art as a shared expression of the Ukrainian and American experience. UIMA develops, utilizes and encourages artistic talent through exhibitions, concerts, readings, lectures and films to serve the cultural needs of our community and city, and thereby strengthen cultural understanding and diversity. 2320 W. Chicago Ave., Chicago, IL 60622; 773- 227-5522
uima-chicago.org
Ukrainian National
Museum's primary mission is to collect, preserve, develop, catalog and exhibit, as a resource for research, information and enjoyment, the documents artifacts, and records of the Ukrainian Immigration in America in general and Chicago in particular. 2249 W. Superior St., Chicago, IL 60612; 312-421-8020; www.ukrainiannationalmuseum.org
The Polish Museum of
America, one of the oldest and largest ethnic museums in the United States, offers exhibits, resources and activities related to Polish history, culture and heritage, as well as Polish American history. 984 N. Milwaukee Ave., Chicago, IL 60642; 773-384-3352; www.polishmuseumofamerica.org
-Compiled by Suzanne Hanney
For more information, visit www.chicagoculturalalliance.org