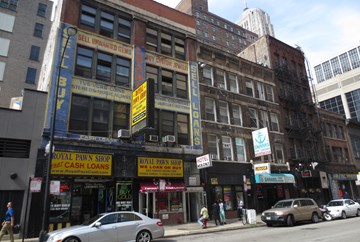 By: Charles Orlowek
July 5, 2016
Running south from where the Chicago Board of Trade building stands today, "Pacific Avenue" was a street of vice and poverty after the Great Fire of 1871. North of Jackson ran LaSalle Street, whose reputation was synonymous, even then, with respectable commerce and finance. During the 1880s, when big-name architects designed buildings on Pacific (itself later to be designated as part of LaSalle), banks and insurance companies began replacing pawnshops, brothels, and cheap hotels.
Many of those businesses moved a short distance east, to an area that acquired the frontier-like name of "Little Cheyenne." Today, if you go to the 400 block of South Clark Street, across from the federal prison, you can see a living remnant of the old district. Still standing is the building that housed the Workingman's Exchange, a saloon operated by the alderman and longtime 1st ward political boss Michael "Hinky Dink" Kenna during the late 19th and early 20th centuries.
For decades the building has housed a pawnshop and a men's only hotel, the same kinds of businesses that were neighborhood fixtures in Kenna's day. The Ewing Annex Hotel, formerly the Alaska Hotel, offers rooms starting at $315 per month, or $15 per night, for a bed in a space about 5 by 8 feet. On a midday bike ride last September, I stopped to photograph the "HOTEL MEN ONLY" sign outside 426 S. Clark, and got to talking on the sidewalk with Wayne Cohen, an owner of the pawnshop, hotel, and adjacent buildings.
Wayne and members of his family starred in the reality television show Hardcore Pawn: Chicago.
Across the street, on the site of the prison, was the western boundary of the First Ward's 19th precinct where, in 1893, a visiting Englishman named William Stead counted "forty-six saloons, thirty-seven houses of ill-fame and eleven pawnbrokers." The area was also within the competing reach of reformist organizations like the Salvation Army - operating the Evangeline Hotel at 387 S. Clark and an outpost of its "Slum Work Social Department" at 315 S. Clark - and the Women's Christian Temperance Union. (Since numbering changes in 1911, these addresses correspond to the 500 and 600 hundred blocks of South Clark Street.)
From its nearby headquarters on LaSalle Street, the W.C.T.U. ran its own "Little Cheyenne" hotel on Clark, the Bethesda Inn, as well as the Bethesda Mission two blocks south. According to a book called "Chicago, the Marvelous City of the West" (1893) the mission was "connected to a day nursery, kindergarten, Sunday-school, kitchen garden, free medical dispensary, relief work and gospel meetings."
In 2015, the Ewing Annex Hotel was itself host to religious meetings organized by outside groups, and the object of outreach from other charitable organizations. One of the largest Christian megachurches in the United States, Willow Creek Community Church, holds services in the hotel's television room. The church is based in suburban South Barrington, 33 miles away, and has established Willow Chicago Ministries in the South Loop, at 418 S. Wabash Ave. Down the street to the east, it also holds weekly religious services at the 3,901-seat Auditorium Theatre, built during the late 1880s.
Many of the hotel's residents have grappled with alcohol and drug dependency, including some who also work on the hotel's staff. One resident I spoke with appeared to be delusional and disabled. According to the hotel's manager, Mike Bush, mentally ill residents are more numerous than they were a few years ago.
Bush, who lives at the hotel and has another family residence on the far South Side, stressed that most residents work. Some are street musicians or StreetWise vendors but others, according to Bush, work at fancy downtown restaurants or teach school. He said several are substitute teachers, and four others are teachers working full-time for the Chicago Public Schools. Three residents work for an international package delivery service, and two others – on and off residents, Bush said -- work for a major retail chain.
Bush also counted as current residents an airline mechanic, an employee of the FBI, and young college students from nearby Robert Morris University. DePaul University, and Columbia College. One Columbia student, he said, had been living in a dorm but found himself repeatedly asking his parents for more money. To economize, he tried out the hotel, and then brought in a fellow student. The first student was said to have kept his actual digs a secret from his parents until after his graduation. In February, Mike Bush said the number of college students living at the hotel had grown to 12.
Bush muses about someday offering a dedicated student housing floor, with amenities like its own security checkpoint, and Wi-Fi coverage.
At one time, many of the hotel's residents were out-of-town workers - some employed in Chicago steel mills or at the Union Stockyards - who stayed at the hotel during the week and then returned to their homes on the weekends. This is according to Nelson Cabrera, a resident who also works at the hotel. As manufacturing employment in Chicago declined significantly in the late 1970s and early 1980s, the hotel lost these workweek residents.
There is a widespread misunderstanding that cheap hotels like the Ewing Annex are "transient" hotels. According to Wayne Cohen, most of the people sleeping at the hotel are long-term residents, having lived there an average of six or seven years. One man has lived there for 30 years. Others filter in and out: in when family problems erupt at home, out when things cool off. Mike Bush spoke of a Chicago police officer who came for one night after a family dispute. Another long-term resident, who has lived on and off at the hotel for decades, told me he began his first stay after a blowup at home. Other men arrive when finances are lean, leave when they are able to, and return after fresh financial reversals like the loss of a job.
Bush stressed the market is large for inexpensive accommodations of the sort he provides, though there were efforts in 2013 to close the hotel. On the afternoon of Sept. 24, 2015, the hotel was full, and on Feb. 18, there were five vacant rooms out of 210. This is without being able to rent to women, which Bush said is prohibited by the hotel's city license. On some very cold nights when homeless women have congregated on the sidewalk in front, they have been invited to come into the television room, on the opposite side of the front desk from where individual rooms are accessed.
The effort to close down the hotel was centered on an ordinance introduced in the Chicago City Council that would have outlawed so-called cubicle hotels: tiny rooms topped with chicken wire. Only two such hotels reportedly still operate in the city, the Ewing Annex and the Wilson Men's Hotel in the North Side Uptown neighborhood.
These hotels provide a very modest bulwark against homelessness, which afflicted more than 125,000 Chicagoans during the 2014-15 school year, according to the Chicago Coalition for the Homeless. The cubicle hotels are at the lowest rung among several dozen single-room occupancy (SRO) hotels which remain in the city. According to a November 2014 press release from the mayor's office, 73 Chicago SRO hotels were licensed at the time, with an estimated 5,000 to 6,000 rooms. Contrast that with figures from a 1985 study, which noted 115 SRO hotels and 11,500 rooms, reportedly down from 28,500 rooms a decade earlier.
Since 2014, the number of rooms has declined further. On his cell phone, Mike Bush showed me a picture he had taken of a vacant building at Halsted and Jackson. Until the summer of 2015, it had housed the humble New Jackson Hotel. Now, according to Bush, it would be remade into an upscale "boutique" hotel.
Mainstream elements of the lodging industry are themselves downsizing accommodations, while casting on eye toward previously downscale properties. The Tokyo Hotel on East Ohio Street, a cheap residential hotel for people with few options, closed in 2013 and was repurposed as Freehand Chicago, which today offers 4-to-a-room bunks in addition to private rooms.
Many of those staying in bunks are well educated travelers in their 20s and 30s, who can make new friends from among their roommates, and hang out in a lounge on the ground floor. A bunk runs $25 to $35 per night, before tax, in a shared "female dorm" or "coed dorm."
The travel writer Karen Schwartz described Freehand Chicago as part of a "new world of upscale hostels…bridging the gap between backpacker basic and four-star chic." Sydell Group, the New York-based lodging company which operates Freehand hostels in Chicago and Miami, promotes the brand as offering "hostels for a new generation of traveler." In Europe, travelers have even more choices with from brands like Generator and St. Christopher's Inns.
Some local governments in the US limit to 3 the number of unrelated persons who may legally occupy a lodging. This factor has slowed expansion of hostels, and served as a speed bump for sharing-economy lodging marketplaces like Airbnb. Still, the idea of living in small spaces is catching on, and not just while travelling.
So-called micro-living is becoming more popular around the world, as young people in particular seek to economize on expenses and reduce their carbon footprints. In urban settings, this means apartments of 200 to 400 square feet. As with upscale hostels, the move to micro apartments came to Europe before North America. According to a November 2015 report on the real estate news site Inman.com, the developer CEDARst owns 2.5 million square feet in Chicago, about a third of which is said to be in micro-apartment properties being rented or rehabbed.
CEDARst's Chicago micro-apartment properties are promoted under the Flats Chicago brand. One property being developed is at 1325 W. Wilson, two blocks west of the Wilson Men's Hotel.
The smallest sleeping rooms downtown at the Ewing Annex – renting for $15 per night – take up a little less than one quarter the space of a "quad" bunk dorm room at the Freehand Chicago.
Ewing Annex residents have access to a lounge, including a flat-screen television and a view of some of the city's daily drama on Clark Street below. The hotel hosts regular visits from volunteer healthcare providers, religious pastors, and others trying to help. Beyond this, the hotel is a place where hope can flourish.
I saw this firsthand, when a former resident named Frank came into the hotel and was greeted heartily by old friends. Full of bounce and high spirits, Frank was on his way to interview for an important job. Dressed in natty beige khakis and a white knit shirt resplendent with multi-colored horizontal ribs, he was the picture of a tropical man of leisure.
I thought of a character in the 1936 film "Showboat," also named Frank, wordlessly affirming success by opening his overcoat to reveal a richly ostentatious suit of clothes.
Frank agreed that I could photograph him, and he signed a release giving me permission to publish the pictures. When it came to furnishing his address on the form, he surprised me by saying that he was, indeed, homeless.
For his address, he wrote "Chicago Il 606."