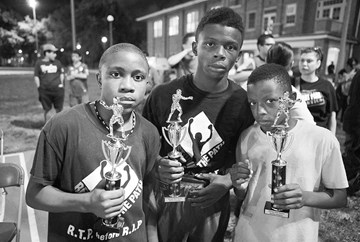 By: JoseAngel Ramos
May 4, 2015
Gangs have been perceived as social disorganization but one thing gangs do really well is recruiting youth. Crushers Club has stolen the gang model to save youth by reducing violence and crime.
Crushers Club (formerly known as Restoring the Path) is an organization that seeks to be an alternative to gangs. The club uses boxing to reduce crime and violence in the Englewood neighborhood.
Sally Hazelgrove is the founder of Crushers Club and has been looking to help anyone she can.
"I was appalled by the conditions [in Englewood] and I was living in the North Side at the time and compared to [Englewood] there was a vast difference," Hazelgrove said. "I have been working in Englewood since 2000, I was volunteering at a place called the evening reporting center for juveniles."
Hazelgrove wanted to try to cement herself into the Englewood neighborhood by making a difference there because she knew what it was like to be a juvenile.
"I was never scared of [the boys] because I was a little hellion when I was younger," Hazelgrove said. "So in 2004, I interviewed the boys on the corners and I asked them, 'what would get you off the street?'"
She found that a desire to learn boxing was their number one response.
Raheem Brown, a member and worker at the club, explains why.
"It's fun here, we get to fight and I like fighting," Brown said. "My friend had told me about this place and so I came down to check it out and I loved it so I started coming all the time. I don't get to fights outside of the club anymore and if it wasn't for Crushers Club I would be out in the street probably gangbanging."
Crushers Club came into existence in 2011 when Hazelgrove incorporated "Restoring the Path," which became a non-for-profit. The club started operations with only $10,000 but found a way to cope.
"We were breaking into this one [abandoned] church and I am so mad because I wanted that church so bad, we would break into the church everyday to box and pretty soon there was a crowd of boys waiting for me," Hazelgrove said. "A bunch of stuff happened over there but the guy who had the bank note saw me and thought because I am a white woman, I had money and he wanted to sell the church to me. After awhile he noticed this magnetic thing I had with all the boys. I always thought by the grace of God had I been born black male and in Englewood, I would still be helping out."
Eventually Hazelgrove had realized they were going to have to use a space that was practical for them to occupy.
In 2012 Hazelgrove received 'A Better Chicago's Project' impact winner as it engaged at-risk youth in boxing to help them get away from gang participation and violence. The Club received a $100,000 grant, which helped them occupy a space in a church located on 1406 W. 64th St.
Terrence Davis is the general manager of Crushers Club and has seen all the amazing things Hazelgrove has done with this club and the neighborhood.
"This program is influencing the kids because they come in every day faithfully. If they can't come because their parents said no, they cry until they could," Davis said. "They love coming here to work out and they tell us about what's happening in their own home, even though they aren't suppose to. They let us know about what is going on in school by showing us their report cards."
The program has helped kids with their progress in school and it has been the success of the club. According to the Crushers Club's website, 90 percent of the kids improve their school attendance, 90 percent improve their academic performance, and 100 percent of them feel better about themselves.
Hazelgrove went to school principals and teachers looking for kids who were not heading towards a bright future in recruiting participants for the program.
"I first started going into schools and asking them, 'give me the boys that you are scared of. The ones you think are going to be murderers or end up in prison,'" Hazelgrove said. "Now, they are actually my leaders and about to graduate high school."
Hazelgrove always tries her best to inspire the kids any way she can whether its by giving them words of encouragement, giving them opportunities to prove themselves, or a chance to box with others.
"I decided 'you know what' I am very scrappy and I have been in some fights myself so, I'm just going to train myself," Hazelgrove said. "This is how I started teaching kids at first because I decided to go to some personal trainers but they are assholes. I tell my boys that we cannot solve all the problems over one night so, what I can do is give [them] the tools to overcome adversity on a daily basis."
Hazelgrove encountered other kids out in the street who were not attracted to the idea of boxing.
"One of my toughest boys who was gangbanging built a studio. Before he built it he and I used to live down the block from each other and one day he told me to go inside because they were about to start shooting. The next day I saw him and told him 'I'll let you build a music studio at my club if you stop gangbanging and put down your gun,'" Hazelgrove said. "He tore down the walls and made a studio and about three months later he had come up to me and said 'I want you to know I got rid of my gun.' That was the best moment for me and he told me he felt good about it."
Crushers Club's music studio and art workshop seeks to attract kids who would love to express themselves through song or drawing. The club does have a no cursing rule; offenders are penalized with either of two options: 10 push-ups or $1.
"I like how you can't curse here because it makes for a nice environment," Brown said. "I just think most people curse because it is just a filler word."
Other members like Ivory Hall take full advantage of the opportunities at Crushers Club.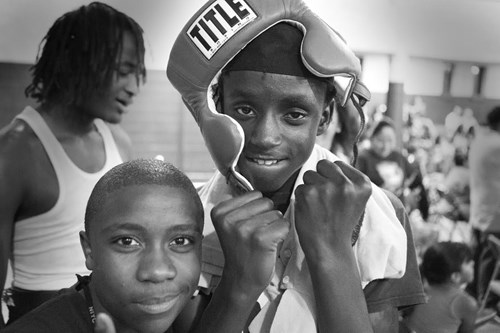 "I like it here, I can rap about how I feel and box," Hall said. "My first time here I knocked someone out and ever since I have been coming here. Music helps me and boxing helps me lay it all out."
The club has over 200 youth enrolled but the membership organization isn't all publicized with fliers or ads. Hazelgrove relies on current members to recruit others.
"My friend recruited me and I thought it was cool after the first day so I started coming every day after that," Brown said. "This place changes you, behavioral wise and that's what Sally is really doing to get kids out of the street. Also exactly why I tell anyone I can about this, it's cool."
Hall feels at home at the club and says like it should be recognized a lot more from the neighborhood.
"I didn't hear about this place until my friend told me and so I came through," Hall said. "I feel like a family here because we help each other whenever we need help so I tell a lot of people about this place because it's serious."
The club only includes kids from the ages of 6-17. After they pass a certain age Crushers Club directs members to other organizations so they may continue changing their lives.
"Unfortunately if you are over 18 I cannot do much because the priority is the youth, the younger ones. I believe if we invest in the younger ones it is so much easier to turn their lives around," Hazelgrove said. "I am not ignoring the older ones because we send them to other organizations similar to ours so they can get help."
Crushers Club is all about helping the young by supporting them with skills they need in order to restore their lives and the neighborhood of Englewood.
"Right now I have 14 youth in the payroll. Once I had 20 but I ran out of money so, I had to scale down but the whole thing here is they are the heroes." Hazelgrove said. "I always told them that I am the architect that has designed it but they are the real heroes. They are the ones saving lives for others."