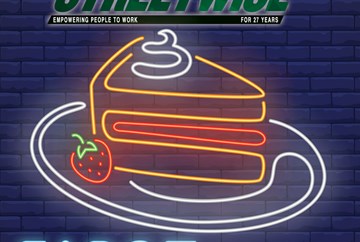 By: Stella Kapetan
September 9, 2019
Chicago's First Slice Pie Café serves nationally acclaimed pies, entrees, salads, quiche, sandwiches and more, regardless of a customer's ability to pay, while helping not-for-profits that provide meals to the homeless and others in need.
"If someone comes in the café and says they are hungry but can't pay for a meal, they can order a meal off the menu and we serve them just like a paying customer," said Ann-Louise Haak, executive director. Many stop in several times a week and some more than once a day.
For some, the café means more than a place to get a free meal. Haak recalled a night she sat down with a customer after she spotted him crying at a table. He told her he had recently become homeless for the first time and about the importance of the café to him. "He said, 'You feel so vulnerable and unwanted as you cover your basic needs. That's so wonderful about coming here. When I think about coming here the people are going to be kind to me and glad to see me. It's just as important to me that I can come here and feel safe.'"
First Slice's other revenue source is their To Your Table subscription program. Every week, subscribers select from a variety of entrée and side dish options to make three complete meals that take little time and effort to prepare. There is always one gluten-free, two vegetarian, two meat and one fish entre option that change weekly. Choices may include Caprese Roasted Pork Tenderloin, Salmon & Broccoli or Black Bean & Mushroom Tamales. Seven different mix and match, always vegetarian side dishes are included, such as mint split pea soup and potato rosti with balsamic glazed onions & gruyere cheese. And, of course, there is always pie for dessert. The family plan is $105 per week, including tax, and the individual option is $56. Extra meals may be purchased.
First Slice uses the profits from To Your Table and café sales to prepare about 750 more subscription meals every week, which they provide to their partner organizations that serve meals to those in need. There are currently 70 households in the subscription program.
On a recent Wednesday evening, about 50 men and women gather for the weekly dinner at the Welcome Meal at Epiphany United Church of Christ in the North Center neighborhood, where First Slice has been supplying the meals for more than 10 years. Kathy Engert, coordinator at the Welcome Meal, said most of the guests are homeless, retired on a fixed income, near retirement, underemployed or unable to work due to a disability. She said the high quality meals are what she would serve in her own home.
"First Slice tries to vary the food," Engert said. "It is not just a cup of soup and a sandwich. We always have a meat entrée, a vegetable and a starch through First Slice. Our clientele love that it's good food." She added that the meatballs are the most popular entree.
Emily, 19, a frequent Welcome Meal guest, said the mostaccioli with meat sauce and cheesy broccoli on that night's menu is "heaven on a plate. It's a lot of flavor packed on to such a small plate." Another diner at her table, Blaise, said she enjoyed the "hearty and rustic" texture of her white bean soup with carrots, celery and bacon.
"I don't like beans, and I like it," Blaise said. For others, the meal brings feelings of comfort.
"The food is soothing to my soul, said Tyrone, 47, who has been coming to the Welcome Meal for 12 years and is homeless while looking for permanent housing. "Very soothing. Makes you feel at home. Gets you going when you are out there."
"There is a lot of love here," added Shane, 21, another frequent diner. "Hard work, joy and happiness goes into the preparing of the food,"
Engert donates any leftovers to the residents in single room occupancy buildings. "It continues to give," Engert said.
Meanwhile, at the StreetWise headquarters in the Uptown neighborhood, vendors picking up their StreetWise Magazines, clients in the job training program and resume writing workshops, those meeting with a social worker and others who are hungry drop by for a meal provided by First Slice. StreetWise brings meat they obtain from Greater Chicago Food Depository and other partners to First Slice, which prepares it, adding starches, vegetables and pie along with other foods they might have on hand, such as quiche.
"It might be their only hot meal of the day," said Julie Youngquist, chief executive officer of Streetwise.
First Slice also provides meals to the Night Ministry-The Crib, an overnight youth homeless shelter, the Broadway Youth Center and Lakeview Presbyterian Church's senior citizen lunch program.
The financial resources of a partner organization determines the amount it pays First Slice. Some do not pay anything while others are asked for a per meal fee. The Welcome Meal, for example, pays $3.50.
It is important to Haak that ingredients are sourced locally when possible.
"We leave a smaller environmental footprint when we are able to source locally," Haak said. "It is better for the local economy when we can buy from local farmers directly."
Fruit for the strawberry rhubarb pie along with cider and vegetables are from the Mick Klug family farm in Michigan. Basil for the pesto, greens and tomatoes for their mixed salad come from their long-time partnership with organic farmers David and Susan Cleverdon of Kinnikinnick Farm in Caledonia, Ill, near Rockford.
And she is passionate about making sure there is little waste. Cups in the cafes are made with compostable corn instead of petroleum, which along with coffee grounds and filters, tea bags and napkins are given to a local commercial composting firm.
"There should be no food waste," Haak said. "It is just wrong. Why would we turn it into garbage?
First Slice's pies have earned national recognition. Martha Stewart's website said "…try the French Silk pie, and you won't be disappointed." Food & Wine magazine included the apple pie on their list of America's Best Apple pies, praising it as "simple, with just a touch of cinnamon spice, lemon juice and a whopping 25 Granny Smith apples per pie."
All those apples make each pie weigh 5 pounds.
"It's like holding a newborn baby," Haak said.
Both the apple and Michigan cherry pies rank the most popular.
"The cherry pie has a classic taste, not too sweet," Haak said.
"There is a good balance between the tart of the cherries and sweetness of the rest of the other ingredients and the juicy filling contrasted with the flakiness of the crust."
And customers rave about the key lime pie.
"I've been told it's the best key lime they have had outside of Key West, Fla," Haak said.
Haak, age 50, a 20-year Rogers Park resident and mother of two grown children with her partner Shelby Hatch, learned to cook from her mother while growing up on the East Coast. First Slice – the name inspired by the belief that the first slice should be given to those used to living on crusts - is a perfect fit for her lifelong desire to help people.
"Even as a child, I have had a soft spot for people in need," Haak said.
She learned along the way that quality food can positively affect a person's well-being. And that is what she tries to incorporate at First Slice.
"We embrace the importance of food in our lives," Haak said. "Some meals fill your belly. Some meals fill your belly and your soul. That's the kind of meal we want to provide. A meal that nourishes your soul, whether you can pay for it or not."
Visit First Slice Pie Café:
Andersonville – 5357 N. Ashland Ave.
Ravenswood – 4401 N. Ravenswood Ave.
Manor – 4664 N. Manor Ave.
Information for the To Your Table Subscription Program can be found at firstsclice.org