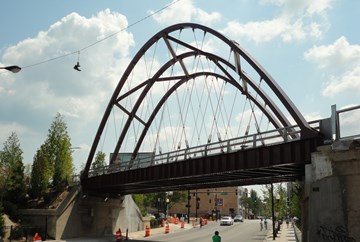 By: Kellen F. Kiernan
September 15, 2015
Even in its beginning stages, Chicago's reclaimed 606 Bloomingdale Trail is, frankly, awesome. Everyone seems to agree on that much.
A defunct railroad track is now a broad tree-lined path that somehow flawlessly integrates hard-core tattooed biker punks, serious runners, families with strollers and dogs, and users of wheelchairs.
The 606 combines exercise space with park space and turns what was once a roadblock into a very useful pedestrian path across Bucktown, Wicker Park, Humboldt Park and Logan Square, bringing together a very diverse cross section of Chicagoans.
Opened this June, the three-mile-long 606 (so-named for the Chicago ZIPcode) stretches from the Kennedy Expressway at Ashland on the east to the train yard at Ridgeway Avenue on the west. The $95 million project was funded by federal grant ($50 million) and private funding ($20 million), with local government contributing $5 million.
Beth White of the Trust for Public Land (the not-for-profit behind the 606 whose goal is parkland within a 10-minute walk for everyone) said that "the project is nearly a decade in the making, and that includes years of public meetings about the design and function of the park." Other partners in the project were the Chicago Park District and the Friends of the Bloomindale Trail.
Hundreds of grasses, perennials and bulbs are being planted end to end, White said, and a number of art installations will be continuing in the coming months. There will also be two new parks at Kimball and Ridgeway and a "wheel-friendly event plaza" expansion of Walsh Park. The trail already connects several park spaces, including playgrounds (Walsh at Ashland, Churchhill Field at Damen, Julia De Burgos at Albany, and Kimball Park). It has benches and fountains and side trails throughout and an overlook at Humboldt Boulevard.
Rules of the Road will soon be posted, but that barely seems necessary, since trail users seem to have instinctively figured out a system: fast bikers keep to the middle and are mindful of pedestrians. The trail is well-maintained, clean, green, and even monitored (but not over-zealously) by both Chicago cops and park staff. It has access points close to the CTA Blue Line Damen and Western stops and it runs parallel to the Armitage bus, at some points also to the Milwaukee bus.
Ben Helphand, president of Friends of the Bloomingdale Trail (FBT), said the trail is designed for bikers of moderate speed. "I look forward to teaching my 4-year-old daughter to ride her bike up there."
The 606 would be a great way for a tourist to get a unique perspective on the city, to really see the neighborhoods instead of just the typical tourist spots in the Loop. Near the Western Blue Line stop, one can enjoy authentic Mexican food at Arturo's Tacos (2001 N. Western Ave.), buy comics at Challenger's (1845 N. Western Ave.), or line up for ice cream at local favorite Margie's Candies (1960 N. Western Ave.).
The trail's Damen access point is a few blocks from six corners at Wicker Park, a lively area full of high-end boutiques, restaurants, and bars and a few gritty quirky holdovers from the pre-gentrification indie '90s like Quimby's 'zine shop (1854 W. North Ave.), Myopic [used] Books, (1564 N. Milwaukee Ave.), Flash Taco (1570 N. Damen Ave.) and the Double Door bar and venue (1572 N. Milwaukee Ave.).
Not all points of the trail are near many stores or restaurants, but if you're willing to explore and walk a few blocks you can also find hidden gems. You can dine at authentic Puerto Rican restaurants like the El Nuevo Borinquen (1720 N. California Ave.) where I had my first Mofongo (a plantain ball with pork rinds), buy a churro sundae at Xocoatl (3755 W. Armitage) on the far west end, or grab a brew at the Bucktown pub (1658 W. Cortland St.) at the other end of Armitage.
Neighborhoods along the trail are quiet and residential. The trail is dotted with the abandoned or repurposed former factories that the railroad was created to service – including Playskool toys, Excelsior motorcycles, Independent Snuff Co., furniture companies including Colonial Co., Hammond Organ Co., Ludwig Drum Co., and Harmony Co. instrument manufacturers. The railroad was constructed along Bloomingdale Avenue after the Chicago Fire by Chicago & Pacific Railroads between a still-existent train yard at the west end to the Chicago River to the east; it was elevated in 1913 to protect a growing population of pedestrians. By the mid-1990s, the track was no longer used, both because of factoring closing and less use of railroad and waterway transport.
"Nature quickly reclaimed the space with trees growing between the tracks," Helphand said. "Soon it was transformed into this narrow stretch of forested paradise. And right down the middle was this well-trod path, pounded down by thousands of curious neighbors venturing up there, looking for a place to get away from the bustle of the city."
The site was too beautiful to keep secret, Helphand said. FBT started working in 2002 to "make it so the magical place that was enjoyed by only a few could be shared with the whole city." The initial focus was the Trail alone and grew into the 606 as opportunities emerged for adjacent parks.
Given the trail's great improvement to the neighborhoods it crosses, it may seem strange, at first, (at least to those unfamiliar with city politics) to learn that many local activists – activists who agree emphatically that the trail is an improvement – are united in calling attention to potential problems with the 606's impact on the community.
To put it simply, neighbors fear that higher taxes and other forces of gentrification will price them out of their homes.
Activists, led by Latin United Community Housing Association (LUCHA), the Logan Square Neighborhood Association (LSNA), the Grassroots Illinois Action (GIA) Take Back Chicago branch, the Puerto Rican Agenda, and Spanish Coalition for Housing have gone door-to-door and hosted workshops (with the co-operation of Cook County Assessor Joseph Berrios and the support of Alds. Roberto Maldonado, 26th ward and Ald. Joe Moreno 1st ward) to encourage residents to appeal upcoming property tax re-assessments.
Property owners who received bills in mid-July had until mid-August to appeal while those who received them in mid-August have until September 14.
A GIA and LSNA workshop August 8 at the Humboldt Park Fieldhouse drew 150 families; another workshop was planned for September 3.
Moreno hosted three different workshops that drew an average of 60 people each. Staffers at his ward office were unable to say whether property owners were requesting reassessments for properties adjacent to the 606, but the 1st ward encompasses both sides of Bloomingdale Avenue from Western Avenue to Humboldt and the north side of the trail from Humboldt to Lawndale.
The 26th ward, meanwhile, includes the south side of Bloomingdale from Humboldt to Lawndale.
Reyna Luna works with Grassroots Illinois Action (Humboldt Park), a local activist chapter that organizes to politically empower marginalized populations. Luna, a friendly and straightforward woman, has lived in the Humboldt Park neighborhood adjacent to the trail for 14 years. She wanted to make it clear that she really likes the trail, particularly because it provides a safe place for bikers away from cars and is a good place to exercise.
Indeed, as I walked the trail, I noticed that a lot of the bikers did not seem to be the type you would normally see risking Chicago traffic, which is notoriously bike-hostile (and even deadly). The frequent access ramps are also a really nice touch, as they are not only convenient for bikers but also allow people with disabilities to easily access the trail.
Luna says she is not against new people coming in to the neighborhood, she is just against people who want to push other people out. She said the solution is education: homeowners need to learn about the values of their homes and how to fight displacement, and newcomers need to learn about the culture of the people who already live there. Basically, integration is a good thing, gentrification is not.
She also said, to paraphrase, that she doesn't think the issue is primarily a racial one, but mainly a problem of income disparity and class differences. She believes that individual neighbors care, but she notes that newly constructed apartments vastly out-price what existing residents could hope to afford. Luna notes that this issue effects both renters and homeowners, because rents will go up if taxes do.
Ivis Garcia is an activist representing the Puerto Rican Agenda, an organization that has long resisted gentrification. It has also worked on housing and homelessness and in 2008 released a study of the Puerto Rican community in Chicago. More recently, the Puerto Rican Agenda has worked against the 606 becoming a catalyst for displacement.
"We shouldn't have to be choosing between" having a nice new trail and a lack of improvements, Garcia said. The 606 is a rare exception, a project that has successfully (and quickly!) improved diverse neighborhoods across a spectrum of racial, class, and other factors. Garcia, incidentally, is herself an example of the type of good neighbor to whom Luna alluded, an individual who moved to Chicago later in life and yet quickly developed a passionate advocacy for the local community.
Garcia stressed that a key way to prevent gentrification is to have plenty of nonprofits serving the area. She said rents tend not to go up when there are lots of nonprofits providing services and community ties to residents in need.
She also said that Chicago needs to provide tax structure reform to protect the vulnerable instead of exploiting them. She echoed Luna's words regarding potential gentrifiers, saying that newcomers should be culturally sensitive and shouldn't try to "take over, criminalize, marginalize, and erase" current residents. She sees hope in "people who want to be involved in the neighborhood" no matter what their background is, perhaps via cross-cultural neighborhood gathering spaces like a local bike shop.
There are some people who believe that it should not be the government's role to prevent gentrification from happening. Residents were involved in helping the trail to get built, but they were never asked if they consented to give up their homes to provide the trail to wealthier people. If they had that choice, would they choose to stop the beautiful new public trail from being built in order to keep their homes? To echo Ivis Garcia, that is not a choice they should have to make.
Kellen (nee Helen) F. Kiernan is a Chicago lifer who blogs at TrueExpressions.Blogspot.com and can be reached at HelFKiernan@gmail.com.