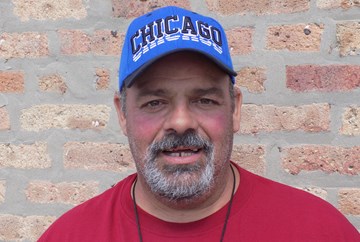 By: Greg Boudreaux
May 1, 2017
I originally came to StreetWise many years ago, in a period of considerable hardships in my life, back when the magazine cost $1 on the street and 35 cents to buy. Although my first stint with StreetWise didn't last that long, I knew where to go in 2010 when I lost my job at the gas station where I worked. When the station shut down as a consequence of the financial crisis, I returned to StreetWise, and quickly found a home selling the magazine in Lincoln Square. Although I'm not a vendor anymore, I'd like to take this opportunity to thank the residents of Lincoln Square for supporting me throughout my time there, and to tell them that I miss them and will be paying them a visit soon. I honestly believe that, if it wasn't for StreetWise and the members of the community who welcomed me with open arms, I wouldn't be where I am today. I know that my customers didn't have to do that, and the kindness which they showed me is humbling, to say the least. I hope one day I can pay it forward, and bring others the joy they brought me.
Throughout my time in Lincoln Square, I became one of StreetWise's top sellers, and I heavily attribute this to the relationships I was able to build with my customers. I especially enjoyed meeting the children of my customers, and every time they greeted me or asked me how I was doing, I was able to feel like I meant something to the community. Watching the kids grow up as my years of vending progressed formed a significant part of my life, and, in so doing, transformed my mood and helped me feel something I can only describe as a spiritual uplifting.
Even the neighborhood businesses accepted me, and made me feel welcome in the Lincoln Square community. Chase Bank offered me free coffee anytime I wanted, and this initial relationship helped me move forward in my financial planning experience. One day, one of the employees asked me if I'd like to open an account, and I did, which led to him telling me later on that I was eligible for a credit card. I had my suspicions, considering that past experiences with banks and proposals such as this had always led to being turned down. Unlike my past experiences, however, I was approved! I bought a scooter, made payments on it, and gradually built up my credit. Because of the kindness of the Lincoln Square community and this occurrence in particular, I was able to purchase a 2017 Kia Forte, which has proved indispensable in my new career as an Uber driver.
Of course, I'd like to reiterate that this is all due to StreetWise and the customers who helped me advance my material conditions over all those years. If StreetWise wasn't there, I don't know where I would have turned in my times of need. I humbly thank each and every person who has stood in my corner over the years, whether that be by buying a single magazine, being a returning customer, or simply brightening my days. I've been able to let go of hardships, work through financial mistakes, and learn how to become responsible and emerge with my head held high. I'm so grateful that StreetWise and Lincoln Square have been part of my story so far. It's been a great journey.