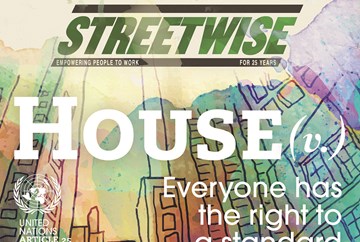 By: Suzanne Hanney
February 6, 2017
Weinberg/Newton Gallery and Red Line Service art collaborative don't want to be just a wine-and-cheese stop for River North gallery hoppers on the January 27 opening night of their new exhibit, "House." Instead, they are inviting art lovers and social justice patrons to share potluck and an initial discussion on homelessness.
Red Line Service, founded by artist Billy McGuinness and curator/art historian Rhoda Rosen, distinguishes itself by seeking and enacting solutions to pressing social justice concerns. McGuinness and Rosen are working with the gallery and with organizations committed to ending homelessness to mount the exhibition and to program events focused on expanding dialogues about poverty, social responsibility and culture.
McGuinness and Rosen met at the School of the Art Institute of Chicago (SAIC), where Rosen is an associate professor and McGuinness a lecturer. He has previously directed the Just Art program at Cook County Jail and been an artist-in-residence at Studio 3325 and ACRE in Wisconsin. He earned his master's in studio art from SAIC and a bachelor's degree in film and television at the University of California, Los Angeles. Rosen, who has also taught at the University of Illinois at Chicago (UIC), is curator of exhibitions at the Spertus Museum and Gallery 400 in Chicago and holds a doctorate in art history from UIC as well as bachelor's and master's degrees from the University of the Witwatersrand in Johannesburg.
The duo founded Red Line Service in the interest of tackling how art could address poverty after a particularly cold winter, Rosen said.
"We talked about the obscenity of such a wealthy city and people sleeping on the street. We both had experiences in the city. I take the Red Line all the time and see instances where people did not understand this was somebody's makeshift living space." In particular, she recalled watching a person who was sleeping on the train being asked to leave, even though Chicago's 7-degrees Fahrenheit temperature that day was 10 degrees colder than on Mars.
Social justice has also been a big part of McGuinness's life. He lived in major cities for years, then on a small island off the coast of Maine, and now in Uptown. Besides being struck by the evidence of homelessness on the street, he has a family member who suffers from paranoid schizophrenia and who has been homeless for 30 years.
"People suffering from mental illness are the hardest to help. I was powerless to help a family member, and can only help short-term. If I am unable to do for my family member, maybe I can do for someone else." 
McGuinness and Rosen said they have learned in the process of their social justice work. Red Line Service's first project in the winter of 2015 was serving food from tables set with flowers and tablecloths at both the Howard and 95th Street terminals of the CTA Red Line.
"People were unanimous in telling us that we would get kicked off," McGuinness said. "But we found the opposite was true. The police were totally unconcerned with our presence. CTA personnel were almost universally approving. We got a lot of smiles and kind words."
The dinner table installation sparked a conversation between the two as to what distinguished art practice from social justice. "We were providing a service. For art, it is important to be welcoming. We were equally excited about putting a frame around the art of caring….the art being a manifestation of a certain vision: a more caring world where people feel more connected," McGuinness said.
"What art can do is offer an alternate vision, that 'I want to be part of this community,' " Rosen added.
"A third aspect is research: what we can learn about ourselves and society," McGuinness said.
And the art world also affords connections, which can be leveraged towards a solution, Rosen added.
Simultaneously, a lot of social justice art does a good job of pointing to public policy failures but, "Along the way, we think what distinguishes Red Line Service is that we put the answers on display rather than the failures," she said.
Their previous work has been all about creating community discussion at diverse venues such as Weinberg/Newton Gallery, the SAIC's Sullivan Galleries, 6018/North and the Smart Museum. At the Sullivan Galleries, they hosted a speaker series on Chicago's housing crisis. Among their guests were Audrey Petty, editor of "High Rise Stories," a book of narratives by public housing residents; and Willie "J.R." Fleming, co-founder and director of the Chicago Anti-Eviction Campaign. They asked both Petty and Fleming to name the hurdles to solving homelessness. Petty said it was a "lack of imagination" while Fleming cited a "lack of political will" and a "sense of personal and moral obligation."
At the Smart Museum, Red Line Service created a more lively experience: 24 hours of programming that included fire eaters, puppeteers, and more for an audience of art lovers and people who are homeless (or in "transition,"), the term they prefer. The evening included a meal and ended with a sleepover.
"In each instance we're not representing homelessness, not painting, not making sculpture, not taking photos but rather we're enacting the solution, creating an actual experience with people," Rosen said.
"We're expressing the idea that to be a solution is beyond our grasp but we have basic ideas of caring, to connect," McGuinness said. "We take action as two individuals partnering with a collective. If every member of society were to say, 'I will do what I can,' we could end homelessness for everyone."
"Art is always a symbol, an invitation to imagine an action or possibility for yourself, a different way of being," Rosen said. Simultaneously, art creates a safe place for viewers to explore an issue without the pressure to "fix" it, she said.
After 18 months of programming, Red Line Service did an eight-week exhibition. However, the duo began to feel that hanging pictures on the wall was "pigeonholing" homeless people, whether the viewer saw them as pitiable or noble. 
"There is a danger of 'flattening' and making superficial the life of another human being," McGuinness said.
Even when they first served people food on the CTA platforms and received "thanks" in return, the artist and the curator felt that they were reinforcing a power perspective. Their goal was a more equitable exhibition, one that also leveraged connections made through the art.
That's why nearly all of the "House" exhibition budget will go toward housing two friends for a year. Thus, the title is pronounced "HOWZ," as in the verb, "to give someone a place to live."
The two housing recipients basically chose themselves, McGuinness and Rosen said, because of their engagement in the earlier exhibition. Their new apartment "is the kind of place either one of us would be happy to live in," McGuinness said. "The place we found is small, clean, bright, newly refurbished and with hardwood floors. It's on a quiet block, but not a rich neighborhood."
The understanding is that Red Line Service will cover the equivalent of their rent for a year, but that the two recipients might be able to extend their time if they are able to find jobs to contribute a portion of their living expenses. Rosen said she also hopes art world contacts will be useful in that regard.
The upcoming exhibition has had input from Franciscan Outreach, from Chicago Help Initiative, from Northwestern University Medical School's homeless outreach, from the Chicago Coalition for the Homeless, The Night Ministry and the Chicago Anti-Eviction Campaign.
The opening reception will be 5-8 p.m. at the Weinberg/Newton Gallery, located at 300 W. Superior St., Suite 203. Hours are 10 a.m.-5 p.m. Mon-Sat. through March 25 (weinbergnewtongallery.com) .
Subsequent programming will include:
• Thursday, February 9, 4:30-7:30 p.m., a screening of the Kartemquin-produced documentary, "The Homestretch," which follows three Chicago teens experiencing homelessness as they fight to stay in school, to graduate, and to build a future, followed by a panel discussion and reception.
• Friday, March 3, 5-8 p.m. a housewarming party for the two newly-housed people. Attendees are asked to bring an item to furnish their home or to make a contribution to the Housewarming fund at Fractured Atlas (fracturedatlas.org)
• Wednesday, March 8, 6:30-8:30 p.m. Alan Mills, executive director of the Uptown People's Law Center, will discuss ways Chicagoans experiencing homelessness are criminalized in the city, the laws that most effect them, their rights and how other individuals can support them.
Chicago is known as a city for socially engaged art practice, with a surge of young people interested in this genre vs. making art for the market, so venues have been more welcoming than they were 15 or 20 years ago, Rosen said. Chicago's reputation has extended internationally, McGuinness added. A group of artist-advocates from the United Kingdom checked in with them prior to planning a tour of the U.S.
All of this interest reinforces Rosen's belief that art will continue to leverage increased social justice consciousness.
"Our respect for the advocates and the service providers is inestimable," McGuinness said. "What motivates us is the sense that 'they can't do it alone.' What can we do as plumbers, teachers, artists, servers in restaurants to help these people collectively solve that problem?"