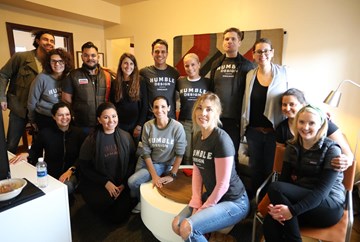 By: Kimberly Wong
July 31, 2017
Imagine spending some time in a homeless shelter, working toward the day when you can finally move your family into a house of your own. That day comes, and you gather your children and sparse belongings and step into your new home for the first time—only it's completely bare. No couches in the living room, no lamps in the hallway, no picture frames hanging on the walls… and no way for you to add these things on your own.
This is a genuine worry of those transitioning from shelters into low-income housing in America. Acquiring a house is just the beginning; making the house into a home is another story. To fully furnish a house would mean taking on many more expenses, and it could be months of saving before a family could afford bed frames for their children's mattresses or a dining table where the family could gather. This is where non-profit organization Humble Design comes in.
When Ana Smith and Treger Strasberg founded Humble Design in Detroit in 2009, their goal was for families moving out of homeless shelters and into houses to have more than just four walls and a roof over their heads. As necessary as those four walls and roofs are, for a house to feel like a home, people need furniture and personal touches. Humble Design's aim is to help these families to feel comfortable and happy in their new homes, and so they work with these families to acquire furniture and decorations suited to each family's taste.
Humble Design is a self-proclaimed "extreme makeover on-a-dime," a fitting description of the organization. The organization partners with local homeless shelters and abuse shelters, working to identify eligible families transitioning into low-income housing. Humble Design often works with women and children, and works only with families who are deemed ready for stable lives beyond the shelters. In order for a family to be considered for intake with Humble Design, the family is required to fill out an application so their eligibility may be assessed.
Once a family has been accepted into the program, a meeting is arranged between the family and a Humble Design designer and artist. During this meeting, the family's needs and decoration preferences are discussed at length. The Humble Design designer and artist work through a set of questions with the family, including the types of art, styles of furniture, and colors the family prefers. The designer and artist make detailed notes of the family's answers. From there, the designer and artist go to the Humble Design warehouse, which is stocked with gently-used donated items, and pick out the furniture and decorations that best fit the family's wants and needs. For families with kids, the Humble Design artists may create art for the kids' rooms with the kids' names on it.
Humble Design truly works hard to make sure each family's furnishings are as personalized as possible. When moving a bookcase into a family's home, Humble Design doesn't just give the family an empty bookcase, but fills it with age-appropriate books for each family member to enjoy. Their goal in custom designing for the individual families is to give the families a sense of dignity, pride, and ownership. Jessica West, who went through the Humble Design program and currently works with non-profit organization The Empowerment Plan, says, "Humble Design really goes above and beyond. They ask you what your dream house would be like, and I didn't expect them to ask that. I was expecting the basics, but it's really more than that. They're really nice, very personal, and they make sure everyone can have that 'wow' factor."
In order to provide these families with the furnishings they need, Humble Design works with both CB2—a modern home furnishing store owned by Crate & Barrel that provides Humble Design with household items that are less often donated—and U-Haul, which helps Humble Design move the the furniture into the families' homes.
The organization has thrived over the past eight years and has served nearly 800 families to date. While the national average suggests that 40 percent of people who move out of homeless shelters find themselves homeless again within a year, families who have been helped by Humble Design have only a 1 percent relapse rate.
Thanks to their success in Detroit, Humble Design has made plans to expand to 10 more U.S. cities by 2020, and its first stop is Chicago. The idea to bring Humble Design to Chicago came largely from Kristin Drutchas, the current director of Humble Design Chicago. Drutchas, a Chicago resident, is originally from Detroit and was helping a friend who was homeless when she discovered Humble Design. Inspired by Humble Design's work in Detroit and seeing the need for the organization in Chicago, Drutchas petitioned for Humble Design to come to the Second City. Chicago was a perfect fit in terms of the type of environment Humble Design was looking for: a place with a high poverty rate right up against areas with plenty of resources.
"Since Chicago is a larger city, there's a larger need," Drutchas says. "But the size of the city also means there are many more resources available to us." Humble Design Chicago began its work in March. While its eight-year-old Detroit counterpart serves an average of three families per week, the new Chicago branch currently serves one family each month with the goal of increasing this number to two families per month. This growth should not be a problem for Humble Design Chicago, which has been reaping the benefits of the already established Detroit branch in the form of quick recognition and a great response in Chicago.
One of the differences between housing applicants in Detroit and in Chicago is that most of the Detroit applicants go into single-family housing, while many Chicago applicants move into apartments. However, the demographics of the families are similar across both cities: single mothers, single men, and veterans with post-traumatic stress disorder. The demographics of the applicants have a lot to do with the social services organizations with which Humble Design Chicago has partnered, including Catholic Charities, Breakthrough Ministries, Jesse Brown VA Medical Center, and San Jose Obrero Mission. Since Humble Design Chicago has only been in operation for a few months, they are continuing to reach out to other organizations that might want to get involved.
While Humble Design Chicago has received many donations since its start earlier this year, there are certain items they often lack. For one, they receive many books and toys for very young children but do not get many books and toys for older children or even adults. They also have a constant need for more linen, mattress pads, and shower curtains. One way schools, businesses, and religious organizations can get involved is by holding linen drives and kitchenware drives for Humble Design. To learn more about Humble Design in Chicago and how you can get involved, call 1-844-HUMBLE3 or visit their website at www.humbledesignchicago.org.