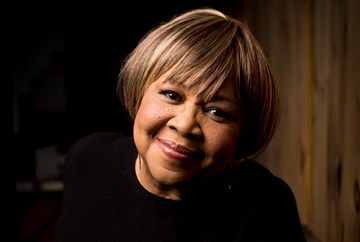 By: Alexandria Spillman
January 8, 2018
Mavis Staples, civil rights activist, solo artist, and lead singer for the iconic 60s gospel and folk music group Staple Singers, made a special trip home to Chicago last month. Staples joined Greg Kot, host of NPR's Sound Opinions and pop music critic for The Chicago Tribune, at the Harold Washington Library to discuss Kot's 2014 book - I'll Take You There: Mavis Staples, the Staple Singers, and the Music That Shaped the Civil Rights Era. Kot's book was selected for the keynote of the 28th One Book, One Chicago season.
During the conversation, Staples elaborated on several humorous stories found in Kot's book dating to her early life as a performer. She described meeting a white man in a leather jacket and motorcycle helmet one night after a show who said to her, "I like the way your daddy plays that nervous guitar." She found out later that night that she had met Elvis Presley. 
She talked about her nerves when Janis Joplin approached her for the first time backstage at the Fillmore West in San Francisco. Joplin asked in her signature raspy voice, "Which one of you is Mavis?" According to Kot, after Mavis overcame the urge to curl up and hide in the corner, Staples and Joplin began talking, and "Joplin expressed her love of Mavis' voice and the Staples' music."
Staples even shared proposal stories from her almost-lover, Bob Dylan. She cited the timing and attitudes regarding interracial marriage as being the barriers the two couldn't overcome. But in the same breath, Staples called him "her first love" and "the one I lost."
Staples grew up during a turning point for civil rights, however, and shared some of her trauma-filled professional experiences as well.
She described stopping at a Memphis gas station late one night after a show in November 1964. The Staples family pumped their gas, washed their windows, paid, and asked the attendant for a receipt. The attendant said he would only give them a receipt if Mavis went in to get it. Pops sensed a threat, chose to go in himself, and challenged the attendant's policy. The attendant responded with a slur and found himself on the receiving end of one of Pop's boxing blows. As the family crossed the Mississippi River and the Arkansas border, they were stopped by police, all their earnings were confiscated, and they were taken to the county jail.
Mavis spent the whole ride in the backseat of the squad car thinking they were headed to some secluded woods to be lynched. "I had never been so happy to see a jail in my life," she said.
In 1963, Pops arranged a meeting with Dr. Martin Luther King Jr. The two saw that their values and passions aligned, and they struck up a close friendship. From then on, the Staples Singers regularly played their music at rallies featuring Dr. King. According to Kot, "the Staples played a key role in creating a sound track for King's work." Kot quotes Jesse Jackson saying, "The Staples were the forerunners of taking the music message to another level. The Staples had a combination of music and message that I call soul and science."
Continue Learning with One Book, One Chicago Event Highlights
January 17, 6 p.m.
Author Todd Mayfield discusses "Traveling Soul: The Life of Curtis Mayfield"
Harold Washington Library, 400 S. State St.
January 24, 6:30 p.m.
A Celebration of American Roots & Popular Music with Ron and Rachel
Budlong Woods Library, 5630 N. Lincoln Ave.
January 25, 6:30 p.m.
A Tale of Chicago Told in 10 Songs
West Belmont Library, 3104 N. Narragansett Ave.
(Repeats Jan. 27, Mar. 14, & Apr. 18)*
January 27, 3 p.m.
Listening Together: How Chicagoans Experience Music
Edgebrook Library,5331 W. Devon Ave.
(Repeats Mar. 15, Apr. 19 & 28)*
February 3, 2 p.m.
Author Robert Marovich on Chicago and the Birth of Gospel Music
Uptown Library, 929 W. Buena Ave.
(repeated Mar. 10, Apr. 3, & 19)*
February 17, 11 a.m.
"I'll Take You There" Book Club
Budlong Woods Library, 5630 N. Lincoln Ave.
February 17, 3 p.m.
A Colorful Tribute to Black Music
Avalon Library, 8148 S. Stony Island Ave.
(Repeated Mar. 10 &  24)*
February 20, 6 p.m.
Rap and Poetry with Ron Kinsey
West Chicago Avenue Library, 4856 W. Chicago Ave.
(repeated Mar. 6 & 31, Apr. 7 & 21)*
March 27, 6:30 p.m.
The Power of Gospel and Spirituals on Twentieth Century Compositions:
From Classical Piano to Music of the Staple Singers
Albany Park Library, 3401 W. Foster Ave.
April 17, 6 p.m.
Perspectives on Queercore: Fed Up Punks
Harold Washington Library, 400 S. State St.
*at various locations and times,
see www.chipublib.org for more information.
On numerous occasions, King praised the Staples for their powerful song, "Why (Am I Treated So Bad?)"—a song inspired by the Little Rock Nine and desegregation of Little Rock Central High School in 1957. Staples recalled that nearly every time King saw Pops, King would ask, "Stape, you gonna play my song tonight?"
So when Staples and her family received the news that their dear friend and leader was assassinated on April 4, 1968, they were devastated. Staples remembers her family being on the road in Nashville with intentions to join King in Memphis on his peaceful march for striking sanitation workers. When a fan broke the news to them in the parking garage of their Nashville hotel, Pops immediately canceled their show scheduled for that evening, disregarded all plans to march the next day, and drove 12 hours straight through back home to Chicago.
"Pops was trying to hold all of us, because we were out of control," Staples said in Kot's I'll Take You There. "We couldn't talk to each other for the longest time about it without crying."
Even though many of the stories covered during the conversation were already available to audience members via Kot's book, Staples and Kot brought a new element to the conversation before closing. I'll Take You There, first released in 2014, commemorates the 50th anniversary of the civil rights movement, and according to Staples, black Americans are still fighting the same battles.
"It's like starting all over again," Staples said. "I've done this all my life. What I'm hating right now is that we don't have a leader. We don't have a Dr. Martin Luther King. I'm not a good speaker, and it's so sad that this is happening all over again. Sometimes I feel like I'm living in the 60s. You see the news and it's the same thing that was happening way back then."
Staples named examples of race-fueled hatred, violence, and inequality from recent history that may seem all too familiar to events from the early Civil Rights Era, including Laquan McDonald—the black teenager fatally shot 16 times by a white police officer in 2014—and the more recent Charlottesville riots in South Carolina.
"I'm easy going," Staples said. "I try to say everything right. I want to be liked. But it got to the point where I don't care."
"When I saw those men marching in Charlottesville with those torches, the next thing I thought was that they were going to start torching crosses. They are bold. They don't have the white sheet anymore. They don't mind showing their faces, so I don't mind telling you what's on my mind."
The One Book, One Chicago crowd erupted in praise and applause after that.
Staples performed music that was controversial for her time—songs such as "Why (Am I Treated So Bad?)," "Freedom Highway," and "When Will We Be Paid"—so when other performers step up to the mic to do the same, she takes notice. Staples commended Chicagoans Chance the Rapper and Common for writing lyrics that send an empowering message.
"I'm here for a reason. This is all I know how to do, but I would like to have help," she explained. "I'm glad to see Chance the Rapper and Common come to help. There are very few of us. I'm glad to have help from people like that. I would like to see more from the young people, like Beyoncé and Jay-Z. You'd be surprised how little kids can pick up what they're saying and say it right away. They learn it that quick. We would have a following. We need more young people to be aware."
In addition to Staples' recognition, Chance was honored with the Humanitarian Award at the 2017 BET Awards last June. At the awards show, Chance used his platform to call attention to police brutality, mass incarceration, and necessary changes in Chicago Public School system. Chance delivered a similar message at the 2017 Emmy Awards in September when he rapped these verses into Stephen Colbert's cold opening:
"I love television, it's a pleasant distraction
But just imagine taking action
I like Brooklyn Nine-Nine, in fact I'm addicted
But where's the cop show where one gets convicted?"
Followed by:
"I get it, them finales, they got you focused
But just record the show and show up at the protest."
Chance creates his own "gospel in a blues key:" Duke Ellington's description of the Staple Singers in their early days. Chance's new song "Blessings" brings in several gospel elements including a call-and-response chorus, the rhythm, and of course, the lyrical content. "Blessings" is the same song where Chance drops lines about President Trump and violent police responses to nonviolent Black Lives Matter protests.
Common has spoken out about the same injustices. As an actor, Common starred in Selma, the 2014 movie directed by Ava DuVernay about discrimination and black suffrage in the 1960s South. Next, Common appeared in another DuVernay work, this time contributing his rap "Letter to the Free" to 13th, a Netflix documentary about mass incarceration. "Letter to the Free" rounds out Common's newest, and politically-charged album, Black America Again, in which he discusses discrimination, white privilege, and taking action.
When Mayor Rahm Emmanuel introduced Mavis Staples at the onset of the conversation, he said "I'll Take You There" was chosen as the One Book, One Chicago keynote because of how "Mavis Staples' music tells the story of the United States and gives you the sense of the beat and rhythm for the city of Chicago." He said, "It's 'Gospel in a blues key.' It's very simple. It captures everything."
For the Staple Singers, "gospel in a blues key" meant staying traditional in their faith, but representing that faith in a non-traditional way. It meant forging their own path in the music industry and not letting purists and critics knock them down along the way. "Gospel in a blues key" meant having resilience as they ventured into both uncharted musical and civil rights territory.
Chance the Rapper and Common are just a few examples of contemporary artists fighting the same fight Staples and her family fought from the 1950s forward. These are the artists using art and rhythm to reach the generation that can create change. Sure, they don't sing the same gospel as the Staple Singers; they sing their own "gospel in a blues key." They sing gospel in a rap key.