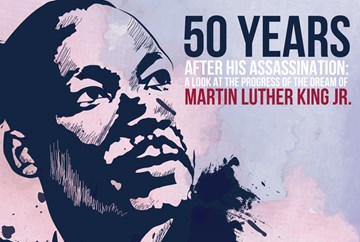 By: Suzanne Hanney
April 9, 2018
At 6:01 p.m. on April 4, bells will toll at the National Civil Rights Museum in Memphis, TN to mark 50 years since a sniper struck down the Rev. Dr. Martin Luther King Jr.
King had been standing on the balcony of his room at the adjacent Lorraine Motel; he died an hour later, on April 4, 1968. 
National Civil Rights Museum officials say they do not want "to linger on the past but instead use that horrific event to propel us forward."
Later on April 4, activists young and old will meet for an evening of storytelling with the theme, "Where Do We Go from Here?" – the title of Dr. King's last book. Historic civil rights leaders such as Jesse Jackson and Marian Wright Edelman will share recollections from their work. New ideas to further Dr. King's platforms for peace, justice and equity will come from activists such as Bree Newsome and Quentin James.
Newsome is the filmmaker who climbed the flagpole at the South Carolina capitol in June 2015 and removed its Confederate flag. During a Yale University MLK50 commemoration last January, she said that King's civil rights struggle was "the very same crisis we find ourselves addressing today."
James is a past national board member for the NAACP and founder of The Collective PAC, a political action committee focused on building black political power by electing black candidates at the local, state and federal level. He is also co-founder of Inclusv, a diversity hiring initiative for campaigns and advocacy organizations across the U.S.
MLK50 has been a yearlong commemoration at the National Civil Rights Museum. Its website contains "50 Voices for 50 Years," essays describing where the U.S. is today in terms of civil rights – and where we are going.
Yohuro Williams, professor of history at the University of St. Thomas in St. Paul and a "50 for 50" voice, wrote that King coined the term "creative maladjustment" when he spoke to the American Psychological Association. "There are some things in our society to which we should never be adjusted, such as economic conditions that take necessities from the many to give luxuries to the few." King told the group    
"King's words command our attention," Williams wrote. "They link in a powerful way a seemingly disparate collection of social justice struggles, including removing Confederate statues, Black Lives Matter, fighting for the rights of undocumented students, the plight of LGBTQ communities, and preserving public education for students,"
If government officials no longer deliver on the nation's founding principles, "creative maladjustment commits us to seek solutions outside the system while pressuring it to respond to legitimate demands," Williams said.
The Voting Rights Act of 1965 was a signature piece of civil rights legislation designed to overcome arbitrary state and local barriers that kept African Americans from the polls. However, in 2013 the U.S. Supreme Court overturned a provision that nine mostly Southern states must have Justice Department approval to change polling places or redraw electoral districts. Since then, 22 states have passed laws that made it harder for people, especially people of color, to vote, wrote Jeanne Theoharis, a political scientist at Brooklyn College of CUNY, another "50 for 50" voice.
The Rev. William Barber says this voter suppression is what put Donald Trump in the White House. "Long before Russia hacked our election, our government was hacked by racism," she noted.
Barber also sees a refusal to examine what is really happening to the poor, because there was no mention of them in 26 hours of presidential debates. Since fall 2016 he and the Kairos Center at Union Theological Seminary have called for a new Poor People's Campaign like the one that King announced in December 1967.
The new PPC as seen by Kairos and the Poverty Initiative would unify parents from Flint, Mich; Fight for $15 workers; activists from Ferguson, Mo.; coal miners; farmworkers; homeless activists and cultural artists from New York to California. Their common agenda would be addressing police brutality, restoring the social safety net, attacking environmental racism, paying living wages, fighting for immigrant rights and making housing, food and health affordable and available to all.
The first PPC was inspired by U.S. Atty. Gen. Robert Kennedy's suggestion that King bring the poor people to Washington. Despite her husband's death, Coretta Scott King led a caravan from Memphis on Mother's Day in 1968. Eight more caravans from diverse regions of the U.S. brought 3,000 people - blacks, Latinos, Native Americans - to a temporary city on the National Mall. They spent six weeks in wooden A-frames they called Resurrection City and organized daily protests for their diverse needs. The City was closed down after the assassination of Robert Kennedy in June 1968.
"Key to the PPC's vision was that people had the right to social assistance – a resounding moral challenge to the prevailing idea that people caused their own poverty," Theoharis wrote.
Amy Nathan Wright, another "50 for 50" voice, wrote that in King's last year of life, he moved from civil rights to broad human and economic rights, as seen in his book, "Where Do We Go from Here: Chaos or Community?"
In May 1967 he outlined a strategy to the Southern Christian Leadership Conference that involved opposition to the war in Vietnam, organizing workers through unions, mobilizing consumers through boycotts and combatting poverty across racial lines.
"As we work to get rid of the economic strangulation that we face as a result of poverty, we must not overlook the fact that millions of Puerto Ricans, Mexican Americans, Indians and Appalachian whites are also poverty-stricken," quoted Dr. Wright, an assistant professor at St. Edward's University in Austin.
King was moved by his own Depression-era childhood experiences of seeing soup lines. He was also devoted to the Christian concept of a "beloved community."
In a 1956 sermon, "Paul's Letter to American Christians," King elaborated on this community. "God never intended for a group of people to live in superfluous, inordinate wealth while others live in abject, deadening poverty. God intends for all of His children to have the basic necessities of life, and He has left in this universe enough and to spare for that purpose. So I call upon you to bridge the gulf between abject poverty and superfluous wealth."
Personal experiences during summer 1966 deepened King's commitment to these views, Dr. Wright wrote. He visited Marks, Mississippi and saw a teacher divide a single apple among four hungry children.
And he was living in a slum at 1550 S. Hamlin Ave., in the southwest Chicago neighborhood of Lawndale. Children in Lawndale lacked warm clothes, vitamins, and flu shots, King noted in his personal papers, available at     kinginstitute.stanford.edu. The children were thrilled at adult attention since both parents often had to work and there was little time for family life.
Yet despite the "wall-to-wall roaches" he described to the Chicago Tribune, King and his neighbors paid more for their apartment than whites did for larger ones in outlying Marquette Park and the suburbs. "We are tired of having to paying a median rent of $97 a month for four rooms while whites in South Deering pay $73 a month for five rooms," he said at a Soldier Field rally on July 10, 1966.
King wrote that he came to Chicago because as one of the nation's most segregated cities, it "could well become the metropolis where a meaningful nonviolent movement could arouse the conscience of this nation to deal realistically with the Northern ghetto." His work here focused on ending segregation and slums.
In the wake of King's death, Chicago was one of 100+ cities around the U.S. to experience an explosion of grief and anger. The day afterward, a Friday, began four days of disturbances and fires that destroyed 170 buildings, from mom and pop stores to large businesses. Affected areas were on the Near North Side between Chicago and Division, and from Wells and Larrabee; and on the West Side, between Madison and 16th Street and from Damen to Kildare, including Lawndale. 
As many as 12 young men age 16 to 34 were killed and another 500 people were injured, according to "Great Chicago Fires: Historic Blazes that Shaped a City" by David Cowan (Lake Claremont Press). There were 300 arrests, 250 cases of looting and 1,000 people who became homeless.
Afterward, many businesses lost their insurance and left the area, according to the online Encyclopedia of Chicago. However, neighborhood leaders cite other factors behind disinvestment: the new highway system that facilitated suburban commuting, home loans for white veterans that black veterans did not receive, redlining by banks.
Plans begun for the United Center in 1989 led to an agreement for new housing on vacant land, a $2 million economic development fund, a $600,000 interest-free construction fund, a new library and the James Jordan Boys & Girls Club. The Near West Side Community Development Corporation also developed a project to bring mixed income housing, instead of the monolithic public housing of the past.
Lawndale Christian Development Corporation (LCDC) was founded 30 years ago to bring resources back to the community: more affordable housing, better education, economic development.
In 2011, with funding assistance from Local Initiatives Support Corporation (LISC Chicago) LCDC opened the 45-unit Dr. King Legacy Apartment complex and MLK Fair Housing exhibit at 1550 S. Hamlin Ave.
"Progress has been made but not as the same rate as disinvestment. As a result, North Lawndale is roughly a third (about 40,000) of the size in terms of population as it was in 1960 (120,000), said Richard Townsell, executive director of LCDC.
"On a whole host of indicators, from unemployment to college graduation, we may be worse than 1960," Townsell continued. "Home ownership is roughly 25 percent. There is one small bank in the neighborhood and one 'chain' grocery store. There are 1000 city-owned vacant lots in the community. Crime continues to be an issue and the educational outcomes have not been great. The neighborhood has been declining in population so much that many of the school buildings are underutilized."
Yet, there have also been positives, Townsell said.
Homan Square, the former Sears corporate headquarters, has been developed with housing as well as its "original Sears Tower." Completed in 2001, the Homan campus at 3559 W. Arthington includes a 5.18-park with an Olympic-sized indoor pool and DRW College Prep, part of the Noble network of charter schools.
Townsell also cites Cinespace Chicago Film Studios, 2621 W. 15th Place, as a "huge boon to the community." Besides hosting an annual holiday party for local kids, the family-owned support facility for the TV, film and digital media industries is where "Empire," "Chicago P.D." and "Chicago Med" are shot. It's located in the former Ryerson steel mill.
Lawndale Christian has been active on the south end of the community with housing and medical related facilities. Local developers have built senior housing and large apartment buildings on the boulevards.
Townsell also credits anchors such as Mt. Sinai and St. Anthony's Hospitals and the Steans Family Foundation, a philanthropic partner for the last 20 years. "There have been committed efforts from a host of social service agencies to make a difference and that work has born a lot of fruit.  Despite the budget messes in Springfield, organizations have figured out ways to be more efficient and do more with less."
Finally, the North Lawndale Community Coordinating Council (NLCCC) has spent three years developing a plan for the neighborhood. It will be launched this month. Check out www.nlcccplanning.org to learn more.