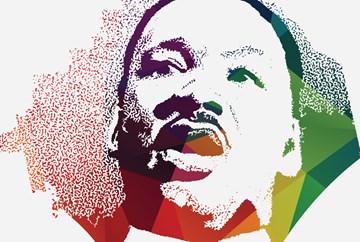 By: Suzanne Hanney
January 20, 2017
Dr. Martin Luther King Jr.'s work in the South had achieved passage of both the Civil Rights Act of 1964, which banned segregation in public places and employment; and the Voting Rights Act, which was signed in August 1965. But next, King and Southern Christian Leadership Conference (SCLC) leaders James Bevel and Andrew Young convinced supporters they had to take the movement North to show that racism and poverty were national issues.
The Chicago Freedom Movement (CFM) was the alliance between the SCLC and Chicago's Coordinating Council of Community Organizations (CCCO). In January 1966, Dr. King and his wife, Coretta Scott King, moved into a slum apartment at 1550 S. Hamlin Ave. in the Lawndale neighborhood: four rooms for $94 a month compared to five clean rooms for $78 in the Southwest Side Gage Park neighborhood, where the CFM later held open housing marches. 
An August 1966 summit between the CFM, Mayor Richard J. Daley, and real estate, business and religious leaders produced an agreement that the marches would stop and city leaders would promote fair housing. However, militant factions of the CFM denounced the settlement and promises by city leaders went unfulfilled.
StreetWise met the Civil Rights Movement veterans profiled on these pages on crmvet.org and interviewed them by phone and email.
DON ROSE
Don Rose was press secretary for the Chicago Freedom Movement (CFM) between mid-1965 and summer 1967, having done the same work for Chicago's Coordinating Council of Community Organizations (CCCO). He has since been an independent political consultant in Chicago.
Chicago was the Northern city chosen to expand Dr. King's movement "because we were the best organized," Rose said. "We had had a significant civil rights movement since 1962." (The CCCO had led a boycott of Chicago public schools in 1963-64 in response to segregation of black students in separate trailers apart from school buildings.)
"[King] agreed to check out four or five cities, including Cleveland, in early 1965. Andy Young and his people thought it would be in Harlem, but Harlem had too much internecine warfare. When King, Young and a grouping of the SCLC came to Chicago we had him in a long weekend of meetings – every community and even the suburbs – not just one big downtown meeting. Every black community in the city on a whirlwind tour that lasted three days. Also, we had the need."
Rose has written that the CFM's initial agenda was to achieve "open occupancy" by exposing "racial steering" by real estate firms: white couples and black couples would visit an office seeking rentals in a white neighborhood affordable to blacks. However, only the whites were told housing was available. Firms that engaged in racial steering were supposed to be sanctioned by the Chicago Commission on Human Relations. When that did not happen, the CFM scheduled a July 28, 1966 march in front of a real estate firm in Gage Park. On the third march in August, Dr. King was hit on the head by a rock and said he had never seen such hatred.
That's when the CFM's agenda changed, Rose wrote.
"The most important thing the CFM did was bring northern racism to the fore…what happened on the marches," he told StreetWise. "They also dropped official opposition to open housing laws. If we had passed the national law while King was alive it would have been a stronger law.
"But there is something more sophisticated than that. People used to draw a difference between what they called the de jure [imposed by law] segregation of the South and the de facto [cumulative preferences] segregation of the North.
"We showed that de facto racism was truly de jure but the laws were more indirect and it was actions by government. Virtually every element of Chicago government was guilty of violating civil rights laws: police, fire department, park district.
"As an example, when the National Housing Act was passed in the late '40s to create public housing, the Chicago City Council passed a law that said it could not be built in any ward without the permission of the alderman. That was a law that created segregation. It said nothing about 'black' and 'white.' What happened was white aldermen did not take public housing and greedy black aldermen did. That's why we once had a five-mile long string of ghetto housing on State Street.
"We opened it up. It still took a whole series of lawsuits over six or eight or 10 years to correct it. Some were not. The Police and Fire Departments still do not have the proportion of minorities they should have."
Where are we now?
"Barriers have been dropped but economically there is not nearly as much progress. You can eat at a lunch counter but can you afford it? The Supreme Court also took a big bite out of the Voting Rights Act, the worst setback civil rights has had, a reversal of civil rights gains."
In a 5-4 decision in June 2013, the Court struck down a provision that jurisdictions with a history of discrimination had to seek federal approval before changing their election laws. The result, said Rose, is that locales have been requiring new voter IDs, and cutting back the hours and numbers of voting stations in order to hamper minority voting.
PETER ORRIS, MD, MPH
Between his freshman and sophomore undergraduate years at Harvard University in 1964, Peter Orris, MD, MPH volunteered with the Student Nonviolent Coordinating Committee (SNCC). Orris registered voters in Mississippi and installed citizen band (CB) radios in organizers' homes.
"We were involved in helping African-Americans register to vote because they were being excluded from the process through a variety of unfair tactics," Orris told University of Illinois Chicago officials for a story on "Freedom Summer" on its website.
"I was scared a lot of the time in Mississippi," Orris said. "People tended to threaten violence with some frequency and carried through on those threats in a number of situations."
Three civil rights workers – white New Yorkers Michael Schwerner and Andrew Goodman, and James Chaney, a local African-American -- had disappeared in June 1964 and their remains were found in August near Philadelphia, Miss. They had been shot by order of the Ku Klux Klan after Schwerner organized a successful black boycott of a local variety store. According to History.com, their deaths led to passage of the Civil Rights Act in July 1964. 
Fifty years ago, there were no cell phones, and Orris told StreetWise that installing CB radios in cars and homes that also lacked landlines was intended to bring a measure of safety to organizers.
"It was also to make a statement that the Movement was here to stay and wasn't going to be intimidated," he said. Because a CB antenna atop a Philadelphia, MS farmhouse could be seen for quite a distance, "for the Klan it was a symbol of some strength: that we were there and the situation for them had gotten worse, not better. The Civil Rights Movement would move in more people and continue these types of activities instead."
Orris joined the Civil Rights Movement with his mother, who was a union organizer. He first went on freedom rides in Maryland to integrate lunch counters and then went to North Carolina where he worked with migrant workers and in the national office of the March on Washington for Jobs and Freedom in August 1963.
Orris later graduated from Harvard, received a master's degree in public health from Yale University and a medical degree from the Chicago Medical School of the Rosalind Franklin University. He is professor and associate director of the Great Lakes Center for Occupational and Environmental Safety and Health of the University of Illinois School of Public Health and director of it Occupational Health Service Institute and Global Toxics Policy Program. He is also a senior attending physician at Cook County Hospital. 
JIM KECK
Jim Keck was between junior and senior year at Quigley Preparatory Seminary North when he noticed panic peddling in his neighborhood: whites selling cheaply to real estate agents who were profiting by selling high to incoming African-Americans. Keck read the original works of Saul Alinsky and became a member of the West Side chapter of the Congress of Racial Equality (CORE) in 1964. While in high school he created the youth affiliate of the Catholic Interracial Council of Chicago, the Christian Student Movement, to recruit Catholic high school and college students to work in the Chicago Freedom Movement (CFM).
Ending slums – which King had called "the end product of domestic colonialism" -- had been the CFM's primary goal, according to cfmvet.org When the Rev. James Bevel arrived in Chicago in August 1965 with the Southern Christian Leadership advance team, Keck joined the SCLC Near North Side Union to End Slums as a field organizer.
Slums extended west of LaSalle Street to the Chicago River and from Chicago Avenue north. "In summer and winter they were horrible to live in. There were always problems with furnaces and air conditioners. Maintenance and upkeep didn't exist. There were always rats and roaches and [peeling] lead paint." Usually he and an African-American organizer would knock on doors until they found enough tenants to unite and stand up to the landlord, perhaps withhold rent until repairs were made.
Roughly 25 tenants were reluctant at a meeting near Douglas Park on the West Side, – until a rat jumped onto a coffee table, sat up and started eating the crackers and Velveeta cheese put out by the host.
Keck and his African-American girlfriend, who became his wife, were also involved in testing: for rental housing, for jobs, even for restaurants. She would visit first and be told the apartment was rented, or the job was no longer available. He would go after she left and would receive the specs.
And he participated in the violent open housing marches in Marquette Park, which he describes as "greaser Woodstock.
"Most of the people who turned out to protest were young white guys who came from all over metropolitan Chicago. They got to act out like they never could in their home communities. A lot of testosterone and craziness. I interviewed some of those guys in later years [he organized on the West Side from 1971 to 1985 to fight re-segregation] and they were so embarrassed they didn't even want their kids to know."
After a march near Marquette Park in July 1966, when cars were burned and thrown in the lagoon, Keck recalled being sent in a beat-up car with three or four black teens to get rescue buses. Two white youths on motorcycles chased them east on 67th Street to Western Avenue and swung chains with locks that smashed their windshield.
"The five of us in that car, nobody was more than 23 years old. Young teenagers, college age [youths] were the foot soldiers. Bevel was a master at inspiring us. When we were despairing, he would talk to us. He would use the Bible, talk about Gandhi campaigns, the French or American revolutions, whatever he needed to. He inspired young people to do unbelievable things. We young people were willing to give our lives."
Bevel had confided in Keck that Philadelphia was actually first choice for King's Northern city, because it was the "City of Brotherly Love" and located close to East Coast media. However, local activists refused because they feared the town would ignite under brutal police official Frank Rizzo. 
Likewise, Dr. King "could do things right off the cuff, fantastic commentaries that could be so inspiring. I never heard someone speak so motivationally as he did."
A retired therapist living in the near-western suburbs Keck is irritated when media say King was defeated by Mayor Richard J. Daley. "That's not true. If he was defeated, he was undermined by local leadership who never seemed to coalesce and give him their full support. That's why he left."
DAN STEVENS
Improvements in communications – from listening to President Roosevelt's "Fireside Chats" on the radio to watching television that offered a choice of three stations – helped bring about the Civil Rights Movement, said Dan Stevens. "When I arrived at college in 1960, we watched reruns of the Three Stooges.  And then suddenly in the spring of 1961 there was video of people being beaten at lunch counters. Black people, waiting to be served."
Stevens, of Chicago, helped organize a chapter of the Congress of Racial Equality (CORE) at his college in southern Ohio and they held a conference with a nearby historically black college. "Just as summer began, a friend from that conference sent me a letter from the Jackson, Mississippi jail. 'We have food, light and water. Come on down.'
"The Interstate Commerce Commission had ordered that bus station waiting rooms had to be integrated. The states fought it. So we took buses to Jackson and integrated the waiting rooms. As soon as one bunch of us was arrested for disorderly conduct, another bunch would arrive. 'Fill the jails' was the plan. Make it physically impossible for the city police to arrest us. But the governor took the pressure off the Jackson police by making space available at the state prison at Parchman. A week after our group was arrested, we rode north in a hard-springed school bus to the state prison farm.
"The white males were housed 24 hours a day in a newly built dorm building in the middle of the fields. Cots lined the walls. Meals of beans and hot sauce were served regularly. We did easy time. The black males were put to work in the fields. The intent was to set us against each other.
"What motivated the white people to come? Many of them were Jewish. Having as young kids seen the defeat of fascism in Germany, at 19 they could spend their first summer on their own helping to defeat the same forces here in America. Emmett Till's killing was still fresh. Others were the offspring of college professors, finding a role in the larger picture. Some were college professors. Several were children of 1930's radical labor union people. Several of us were gay, and this was a fight for freedom we could safely join.
"About two months after my arrest, the State of Mississippi folded and let the waiting rooms be integrated. We riders pleaded 'nolo contendere' and were, I think, sentenced to time served. Many of us went on to join other struggles."
Where are we now in terms of civil rights? Stevens is concerned both about recent voter suppression and President-elect Trump's potential to threaten the civil rights of gay people.
LYNN ADLER
The white power structure in rural Alabama threw every possible obstacle before blacks trying to register to vote – like asking them to recite the Constitution -- recalls Lynn Adler. She spent the summer 1965 holding literacy classes and working with voter registration before coming to Chicago that September.
Adler, who was 22 and a new graduate of the University of Pennsylvania, remarked during her orientation to James Bevel of the Southern Christian Leadership Conference that covert racism existed all over the U.S., so they should take their activism North. Bevel had the same opinion, so Adler thinks that's why he brought her to an organizing meeting at the home of Andrew Young in Atlanta.
"Dr. King was sitting on the floor eating barbeque. He was very sweet to me." Adler, who attended monthly meetings with Dr. King, said he had a wonderful sense of humor yet seemed older than his years and gave the young activists a reading list of historic black thinkers such as W.E.B. DuBois and James Baldwin.
In Chicago, Adler roomed with future Chcago alderman Dorothy Wright (later Tillman) and three other girls in a building owned by the Warren Avenue Church at 3309 W. Monroe St.
"Our basic job was to organize a tenant union to end the slums, what Bevel really cared about. There were lots of big apartment buildings with no heat, full of rats, unbelievably bad situations. We would try to get people to come to meetings." Meanwhile, the buildings were managed by different real estate companies, which they would also picket.
"We had to research to see who was really in control and who we could put pressure on, the conditions in each building, how many didn't have heat or did have rats and roaches. We would encourage people to get together in this group and get a commitment from as many people as possible. The people ended up withholding their rent and we set up an escrow account they were paying into, but not to whoever was managing the building."
Bernardine Dohrn was a law student at the time who helped them draw up an agreement that prompted one real estate firm to sit down and negotiate. In another, they got 50 buildings managed by one company to participate. But ultimately, Adler says that the firms had no real capital to make repairs. Neither did SCLC.
Adler also visited real estate firms to expose racial steering and marched for open housing.
"I felt from my perspective a division in the SCLC between doing the organizing in the community and doing something which would cause widespread attention: marching into the white areas right outside the black areas. We'd go on these marches that were almost designed to capture media attention." Whites would be screaming and throwing things at them but Dr. King's non-violence training forbid them from fighting back. When their cars were parked in a park, they were set on fire. Police stood by and watched, loaded white attackers into a wagon – and let them out a block away.
Members of the Revolutionary Action Movement (RAM) in Chicago understood the concept of nonviolence but became frustrated with the idea that they had to just passively accept a beating from whites, she said. Likewise, she disagrees with media portrayal of a schism between King and Malcolm X. "I don't think that's true. Some of us were attracted to Malcolm X when it became clear it wasn't just a race issue but one of poverty."
Adler remained in Chicago until fall 1967. She then moved to the West Coast, where she has been a documentary filmmaker whose work has been seen on PBS. Two of her films draw from her Alabama and Chicago experiences. "Faith, Hope and Capital" describes the housing campaign. "The Barber of Birmingham," which was Oscar-nominated as a short documentary, describes an elderly black barber who finally gets to vote for a black man for president.
JOHN R. SALTER (HUNTER BEAR/HUNTER GRAY)
John R. Salter Jr., also known as Hunter Gray or Hunter Bear, served in the Civil Rights Movement in the South for six years: from summer 1961 to summer 1967. After a hiatus in the Pacific Northwest, he came to Chicago from 1969 to 1973, where as the first South Side director of the Chicago Commons Association, he directed the large-scale grassroots organizing of 300 (mostly black but also Puerto Rican and Mexican) block clubs on the South and Southwest Sides. His geographic area was between 28th and 63rd Streets and west to Ashland, including the old Stockyards.
"It was a very dangerous setting, an urban frontier. You had a large migration of black and Puerto Rican people moving into white areas. There was a good deal of resistance to that, some nonviolent but some violent, where young white gangs came into play and some police. In addition to white racist gangs like the White Berets, a spinoff from the American Nazi Party, there was quite a network of black and Puerto Rican and Mexican youth gangs. We made a very lasting peace between some of the minority gangs."
Simultaneously, Gray was a key volunteer organizer of the Native American Community Organizational Training Center in Uptown, for many years as its chair. Gray is an American Indian (Mi'kmaq/St. Francis Abenaki/St. Regis Mohawk), who grew up in Navajo country of northern Arizona and western New Mexico. 
He has taught at the Navajo Community College (now Dine' College) and chaired the American Indian Studies department at the University of North Dakota. He has never stopped organizing: anti-uranium campaigns in Navajo country, Native rights campaigns on the Northern Plains.
"Dr. King was absolutely right in seeking to reach out to all people," he told StreetWise. "That was not a new goal by any means. In the 20th century, the IWW (Wobblies) had early on sought the One Big Union open to all, regardless of race and ethnicity and gender. There were other efforts in the same vein. But King articulated that very well in his time. Had he lived, that reach-out would have moved much faster and pervasively and, for example, he could well have brought the civil rights and labor movements into a much closer relationship. At the time he was killed, he was shifting from truly civil rights into economic justice, supporting the sanitation workers' strike in Memphis," which had started when two workers were crushed by a malfunctioning truck.