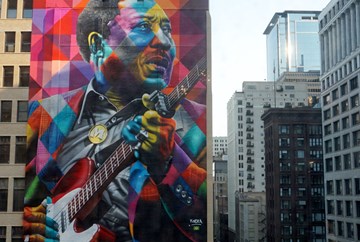 By: Suzanne Hanney
February 26, 2018
In the historical novel, "Windy City Blues" by Renee Rosen, guitarist Red Dupree comes up to Chicago in the late 1940s, having distinguished himself among blues musicians in the Mississippi Delta.
Like so many people during the Great Migration, Dupree took the Illinois Central Railroad to its Roosevelt Road and Michigan Avenue terminal. The fictional Dupree then walked a mile west, where he saw a scene that reminded him of home.
"There was a young man playing harmonica who couldn't have been more than 16 or 17. Red saw a man sitting on a wooden milk crate with a banjo, blowing on a jug like it was a bass. People were clapping and singing along and tossing money into a bucket near the banjo player's worn-down boots. And all the while, white men lined the sidewalks, calling out to folks, trying to sell them socks and umbrellas, nuts and bolts and fishing gear."
After grabbing a Maxwell Street Polish sausage from a man grilling them over hot coals in a 55-gallon drum, Dupree gets some advice from the harmonica player. He needs an electric guitar.
"This here's Chicago," says "Little Walter," aka Walter Jacobs. "Ain't nobody going to hear you without an amp."
While bringing his electric guitar cord into a Maxwell Street store – and paying 25 cents for the electricity – Dupree falls for Leeba Groski in "Windy City Blues," which was the One Book/One Community 2017 selection for Jewish Book Month. The fictional Groski is the "girl next door" to Leonard and Phil Chess. She shares the Polish-Jewish brothers' real odyssey of building Chess Records "by taking the music of the Mississippi Delta and electrifying it."
Along the way, as McKinley Morganfield, aka Muddy Waters, notes in the book's frontispiece, "the blues had a baby and they named it rock 'n' roll."
The Chess story began in the late 1940s with their two South Side nightclubs: the 708 and the Macomba Lounge at 39th and Cottage Grove. According to the Chicago Landmarks Commission essay on 2120 S. Michigan Ave., (the Chess Records offices and studio from 1957-67), Leonard decided to record some artists after he saw a Hollywood talent scout talking to the Macomba's lead band singer.
Beginning in 1947, the Chess brothers and partner Evelyn Aron recorded local jazz, blues, dance and polka musicians at other studios and promoted them on their Aristocrat label. Leonard handled distribution: to variety stores, barber shops, beauty salons and other businesses in the black community.
By 1950, Aron left the company, Phil Chess joined his brother full-time and they became Chess Records. Although the brothers were unfamiliar with blues, their nightclub experience led them to encourage artists to retain their intensity and emotional spontaneity, unlike other labels.
Blues artists' intensity also increased thanks to urban influences such as electrified instruments and a pronounced drumbeat, often referred to as "the Chicago Blues" sound.
Chicago Landmarks credits Willie Dixon, the composer, bassist and producer who came to Chess in 1952, with major creative impact. Dixon not only wrote songs, he also performed, arranged music, scouted talent and experimented with the traditional 12-bar blues form.
Dixon wrote 6000 songs in his lifetime (600 for Chess) and was inducted into the Songwriters Hall of Fame in 2015, according to Janine Judge, coordinator of Willie Dixon's Blues Heaven Foundation at the former Chess building at 2120 S. Michigan Ave. Dixon later founded the Blues Foundation to teach blues history and to help artists attain the royalties.
Early Chess artists included harmonica players Sonny Boy Williamson and Little Walter, electric guitarist Howlin' Wolf and singer/guitarist Muddy Waters.
Waters' obituary in Rolling Stone magazine (itself named for his 1950 song) praised his timing, subtle shadings of pitch, and ability to communicate gradations of blues sadness -- from hopelessness to determination. "And then he'd turn around and put his heart and soul into a pure, uncomplicated shout of mannish pride, declaring himself a ma-a-n, a natural-born lover man, a rollin' stone.
"But with the neck of a whiskey bottle or, later, a length of metal tubing on his finger, he was able to make his guitar sing, too."
Waters' name came from his propensity as a toddler to play in a muddy creek. Signed to Aristocrat Records in 1946, Waters initially still drove a truck six days a week. His Chess songs included "I Can't Be Satisfied," "I Feel Like Going Home" and "Honey Bee." His top 10 R&B hits through 1955 included  "She Moves Me," "I'm Your Hoochie Coochie Man," "I Just Wanna Make Love to You," "I'm Ready," "Got My Mojo Working" and "Mannish Boy."
Chess worked with Sun Records producer Sam Phillips, whose Memphis label boasted both Elvis Presley and Jerry Lee Lewis. This foray into country with its own solid blues sound further influenced rock 'n' roll.
Two artists Chess discovered and first recorded in 1955– Bo Diddley and Chuck Berry – continued this evolution.
Diddley had performed in nightclubs and on the street before Dixon found him jamming on 43rd and 47th Streets. Diddley's fast-paced beat was especially popular with teen audiences.
Berry's subjects appealed to teens, as in his 1955 hit, "Maybellene," about a car chase involving an unfaithful girlfriend.
After running its business from two different rented storefronts on Cottage Grove, Chess purchased the two-story, 2120 S. Michigan Ave. building in 1956 and renovated it. Finally having its own recording studio meant that Chess also had beginning-to-end control of its creative output.
Berry recorded four of his seven top-10 singles in this building, including "Johnny B. Goode" and "Rock 'n' Roll Music." Diddley also recorded extensively there, including his 1959 hit "Say Man" on the Checker label, a Chess subsidiary.
Later Chess/Michigan Avenue artists included Etta James, with "At Last" and Koko Taylor.
In December 1965, Dixon called Taylor up at 1 a.m. with a revision for "Wang Dang Doodle" (originally written for Howlin' Wolf in 1960). He told her "to come right over before I forget it," Judge said. They laid the first track with Dixon on vocals and bass, Buddy Guy on guitar, Judge said.
And while Leeba Groski as the Chess Records' Girl Friday made an interesting thread for "Windy City Blues," reality is even more intriguing.
Minnie Riperton was the Chess receptionist, a trained five-octave soprano who also sang lead vocals for The Gems, and back up for Etta James, Fontella Bass, Ramsey Lewis, Bo Diddley, Chuck Berry, Muddy Waters; and the Chess experimental rock/soul group Rotary Connection from 1967-71.
Riperton had her own hit, "Lovin' You," in 1975, before she died of breast cancer at age 31. She had a daughter, Maya Rudolph, of Saturday Night Live fame.
Waters toured England in 1958 and inspired a new generation of musicians. According to the Landmarks Commission, Mick Jagger and Keith Richards met in a London record store while searching for Chess records. They also took their name from Waters' 1950 hit.
In 1964, the Rolling Stones came to the Chess studio to impart its sound to their 12x5 album. Pictures shot through the control room window show them dressed in shirts and ties.
"They were meeting blues royalty so they dressed to impress," Judge said.
In 1967, Chess Records moved to a larger building nearby and in 1969 was sold to General Recorded Tape, which ceased operations in 1979. Sugar Hill Records acquired its catalog and sold it to MCA Records in 1986.
Dixon died in 1992 and his widow, Marie, received a call from Phil Chess telling her the building was up for sale and " 'Willie should have had it all along,' " Judge said. Mrs. Dixon began restorations to the original blueprint the next year.
Waters last performed at an Eric Clapton concert in 1982 and died of a heart attack the following April. The Rolling Stones had performed with him whenever they were in Chicago, the last time in November 1981 at the Checkerboard Lounge.
"After we met him, when we came to the States in 1964, he encouraged us," Jagger said in Waters' Rolling Stone magazine obituary. "He could have said, 'Who do you think you are?' But he encouraged us, which we thought was nice."
Waters felt secure, said Eric Clapton in the same obituary. It was impossible to copy his style, "because it was the subtlest of them all: it wasn't very fancy or fast. It was just the deepest."
Bonnie Raitt met Waters at the Newport Folk Festival when she was 19. She marveled that Waters never resented her success, nor Clapton's. "He was just real loving."
What Chicago needed, Raitt said, was a 50-foot statue of Waters, like a Buddha in Thailand. "You know the ones that are 50 feet high and he's sitting there with a beatific smile on his face and his eyes closed?"
While not a 50-foot Buddha, a nine-story mural by Eduardo Kobra was unveiled just before the 2017 Chicago Blues Festival on the wall of a building on State Street just south of Washington.
Jeff Jampol, whose JAM Inc. manages Waters' estate, told Forbes.com that "our aim at JAM is to expose Muddy and his music to potential new fans through what we call 'credible bridges' " like the mural.
Forbes.com said the Waters mural is important to Chicago, which is known for festivals like Riot Fest, Pitchfork and Lollapalooza but less for music genres that originated here.
"Chicago is a world music mecca and it's not just Chance [The Rapper]," said Mark Kelly, commissioner of the Department of Cultural Affairs and Special Events (DCASE).
"Whenever you look in jazz and blues and indie and gospel and house and new forms, Chicago has always been an incubator of powerful sound….Chicago has, in many ways, ignored its musical heritage. So the Muddy Waters mural smack in the middle of the city, at State and Washington, becomes a marker for our heritage."