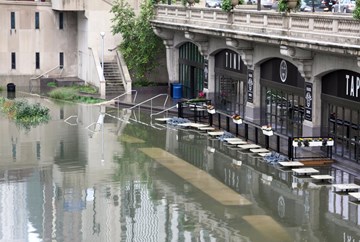 By: Zoë Eitel
August 13, 2018
Hundreds of people dying of heat-related causes. Walls of snow piled higher than the average basketball player. Floods so severe that boats had to be used for evacuations. Millions of dollars in damage caused by tornadoes. These are all extreme weather events Chicago has endured in the past 50 years, and can expect to experience with increasing frequency and intensity.
Is Chicago prepared to handle the types of extreme weather events it's likely to experience? The short answer is "no." The longer one is that "it could be," if it begins taking steps to prepare now.
Flooding
Chicago is no stranger to storms and the floods they cause. Record-breaking rainfall on Oct. 14 and 15, 2017 caused the Chicago River to overflow onto the Riverwalk and stop just inches from restaurants alongside it, leaving debris and river muck on their patios. And this was nothing compared to the Great Chicago Flood of 1992, when 124 million gallons of river water filled underground tunnels and basements of downtown buildings, causing more than $1 billion in damage and demonstrating what an uncontained Chicago River can do to its surroundings.
During last year's flood, the city controlled the rising river level by opening the locks to Lake Michigan, allowing polluted river water to be redirected into the lake -- where Chicago gets its drinking water. Because excess rainwater and sewage overflow share the same pipes in Chicago, any rain over two-thirds of an inch causes untreated wastewater to be diverted into the Chicago River and, in extreme situations, Lake Michigan.
"When you bring [increased precipitation] into an infrastructure system that has outgrown itself, whether it be sewage or water treatment or whatever it is, you have a recipe for what we call disaster," says Walker Ashley, Ph.D. professor of geographic and atmospheric sciences at Northern Illinois University.
In September 2008, 6.64 inches of rain fell on the city, breaking 1987's all-time high rainfall. Ninety billion gallons of rain and flood water saturated Chicago and surrounding suburbs, causing four fatalities and about $100 million in damage. Cars were left stranded in water over their hoods. Canoeists evacuated some residents from their homes.
In the Midwest, days with heavy precipitation have increased by 27 percent since the 1950s, according to the 2017 report "Climate Change and Its Impact on Infrastructure Systems in the Midwest" by Mary Craighead, AICP, transportation policy analyst at the Midwest Economic Policy Institute. The report predicts a nine percent increase in the number of days with heavy precipitation in the spring months by 2041–2062.
Increased precipitation and flooding also erode essential infrastructure, such as roads and bridges, requiring reconstruction far sooner than planned, according to the Midwest Economic Policy Institute report. Storms also cause power outages; Chicago's electrical systems are above ground, making them vulnerable to winds and heavy storms.
Being prepared for these extreme storms means updating the city's infrastructure. Many bridges, buildings and roads in Chicago were not built for longevity, but rather for cost-effectiveness. "While we all want the best infrastructure, very few of us want to pay for it," Ashley says.
Architects and engineers historically designed buildings and other structures to withstand a "100-year storm," which refers to a rainfall of 9 to 18 inches, said Terry Sullivan, a Chicago-based architect at Johnson Lasky Kindelin Architects. However, increased rainfall makes that standard insufficient.
"We are finding that these 100-year storms are coming every two or three years," Sullivan says. "So now they've come up with what's called a '400-year storm.' "
Higher standards mean higher costs. "We just need that sustainable funding source, so we can have good infrastructure that's going to last through extreme climate events,  so infrastructure that's supposed to last 30 years is actually going to last 30 years," Craighead says. "And we're not going to have to be cleaning up and rebuilding after a storm."
Freezing
The "Snowpocalypse" of 2011 is still fresh in many Chicagoans' minds. Between January 21 and February 2, the city was hit by an intense blizzard with winds that exceeded 60 miles an hour, thunder, lightning and hail. Snowdrifts reached 10 feet, and the city was covered in 21.2 inches of snow, the third worst blizzard on record. Historically, the biggest blizzard was in 1967 with 23 inches, followed by one in 1999 with 21.6 inches; the 1979 blizzard ranks fourth, with 20.3 inches.
Climate change plays a role in greater snowfall. The Midwest has seen an increase of 4.5 degrees in average temperature since 1980, according to the Midwest Economic Policy Institute report. This results in less ice coverage on Lake Michigan, allowing more evaporation and precipitation during the cold months, and thus more frequent, severe, blizzards.
By the end of this century, 19 percent more winter and spring precipitation is predicted for Chicago, according to "Regional climate change projections for Chicago and the US Great Lakes," a 2010 report from the Journal of Great Lakes Research. That means blizzards like Snowpocalypse are more likely.
Heat
Never in Chicago's history has the heat been as extreme as July 1995. During a three-day period, temperatures peaked at 106 degrees, and the heat index the first day was 125 degrees.
Chicagoans flocked to the beaches and cranked their air conditioning, but those who couldn't cool down suffered.
All the city's ambulances and paramedics were on duty; 911 operators fielded more than 16,000 calls just on the first day; emergency rooms were overwhelmed and turned people away. Commonwealth Edison transformers overloaded, leaving nearly 50,000 North Side residents without power.
More than 700 people died, mostly in the city's poorest areas where people were most vulnerable. Pathologists had to be brought in from surrounding counties and conducted autopsies into October to attempt to confirm the death count from the heat wave.
Since then, Chicago has implemented cooling centers and other ways to check on vulnerable residents. But, "When we do have a heat wave, it will be more extreme," Ashley says. "It's very difficult to get prepared for these extremes."
In July 2012, Chicago had a four-day heat wave in which two days reached a heat index of 110 degrees. The heat caused power plant cooling systems to malfunction. To avoid shutdowns, the Illinois Environmental Protection Agency issued variances on regulations to allow power plants to release hundreds of millions of gallons daily of nearly 100-degree water into rivers and lakes. Record numbers of fish died.
Climate scientists project annual average temperatures to increase by 5 to 9 degrees by the end of the 21st century, according to the 2013 Chicago Metropolitan Agency for Planning report "Primary Impacts of Climate Change in the Chicago Region." Chicago's asphalt roads and sidewalks are ill-prepared for increased temperatures, according to Craighead's report.
Tornadoes
Victor Gensini, Ph.D., assistant professor of geographic and atmospheric sciences at Northern Illinois University, says it's a myth that Chicago is tornado-proof. The city is as likely to be hit as any other location of its size in the Midwest. Waterspouts on the lake also can do real damage to boats and even move onto land and become classified as tornadoes.
"If you imagine the Chicago metropolitan area as a bullseye, as the city grows larger to the west, the likelihood of tornadoes striking the area would be greater just for the fact that the aerial extent of the landscape is larger," Gensini says.
Chicagoans hold onto the tornado-proof myth because the city hasn't experienced one in a long time, Gensini says. In 1967, a twister touched down in Palos Hills and traveled to Oak Lawn, southwest of the city. More than 30 people died and many buildings were destroyed, including a high school and roller skating rink in Oak Lawn. It was just one of three major tornadoes in Illinois that day.
A smaller tornado tore through the South Side in 1961, killing one person, injuring more than 100 and causing $7 million in damage. But a tornado hasn't hit downtown since 1876, when one touched down on the Near South Side and traveled four miles through what is now the Loop. Two people died.
Gensini says tall buildings downtown would most likely withstand a tornado, but their windows would become potentially deadly projectiles. "The structure of the buildings would be fine, even in the strongest of tornadoes. Of course, all the glass would be broken and it would be distributed upon the landscape—shards of glass and debris. So you'd probably have a lot of injuries."
Sullivan says skycrapers would remain because of their steel frames, as would structures from the late 1800s and early 1900s made of stone more than a foot thick.
But in the 1990s, "there was a huge rush to throw up a bunch of three flats all over the city," he warns. "They weren't done very well."
Gensini says accurate forecasting should allow Chicagoans to survive tornados; there will be days of warnings for Chicago and environs. "What will determine whether it's successful in terms of forecasting is whether or not people take action."
Still, reliable and early forecasting depends on funding. President Donald Trump's fiscal year 2018 funding plan cuts 17 percent from the National Oceanic and Atmospheric Administration and 6 percent from the National Weather Service, the agencies responsible for weather forecasting.
Earthquakes
Although the New Madrid Fault Line is located in Missouri and the seismic zone reaches Southern Illinois, Seth Stein, Ph.D.—William Deering professor of Earth & Planetary Sciences at Northwestern University and author of "Disaster Deferred: A New View of Earthquake Hazards in the New Madrid Seismic Zone"—says Chicagoans shouldn't fret.
"If you made a list of the top 50 problems affecting the Chicago area, earthquakes would certainly not make the top 50," he says. "I don't know if they'd even make the top 100."
Zoë Eitel is a 2018 Magazine Journalism alumna of Columbia College Chicago, where she wrote for the Flux issue of Echo Magazine and was editor-in-chief of The Columbia Chronicle newspaper.