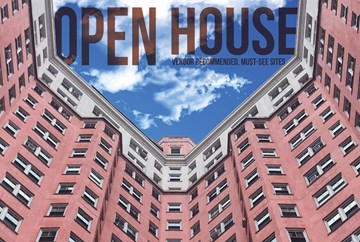 By: Dave Hamilton
October 8, 2018
Open House Chicago takes sites from around the city and, for one weekend, opens them up to the public, even sites that are rarely open for public viewing. One of the best parts is that it is completely free, therefore inclusive to anyone, regardless of income status. There are over 200 sites open to the public all around the city including mansions (Berger Park, The Wheeler), office buildings (Wintrust Grand Banking Hall, Thorton Tomasetti in the AMA Plaza), public buildings (City Hall, Federal Reserve Bank & Money Museum), churches (First Presbyterian Church of Chicago, Shrine of Christ the King), breweries (Lagunitas Brewing Company, Revolution Production Brewery & Tap Room), art studios (Aloft Loft, Oak Park Art League), apartments (Lake Point Tower, L-Logan Square) and more. With all of this to get through in two days, it can be a little overwhelming. We decided to help narrow down the list by highlighting some of the can't miss sites of Open House Chicago 2018.
DOWNTOWN
The heart of the city, and if you are limited on time, this is the place to be for Open House Chicago, with multiple sites open within walking distance of each other. Here is our selection of the best. Be forewarned, some locations will have lines.
150 N. Riverside Plaza
Sat Closed Sun 9 am - 5 pm
This perilously cantilevered building has become a must-see along the Chicago riverfront. The exterior gives the impression that the building is actually triangle-shaped, resting on the ground on a single point, with the building rising higher and wider above it. Inside, visitors will be enchanted by 89 LED screens that are 150 feet long and 22 feet tall, displaying ever-changing collaborative artwork. In addition to the lobby, guests are invited to visit the unfinished 27th floor, where there are 360-degree views, including a very special view of the city right form the Chicago River's "Y."
I always found this building so intriguing when I would see it from the Water Taxi. When I finally had the chance to visit during Open House last year, I was amazed by the views of the river.
-Dave, Creative Director
333 N. Michigan Avenue
Sat & Sun 9 a.m. - 5 p.m.
Art Deco stands tall and proud in this 1928 building right by the Michigan Avenue Bridge. Guests are invited to the 4th-floor Tavern Club to take in the views of the Chicago River and Michigan Avenue.
The 333 is enticing. I like how it is close to the Magnificent Mile and all of the shops and the lakefront.
-John, StreetWise Vendor
Blue Cross and Blue Shield of Illinois
300 E. Randolph St.
Sat & Sun 9 am - 5 pm
300 E. Randolph may not be the tallest building in Chicago, but its 57 shiny blue glass stories glitter over the Jay Pritzker Pavilion. The building has "holes" that go all the way through the building on certain floors, which provide atrium spaces that are usually only open to tenants. During Open House, take a trip to the 30th floor atrium to look out at Millennium and Maggie Daley parks.
The Palmer House
17 E. Monroe St.
Sat Closed Sun 10 am - 4 pm
The present Palmer House building was built in 1927, but its original building was erected in 1870, and rebuilt after the Chicago Fire, all at the same site. A recent renovation has revived the property to its grandeur, including the 4th-floor Red Lacquer Room, where visitors will be invited to view a recreation of an 1879 banquet.
If you are looking for an incredible part of hotel history, The Palmer House is the place. Walking through it just takes you back in time.
- Jeffery, StreetWise Vendor
Adrian Smith + Gordon Gill Architecture
30 W. Monroe St., Suite 400
Sat & Sun 9:30 am - 4:30 pm
Get an inside look at the architecture business, which is what Open House is really all about. These penthouse offices boast two courtyards with fountains, which maximize daylight and provide sweeping city views from atop the Harris Bank Building. In addition to seeing the magnificent offices, get a glimpse at the firm's worldwide clientele, featuring Adrian Smith + Gordon Gill's models and designs.
Chicago Temple (First United Methodist Church) (Sky Temple)
77 W. Washington St.
Sat 10 am - 4:30 pm
Sun 1 - 4:30 pm
Quite possibly one of the most unique pieces of architecture in all of Chicago is the Chicago Temple. At 568 feet, it is the tallest church in the world and houses the First United Methodist Church of Chicago, which is the city's oldest congregation. During Open House, climb up the 174 stairs to see the views from the patio surrounding the church's steeple. Notice the hours; visitors will not be allowed in until the Sunday morning church service ends at 1 pm.
Columbia Yacht Club
111 N. Lake Shore Drive
Sat 9 am - 1 pm Sun 10 am - 4 pm
The only Open House site that is literally on the water! The MV Abegweit was purchased by the yacht club in 1982. It used to be the world's most powerful iceberg-breaking ship, and is now used as a dining room and event space.
As a runner, I run past the Yacht Club a lot on Saturday mornings. I only get to see the outside of it though, so it would be nice to see the inside, too.
-Allie, Employment Specialist
Civic Opera Building
20 N. Wacker Drive
Sat 9 am - 4 pm Sun Closed
Not only is the Civic Opera building home to the Lyric Opera of Chicago, but the 1929 building is also the second-largest opera auditorium in North America. The style is a mix of Art Deco and Art Nouveau, and is a 45-story office tower with two 22 story wings as well as a 3,500+ seat theater. Visitors will get to tour the Art Deco lobby, and take in the river views from the 15th floor rooftop deck.
Being a student, I obviously don't have the money or the time to go to the Opera, so I think it would be really cool to at least see the inside of the building.
-Stella, StreetWise Intern
151 N. Franklin
Sat & Sun 9 am - 5 pm
One of the newest office buildings to be built in the Loop is covered in floor to ceiling glass with collaborative and outdoor spaces. Visitors get to visit the second floor terrace and the spectacular rooftop sky garden.
I love how the building looks. It looks like a good place to hang out, read a book, and drink tea.
-Jennifer, StreetWise Vendor
It looks great. That's all.
-Jeff, StreetWise Vendor
The Golden Triangle
Reid Murdoch Building,
330 N. Clark St.
Sat 10 am - 5 pm Sun 11 am - 4 pm
The owners of the Golden Triangle curated their selection of furnishings from around the world for more than 25 years. A visit during Open House Chicago weekend lets visitors get exclusive access to the shop's workroom.
The entrance just draws me in. I love the art from many, many years ago, and I love how it takes you back to another era.
- Connie, StreetWise Participant
180 North LaSalle
Sat & Sun 9 am - 5 pm
The building dates to 1972, but architect Ricardo Bofill took the building further in the late 1990s to the modern neo-classical style it is today. The lobby now includes a projection installation. Visitors will get to visit the lobby and tenant lounge of the office building.
I think the floors look absolutely beautiful. You don't see marble floors like that anymore, and the chandelier is gorgeous as well.
-John, StreetWise Vendor
Federal Reserve Bank of Chicago and Money Museum
230 S. LaSalle St.
Sat & Sun 9 am - 4:45 pm
One of the responsibilities of the Federal Reserve is to make sure there is enough money in good condition in circulation. The building underwent a remodel in 1986, and opened the Money Museum in 2001.
I think the building would be interesting, and I would like to see how the Federal Reserve Bank processes things for America and what's the qualification, if any, to work there.
- Pamela, Community Member
Cliff Dwellers
200 S. Michigan Ave.
Sat & Sun 10 am - 4 pm
Cliff Dwellers was founded in 1907 as a private club for artists, authors, musicians, painters, architects and sculptors. Its members have included Louis Sullivan, and Daniel Burnham. and it still has an artist-in-residence program to support younger artists. I love its east- and south-facing views of Grant Park, and the southwest Indian pot in its library.
-Suzanne, Editor-In-Chief
BRONZEVILLE
First Church of Deliverance
4315 S. Wabash Ave.
Sat 10 am - 5 pm Sun 1:30 - 5 pm
This building was designed by Illinois' first licensed African American architect, Walter T. Bailey, in 1939. The eclectic decor makes this one of the most unique churches ever, with the lit-up cross on the ceiling resembling a disco dance floor, to the lime green walls adorned with murals, and the carved doors.
GARFIELD PARK / NORTH LAWNDALE
Nichols Tower at Homan Square (The Original Sears Tower)
906 S. Homan Ave.
Sat 11 am - 4 pm Sun Closed
Sears' original Chicago home was located right here in this 14-story building from 1906. The building has been lovingly restored and renovated into a community center and event space for the neighborhood.
BACK OF THE YARDS / BRIDGEPORT
Zap Props
3611 S. Loomis Place
Sat & Sun 10 am - 4 pm
This 36,000 square-foot warehouse stores the city's craziest inventory. Zap Props collects items of all kinds, and then rents them to production studios for props in TV shows, movies, plays and more. The aisles are jam packed with anything you can imagine. Expect a line to form at this location.
EDGEWATER
Edgewater Beach Apartments
5555 N. Sheridan Road
Sat 9 am - 5 pm Sun Closed
Originally part of the Edgewater Beach Hotel Complex, this is the last remaining building. It has been dubbed the "Pink Palace" because of its exterior and boasts a two-story lobby, indoor terrace, a magnificent Beaux-Arts pool, and award-winning gardens.
I was always curious about that big pink building off of lake shore drive.

 

I love thinking about what it was like when it was a beach hotel and an escape from the city.

 

When I finally had the opportunity to see the inside, I was enchanted by the history, the ornate pool, gardens, and envisioning the area as a beachy oasis.
- Amanda, Director of Programs
The Lytle House
5517 N. Broadway
Sat Closed Sun 9 am - 5 pm
This building was originally built as a backlot tin shop in the 1920s and was tucked behind a residential building. In 1977 it became an auto repair shop and in 2015 new owners renovated it into a private event space. The result is a free-flowing indoor-outdoor space, exposed brick, concrete floors, and a pristine courtyard with a mural.
EVANSTON / NORTH SHORE
Bahá'í House of Worship
100 Linden Ave., Wilmette
Sat & Sun 10 am - 5 pm
The Baháí House of Worship has been an unmistakable landmark for visitors of Wilmette's shoreline. Join in the bicentennial celebration of the Baháí faith by exploring the gorgeous landscaped grounds and interior. Photos are not usually permitted, but during Open House, you can snap away!
American Toby Jug Museum
910 Chicago Ave., Evanston
Sat & Sun 9 am - 5 pm
Toby jugs are clay or porcelain drinking mugs that were once very popular across America. This collection of jugs is the largest in the world, with over 8,000 examples.
Evanston History Center, Charles Gates Dawes House
225 Greenwood St.
Sat & Sun 10 am - 4 pm
Dawes was the 30th Vice President and a 1925 Nobel Peace Prize winner. His will stipulated that his lakefront mansion become a historical center; it has housed the Evanston History Center since 1960, and became a national historic landmark in 1976.
I worked a fundraising event here. The interior is beautiful and there are so many interesting pieces of history.
-Sara, StreetWise Intern
Sigma Alpha Epsilon Fraternity Headquarters
1856 Sheridan Rd.
Sat 9 am - pm Sun 1:30 - 5 pm
Unexpectedly, SAE headquarters has some feminist history. The fraternity was founded just before the Civil War and to ensure its survival if they all died, the men shared fraternity secrets with a woman. Lucy Pattie's portrait shows her wearing a fraternity pin - of her own. After the war, she was acknowledged after she gave a brother the right answers to secret questions and the handshake. Also, the Tiffany windows in its Levere Chapel show both a Union soldier and a Confederate one in a pensive pre-battle mode. Christ stands above them with his hands outstretched saying, "Pax Vobiscum:" "peace to you."
-Suzanne, Editor-In-Chief
GOLD COAST / NEAR NORTH
FieldHouse Jones
312 W. Chestnut St.
Sat & Sun 9 am - 5 pm
What used to be the Borden Dairy Depot now becomes a social hub for people looking for a casual place to stay. It drew inspiration from park field houses and contains a lobby level gymnasium, a speakeasy in the janitor's closet, and a slot car racing track.
Sedgwick Studio
1544 N. Sedgwick St.
Sat & Sun 9 am - 5 pm
An electrical substation used to be housed in the building under the Brown Line station, but after converting to DC in the '60s, the building sat empty. In 1976 a group of artists turned it into a studio and now there is sculpture fabrication, public exhibition space, and even a neon lab. Artists will be on hand to speak about their work process and give demonstrations in the neon lab.
Catholic Charities' St. Louise de Marillac Chapel
721 N. LaSalle St.
Sat & Sun 9 am - 5 pm
Catholic Charities of Chicago is one of the region's largest social service providers, serving 1 million people each year. Their current location used to be the St. Vincent Infant Asylum, but has been remodeled to 150 offices as well as the beautiful main chapel.
This place looks really beautiful. I would like to visit it some time.
-Allen, StreetWise Vendor
Poetry Foundation
61 W. Superior St.
Sat & Sun 10 am - 5 pm
Since opening its doors in 2011, the Poetry Foundation has been an architectural statement in the River North neighborhood. So much so, that the building has earned a Architecture Institute of America award for its minimalism. The building was designed to give an "open door" feel which, along with its galleries and libraries, furthers the Poetry Foundation's mission to make poetry accessible to everyone.
I have always loved English and the way people can express themselves through words. Looking at different types of poetry would be an incredible experience.
-Macayla, Student
LAKEVIEW
Old Chicago Inn featuring Room 13
3222 N. Sheffield Ave.
Sat & Sun 9 am - 5 pm
The cozy Old Chicago Inn housed is a 1920s-themed B&B in an historic greystone. But being from the Prohibition era, there is also a second hidden entrance down to a neon lit lounge.
LINCOLN PARK
Brewster Building
2800 N. Pine Grove Avenue
Sat & Sun 10 am - 5 pm
Suspended glass block walkways and iron railings line the grand atrium of these historic apartments, built in 1893. It became a landmark in 1982 and has been featured in feature films such as "Child's Play," "Running Scared," and "Hoodlum."
LINCOLN SQUARE / RAVENSWOOD
Chicago Printmakers Collaborative
4912 N. Western Ave.
Sat & Sun 11 am - 5 pm
The area's longest running independent printmaking workshop set its roots down in this 1940s building. Printmakers Dennis O'Malley and Hiroshi Ariyama, both known for their Chicago-centric work, will be on hand to show the process of etching and screen printing.
Ravenswood Event Center
4025 N. Ravenswood Ave.
Sat Closed Sun 10 am - 5 pm
This former billboard factory provides the industrial backdrop for a special events space. The space hosts a loft styled as a fancy garage that features priceless vintage cars and neon signs.
LOGAN SQUARE / AVONDALE
L - Logan Square
2211 N. Milwaukee Ave.
Sat 10 am - 4 pm Sun 11 am - 4 pm
Billed as Logan Square's first "Transit Oriented Development," these new apartments feature a decommissioned L train car turned cabana that sits in a fountain on the building's second floor terrace. The silver exterior of the building may look simple, but the interior boasts curated street art.
El Centro
3390 N. Avondale Ave.
Sat 9 am - 4:30 pm Sun Closed
Built as an extension of Northeastern University, and winner of a 2016 Chicago Neighborhood Development Award (CNDA), El Centro has become a commanding presence from the Kennedy Expressway because of its unique shape, blue exterior and yellow accents. Visitors get to explore the building and visit its well-hidden rooftop terrace with spectacular views of the city.
NEAR WEST SIDE
Big Monster Toys
21 S. Racine Ave.
Sat 9 am - 3 pm Sun Closed
In 2003, Big Monster Toys converted this trucking warehouse into their offices. The big yellow door houses a big monster and quirky office spaces behind it, which include 3D printers, a full sized caboose, recording studio, and a 25-foot giraffe. Tour the design shop and learn about the toys that were dreamt up in that very space.
WEST TOWN
Kenar Studio
1007 N. Wolcott Ave.
Sat & Sun 11 - 5 pm
The studio acts as a showroom for multidisciplinary artist Jerzy S. Kenar. It travels from different media such as sound installations, large-format paintings, and wood and bronze sculptures in a large and sometimes bizarre gallery.
UPTOWN
Lawrence House
1020 W. Lawrence Ave.
Sat & Sun 9 am - 5 pm
Built in 1925, this building has gone through many changes, including being an SRO. In 2016, FLATS apartments & CEDARst revamped the building, and highlighted its original "Roaring '20s" opulence. Visitors can visit the restored lobby with its restored stained glass skylight, the restored basement pool, or have a drink on the backyard patio.
I'm very interested in the Lawrence House. It caught my attention when I was passing one time; the residents were relaxing in the backyard. I also see that there is pool, the lobby looks so comfortable, and I hope the restaurant will be open.

 

I missed the opportunity to tour it last year, so I will definitely be touring this year.
-V.W., StreetWise Vendor