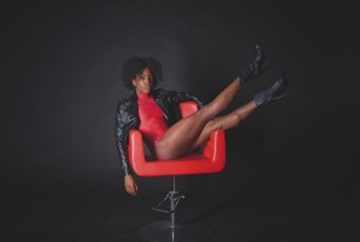 By: Alexandria Spillman
September 8, 2016
This StreetWise story was inspired by the Disability Pride Parade. Paige Fraser, a charter member of Visceral Dance Chicago and still a somewhat new Chicagoan, searched for a Chicago-based medium to tell her story, and she reached out to StreetWise for an exclusive interview.
You may recognize her from her silhouette that danced across a dim stage in the Intel Superbowl commercial "Experience Amazing" aired in February, but Paige Fraser's appearance on nationwide television is only proof of her claim to fame, not the root of the fame itself.
Fraser, a dancer of more than two decades, was diagnosed with scoliosis during her freshman year of high school—a pivotal time period she described as "right when you're growing into your body." Doctors told her the curvature in her spine mandated surgery and more than likely marked the end of her dancing career. That was 13 years ago and also when her first steps to fame where planted.
Fraser and her family made the unpopular choice not to follow doctors' orders—a choice she admitted is not right for everyone, especially those with severe spinal curvatures that create other serious health problems. After researching on their own, she and her family found a chiropractor who performed adjustments and spine manipulations; Fraser also wore a back brace for years, and she learned to work with and appreciate the body she was growing into.
"There are limitations I had and still have today," Fraser explained. "My center of gravity may be off, I may not feel as strong, or my back may be a little sore, but these are all things that every dancer experiences. That's why I'm grateful that I didn't get the surgery. It would have ended my career before it started."
Fraser persevered through pain and missteps, but she was not alone. Fraser gained strength and confidence in her body with the help of mentors and loved ones.
"I was lucky because one of my teachers in high school had the same condition," Fraser said. "She was able to give me a lot of one-on-one coaching and help me find different ways to understand my body."
After high school in New York City, Fraser went on to dance in college, first at Dominican University of California in Alonzo King's Lines Ballet BFA program. The Lines Ballet was not her first choice, however; she had prepared for Ailey and Juilliard in NYC, but Fraser's standardized test scores proved to be another barrier in her mission to establish a career in dance. She felt like she was supposed to be in California at Lines Ballet when she arrived, but she knew this would only be temporary.
Fraser put in the extra hours at practices and studying in hopes of proving her test scores wrong, and it paid off. With straight A's, supportive advisors, and an urge to return to NYC, Fraser transferred to Fordham University and soon entered the Ailey II School. As a student and young performer in the Ailey second company—already a huge feat in the dancing community—she traveled the world as a cultural ambassador.
Performing in the Ailey II Company is, by design, a two-year commitment. Once Fraser's two years were completed in 2013, she began her search for a more permanent job. She knew that auditions in NYC would be incredibly competitive with every New York dancer aiming for the same Broadway show. Fraser opened up her options and found Visceral Dance in Chicago. Even though auditions were already underway when she stumbled across the company, she sent in her resume, cover letter, and dance portfolio to the artistic director anyway. A Skype interview and three weeks later, Fraser had landed a job and was packing for her 800-mile move to the Windy City.
Fraser is undoubtedly a talented dancer, but her talent could not have surfaced if she had let her condition be a barrier. Instead, she let her scoliosis be a characteristic or a trait that describes her.
"In the past 10 years, scoliosis has not stopped me once," she said proudly. "After I was diagnosed, I found ways to make it work. If choreographers or teachers came to work with us, my diagnosis was never something that held me back. If there was tricky choreography that scared me, I still would try it in the back of the room. I never let scoliosis hold me back like I was 'disabled.'"
Fraser's stress of and distaste for that final word is significant to her story. Her refusal to label herself as "disabled" was a leap toward empowerment among many other choices she made during her journey to establish herself as a professional dancer.
"The most empowering part of my journey is that I was able to persevere without getting the surgery for my condition," she explained. "The research that I did and the mentors that I had in my life reminded me that it wasn't the end of the world. I broke down and I cried. I was fearful that my career would never exist, but what if I had given up?"
If she had given up, she would not have spent the past 13 years wearing braces, keeping countless appointments, training until she hurt, healing the best she could to do it all again tomorrow, and finally dancing for her dream company. Because she chose not to give up, she serves as a role model for others of all walks of life.
"My director [Nick Pupillo of Visceral Dance Chicago] is big on each of us being individuals," Fraser said. "None of us look the same, and he loves that. We were all from different places. We are dancers who are unique and we have different traits and different personalities. We bring another sense of diversity to Chicago. Someone in the audience can connect with at least one of us."
When Fraser is not gliding across the stage, she's teaching the next generation of dancers at Visceral. Now in her third season with the company, she helps young dancers perfect their pirouettes, promenades, lunges, and stags, but she also shows them that not all bodies learn to perform the moves in the same way. Through her coaching and her Intel campaign, Fraser makes it a point to educate and lift up those around her.
She offered a word of advice to anyone facing barriers to their goals, regardless of their able-bodiedness. "It boils down to believing in yourself even when it's difficult," she said. "It takes time; it takes preparation; and it takes hard work. I want my story to inspire and empower other women, other women of color, other dancers, and other dancers with disabilities. You don't have to stop dancing."
Photos by Nohemi Moran for Nomee Photography www.nomeephotography.com