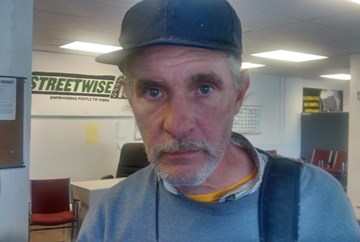 By: Suzanne Hanney
August 29, 2016
A plaque at Roscoe Avenue and Seeley Street will commemorate the 14 years Dave Urban sold StreetWise there and "helped make a busy, city neighborhood feel like a small, intimate community."
Organizers for the memorial plaque unveiled August 14 say that Urban knew countless members of the Roscoe Village community by name and kept up with the details of their lives. He watched their pets while they went inside to the neighboring Starbucks, he made sure their children stayed safely on the sidewalk, he clipped articles on topics they had talked about. He even helped a Spanish-speaking woman learn English.
Urban's sudden death last March prompted his StreetWise customers, Starbucks patrons, and even multiple neighborhood business owners to reach out to StreetWise, Inc. and begin planning a memorial.
"Dave's impact on our community extended far beyond selling newspapers," said Laurie Akers. "It wasn't until I approached this corner one morning and he was not there, that I realized that my daily dose of perspective was no longer there and I felt an emptiness that really took me by surprise.
"There was never a day in which Dave complained about his work, the weather, or personal circumstances," Akers said. The massive response to their outreach told her that many other community members felt the same way.
She said organizers hope that when children see the plaque and ask their parents about it, they will respond, "anyone can make a mark in this world, regardless of their circumstances, that you don't need a certain amount of material wealth, or status, to be able to impact others. You just need to be a good, kind, noble person and that it is OK to experience bends in the road." 
Urban grew up in Winnetka, attended Eastman School of Music, and was a jazz trumpeter who toured Europe with Joe Williams. He gave up that career to get on a straighter path, and StreetWise was part of that "hand up, not hand out," she said. Urban lost contact with the family while drinking, his brother Mike told News Radio 780. Mike came from Connecticut for the unveiling, complete with a music and release of white balloons, and was joined by sisters, Nancy and Liz.  After the pain of Urban's sudden death, "It's just been so heartwarming and so great for my sisters and me just to know that Dave was in loving hands and in a kind, supportive community where he was giving back at the same time for the final years of his life," Urban said.
Fundraising for the plaque exceeded the original goal of $2,000. The Roscoe Village Chamber of Commerce and the Roscoe Village Neighbors lent their support and Ald. Scott Waguespack (32nd ward) gave his permission.