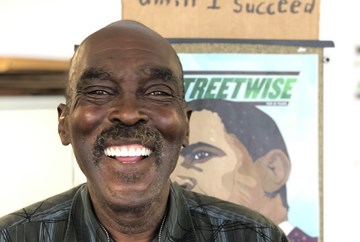 By: Sydney Writz
November 11, 2019
Praise for Donald Lee!
I just learned Donald died & I'm heartbroken. He was my StreetWise person and I was privileged to know him. He was a kind human being with a big heart, great smile and always personable. Through our conversations at Starbucks at Devon & Broadway where he sold StreetWise, I learned how he loved music, fashion (always impeccably dressed), his family whom he visited as often as he could in Georgia, and his excitement for learning new things- everything from music lessons to computer classes He was a bright spot in my day & I miss him… Everyone should know Donald Lee and what his kindness, compassion & exuberance for life brought to our lives. May he Rest In Peace and love.
Lenora Dutczak (Customer)
He was the first one of this meeting to get one year of sobriety and he was the first to get two years of sobriety. So, he was definitely an active participant of the StreetWise AA … He spoke highly of his family and he appreciated StreetWise. Donald was definitely a loving person… I'm sure his customers will miss him… He may have been going through some things, but he showed himself faithful to the AA meeting. He showed himself faithful to that and he will be missed by StreetWise.
A Allen (Friend)
I had the opportunity to speak with my parents about Uncle Donald and they shared fond memories of him as a young man. He was definitely more ambitious than I ever thought as I learned he attended Malcolm X University in Chicago to become a doctor and at some point aspired to be a lawyer. He was also in the Navy for a short period of time. To me, this said he had extensive aptitude but was limited due to the fact that he also suffered from poor mental wellness. In his later, years he would go on to need state assistance with these issues but was still a man of great faith. He attended Uptown Baptist Church in Chicago and was an avid contributor with feeding the homeless and other charitable efforts through the church.
E Silk Son Lee (Nephew, taken from the family's GoFundMe page)