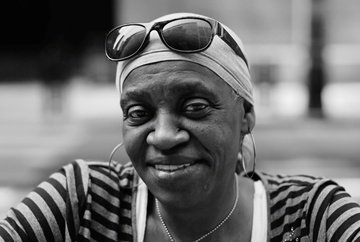 By: Suzanne Hanney
September 5, 2016
Melinda Lee Rogers embraced both the good times and the hard times in her life with equal vigor.
"There isn't such thing as 'can't,' Rogers said in a StreetWise Vendor Profile in June 2012. "Because you can do anything you put your mind to. All it takes is determination and for you to get up off of your butt and go do it! "You're never going to do anything without a positive attitude, so get rid of all that negativity. And never give up…always keep on going."
A three-time cancer survivor, Rogers also had endured diabetes, asthma, coronary heart disease and last year, a stroke. About two months ago she developed stomach pains. She died August 16 at the University of Chicago hospitals at age 54.
Rogers had badge #200 as one of the original StreetWise vendors. She had been panhandling downtown when StreetWise founder Judd Lofchie met her in August 1992 and asked her to help him recruit other vendors on Lower Wacker Drive, the Loop and Michigan Avenue. She had previously collected and sold scrap metal to support her family. Rogers later became a StreetWise Quality Assurance Team member. 
"She was there in the snow, the sleet and the rain" at her selling spot near the Board of Trade, Vendor Anthony Weston said at her funeral. Another mourner, a younger relative, recalled how she had taken him to the StreetWise offices, where everyone shouted, "Hey, Melinda!"
"When Melinda walks into a room, she owns it," noted a StreetWise intern who wrote one of her profiles.
When she ushered at Hickory Creek Church, "you never saw a homeless person," said another mourner. "You saw the daughter of a King. She didn't just usher. She made sure you knew Who you were coming to see."
Rogers was born in Chicago to Johnie Mae Rogers. She had a brother, Isaiah; and sisters Geneivie and Elnora. She also had four children: Anthony V. Rogers, LeAndrew A. Rogers, Jemeika Hicks and Deja Hicks. She completed high school, 2½ years at DeVry Institute and a nurse's aide certificate before she developed health issues.
In recent years, Rogers had been an advocate for All God's People, which provides food, clothing and blankets to homeless people in the Loop. The nonprofit had helped her to obtain an apartment, and a photo collage at her funeral called her the "heart" of the organization.