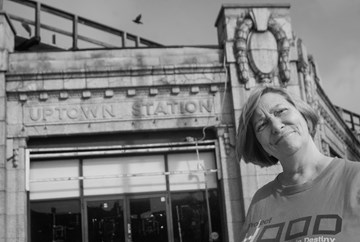 By: Penny Gearhart
August 15, 2016
Personal Success Stories
January 11, 2016
My personal success came in three forms for me. Recovery, Education, and Personal Growth. Recovery comes in a daily reprieve. It's an up-and-down issue. I recovered from drugs and a lifestyle of an illegal background. It's harder some days than others, but I continue to work for personal growth. Education is coming along. I go back in the Spring semester and am working on a pre-rec. Personal growth is my main focus: on me and my issues, becoming a proper member of society instead of a career criminal. It's been 3 years, 3 months, and 16 days that I have been home from the state penitentiary, and I have never looked back. Thank you to my Higher Power and to StreetWise.
My Mixed Up Family
June 1, 2015
My eight children and seven grandchildren are ethnically different from each other. This has recently led to interesting discussions!
My first born son is Hispanic on his father's side. I am of German and Irish descent.
The second child, my Prudence, was born of a father I do not know much about.
My third child is a son. His father is an African-American man.
The fourth, a son, is by the same father.
The fifth, a daughter, is named Mary Jane. I named her after my mother. I do not know who her father is.
The sixth child is a daughter named Gwen. Her father was an African American man. He and I were very much in love, but he died shortly after Gwen was born.
The seventh is a son named Jeffery. I do not know who Jeffrey's father was.
The eighth, Jonathan, is my last child. His father was African American and Jamaican.
From these children I have six grandsons and one granddaughter. While they are of many races they all have one Granny, Me! Yesterday we were at the zoo and one of my grandsons asked me why he looks so different from me. He said, "why are our colors are so different?" My answer was that God makes us all different and God never makes a mistake.
Cool for the Summer
July 18, 2016
My favorite part about the summer is the warm weather; I don't like the cold now that I am older. I love barbeques, picnics, beach parties and enjoy going to the Lincoln Park Zoo with my grandkids. That is usually the highlight of my summer. If you have children or grandchildren I recommend going to the Lincoln Park Zoo because it is always fun and it's free! They have lots of things for kids to do. They have an awesome petting zoo and a rest area with picnic tables that provide coloring books and have other activities for the kids. Chicago fests are always fun, too. The music and food are always enjoyable! That is one of the great things about Chicago summers – there is always something fun to do!
Standing for What We Believe In
November 16, 2015
I think a lot about how our world is at war: countries fighting each other, and living on the same continent. I also think a lot about the war in "Chi-Raq" of Chicago gang-related wars, brothers fighting brothers and being in different gangs. This is also a big issue. Homelessness and poverty are also big issues that we have too much of in the U.S., but the government here is always sending money overseas. I feel we need to help more people here in our state (citizens). A lot of people at the public aid aren't even green card status and get food stamps before someone who has lived here all their life. I have compassion for everyone, but I can't save the world all by myself. I start one prayer at a time, one day at a time.
On Fashion
October 19, 2015
I'm a casual dresser, blue jeans and T-shirts. I also like sweats and jogging suits. I like being comfortable. On special occasions, I will dress up. I do wear a dress or a skirt and a nice blouse to church. My opinion is: as long as it's clean and nice in appearance, you are good.
More Gang Shootings, More Violence, More Pain
July 13, 2015
How do these senseless shootings affect the families?
Let me tell you:
As A mother of children who "bang" ("gangbang", or participate in gang activity) It's hard to understand the mindset of our youth.
This weekend, 2 young boys lost their lives to the violence. I knew one of them personally.
He was a good kid who got "caught up" in the lifestyle (street life, as we would say.).
He was in the wrong place at the wrong time, and his life was taken as a result.
The circumstances of his death weren't very clear, but the shootout that killed him also resulted in a high speed car chase that resulted in one of the cars running over a baby stroller. A 1-year-old baby was killed in the crash.
The final tally:
·         2 young men killed in the drive-by;
·         1 baby killed in the ensuing car chase; and
·         2 young men arrested, 1 young man at large at
             press time.
Now. I'm faced with having to explain this tragedy to my 3- and 6-year old grandsons. One of the young men killed was their paternal uncle.
I don't know what to say to them….
My prayer and fervent plea is for the young men of the community to take stock of themselves and see how precious life is. The killing must stop.
CEASE
FIRE!