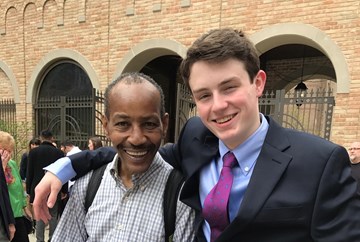 By: Culom Goebelbecker
October 31, 2018
In October, I lost one of my closest friends and role models, Roy, who passed away in Chicago. The man was a constant inspiration for me growing up and taught me some of the values I hold most dear. This is tough.
I met Roy when I was a little kid. My family went to Old St. Pat's Church every Sunday, and on the kitty corner of the church at Des Plaines and Adams, Roy would sell StreetWise magazines. StreetWise is an organization dedicated to eradicating homelessness, and Roy struggled with housing on the West Side his entire life. Before and after church every Sunday, I would stop and talk to Roy. We would catch up on how our weeks went, crack some jokes, and check in on one another. Roy would always remember the little details I mentioned in last week's talk, whether it was how my lacrosse game went, how my siblings were doing, or how my relationship was going. The man's memory was incredible, his humor contagious, and his desire to spread love with everyone pure and true. Before we ended our conversations, he would tell me to give thanks everyday for my blessings and remind me of the importance of a firm handshake. He'd say, "Hold your grip firm. Look them in the eye. That's how you do it." Almost every Sunday for over a decade, Roy's reminder to never forget how blessed I was and to stay in school so I could give back to Chicago was immensely impactful for my personal formation.
Whenever I'm asked about my role models, Roy always comes up. Four years ago when I was asked to give a speech to 8th graders, I talked about Roy and the worldview he gifted me. When I applied to colleges and was asked about what was most important to me, I wrote about Roy. In my dorm room, I have photos of the people I hold most dear to me. The accompaning photo is in my room.
Roy, I miss you man. Thank you for being in my life and being such a generous spirit. I am a better person for knowing you.
"A firm handshake and a look in the eye can go along way." I'll never forget that.