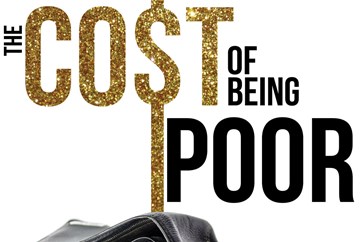 By: Jenni Spinner
April 22, 2019
Being a Chicagoan is expensive. For poor Chicagoans, it's even worse.
The poor of the city constantly struggle with securing housing, finding employment, accessing transportation, getting affordable food and other vital matters. What's more, the costs of obtaining all of those things affects them disproportionately, which makes it that much harder to get by.
"Saving money is easy when you already have it," said Eric Halvorson, policy and communications associate with the Chicago Jobs Council. "But when you can't afford routine maintenance in a lot of areas of your life, you can't afford to plan ahead because you're just trying to survive. It takes so much work just to keep everything from falling apart every day, you're robbed of opportunities or spaces to plan ahead or to restore."
Let's look at some of the areas that hit poor Chicagoans the hardest, and the obstacles they have to overcome.
Housing
Securing affordable housing can be a challenge. Most apartments require first month's rent and last month's rent, or additional deposits just to be considered—and that's not always an option for someone with little or no cash saved up. Melissa Smith said single-room occupancy (SRO) housing offers an alternative to the streets. Still, it's not cheap.
"First, there's a charge for a background check," she said. "There's a deposit when you apply, but you're not even guaranteed to get [the housing]."
Nightly rates for SROs vary wildly--from $17 a night, to $63 a night or more. "It's definitely no Holiday Inn, says Smith, "but at least you're safe for the night."
A nightly rate of $63 might sound like a bargain compared to a Chicago hotel (currently averaging about $170). However, SROs don't offer the features, comfort or service (they usually provide little more than a well-worn bed) of a hotel or motel. Then, compared to the average cost for a one-bedroom apartment in certain neighborhoods, it's no bargain at all. Say someone finds a SRO with open space that goes for $50 a night.
$50/night x 30 nights: $1500
According to RentCafe.com, that's about the same as the average rent for a one-bedroom apartment in Bronzeville, North Center or Buena Park. Renting the average apartment in more working-class neighborhoods would save a significant amount.
Pilsen: $949/month (savings of $551)
Englewood: $821/month (savings of $679)
Chatham: $704/month (savings of $796)
Pullman: $612/month (savings of $888)
Austin: $542/month (savings of $958)
Saving 50 percent or more on monthly housing seems a no-brainer. However, if someone can't accumulate enough to pay for rent, deposits and background checks that landlords require, the route to that savings is cut off.
Vendor John Hagan said providing proof of a job can be an obstacle for people with non-traditional employment. For example, StreetWise vendors typically get a letter from the office indicating they're a regular worker.
"One place I was looking to move told me that a letter of employment wouldn't fly. 'No, it has to be a pay stub.' The letter wasn't good enough," said Hagan.
Matthew Aguilar, senior manager for communications and marketing with the Chicago Housing Authority, says his and other agencies are working toward providing low-income citizens with better, accessible options.
"The greatest need for affordable housing in Chicago and across the country is for low-income housing," he said. "Supply often cannot meet the demand, and CHA works tirelessly to help meet the demand by partnering with developers and other public agencies to support the acquisition, rehab and construction of new housing units."
Transportation and employment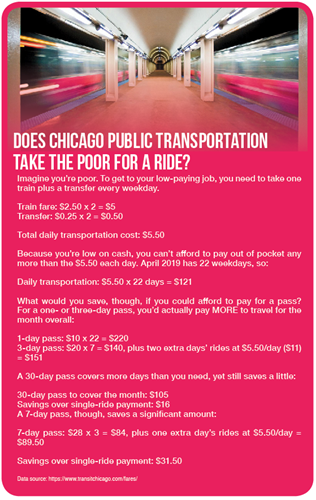 Vendor Lee Holmes said lack of access to and funds for transportation affects poor Chicagoans disproportionately.
"Jobs aren't always right at a train station or bus stop," he said. "If you don't have the money you need to get to the job, you can't work.
Holmes once landed a job at Midway Airport but didn't have the funds to travel from the place he was staying to the airport. He opted to sleep at the airport until he got paid and had the money in hand to take public transportation.
Sometimes low income workers who can't access or afford public transportation will get to the workplace on foot. That can take a physical toll.
"Walking miles and miles is arduous," says Hagan. "I'm fortunate I'm not overweight or disabled, so I can do that."
Even if people have access to public transportation, it can cost disproportionately more for poor people. Undiscounted single-ride passes are $2.50. If a Chicagoan needs to ride to work every day and can afford to pay more at once for a seven- or 30-day pass, they'll save (see the sidebar). That one-time outlay might not be an option for someone who's short on money.
Banking and Bills
While people at or near the poverty line typically don't have much savings, having a bank account still can be useful. It helps to have a secure place to store extra money when you do have it. It also can save money. Depositing or cashing checks with your bank costs less than going to the corner check-cashing place, which takes a cut. Also, using checks to pay your bills usually requires no extra fee.
Unfortunately, "free" checking accounts most often aren't truly free. There are hurdles to clear. Chase, for example, requires one or more of the following:
• $500 in monthly direct deposits
• A balance that stays above $1,500
• An average beginning-of-the-day balance of $5,000 combined in checking, savings and other accounts
If you don't hit at least one of those thresholds, you pay a $12 monthly service charge. That constitutes a $144 annual charge for not having enough money.
Getting a loan when you're severely short on money is virtually impossible. Microloans are hard to come by, although Holmes said he's seen people with a little extra loan small amounts to people in need, who pay back when they can (sometimes with interest).
Sometimes when money is tight, poor folks have to make the choice between which bills or expenses to pay. For example, your decision to buy groceries for yourself and your family might mean you're late on paying your cell bill.
"Cell phones are hard to keep on," says Holmes. "If you can't pay the bill and it gets cut off, you have to pay more to get it turned back on."
The justice system also has an imbalanced impact on poor people. Faced with fines and fees they can't afford, they might be forced to make choices that end up costing more in the long run.
"Many low-income people are forced to choose between paying their court debt or keeping a roof over their head and food in the fridge," said Patrice James, director of community justice at the Sargent Shriver National Center on Poverty Law. "I have had clients tell me, 'I don't want to keep fighting this case because every time I come to court or you file a motion I know that it is going to cost me more money if I don't win.' Many people resolve their case with pleas and end up owing the court hundreds, if not thousands, of dollars when the case is finished. To make matters worse, if the fines and fees are not paid, a person can be re-arrested and spend time in jail."
Food
Access to affordable food is difficult in many areas. People have to pay a premium at convenience stores, make do with poor selection at dollar stores, or pay to ride to a serviceable store via public transportation.
A recent University of Chicago study indicates the food desert issue hasn't improved. "Urban foodscape trends: Disparities in healthy food access in Chicago, 2007–2014" shows the number of supermarket-type stores has increased within city boundaries. However, that increase hasn't helped neighborhoods (typically majority black and Latino populations) hit the hardest. In fact, the problem has worsened.
Food banks and pantries provide nutritional assistance. Accessing them can be challenging if the person in need is far away.
"The lack of transportation infrastructure can be a real challenge for some of our clients, says Greg Trotter, senior manager of public relations and content, Greater Chicago Food Depository. "Older adults and people with disabilities also may not be mobile enough to access nearby food pantries—another reason that the Food Depository hopes to branch into meal deliveries in the years ahead."
Health
StreetWise vendor A. Allen said while being poor can cost financially, there are countless other ways being low on financial resources can have an impact.
"What you have to understand about being poor is it takes a toll on your self-esteem," he says. "You start feeling like you're less than everyone. That keeps you from doing what you need to do to get in a better situation."
Paul W. Hamann, president and CEO of the Night Ministry, pointed out the working poor commonly work two or more jobs to make ends meet. That can take a physical toll on them, and an emotional toll on everyone around them.
"What kind of impact does that have on a family if they've got children and those children never see their parents, or perhaps they're constantly having to leave those children with individuals they maybe don't know very well?" he said. "There is an economic impact, and then there's a human impact. That can be quite devastating. What are the psychological consequences of this? What does it do for your self-esteem?"
Attending to matters of physical health is also challenging. Poor people worry about taking time away from work (possibly putting their job at risk) to make a medical appointment. They also might not have ready access to healthcare in their neighborhoods. Services like the Night Ministry's mobile health outreach program help fill the gap by taking resources to neighborhoods where they are needed. Still, the need is great.
How to Help
To lessen the high cost of being poor, other Chicagoans can help in a number of ways to make a difference. One way is to keep pressure on national and state officials, letting them know they should prioritize helpful programs and avoid budget cuts that would hurt people in need. For example, cuts threaten the Supplemental Nutrition Assistance Program (SNAP) (food stamps) which is critical for fighting food insecurity.
"The Trump administration recently proposed a rule change that would reduce the program and result in some 755,000 Americans losing their benefits, said Trotter. "Illinois, in particular, will be hit hard by this rule change."
Halverson also said citizens should pressure city officials to end the practice of viewing fines and fees against citizens as a vital revenue source.
"We need the continued support of the public--we need people calling their legislators to support the License to Work Act and end license suspension for debt collection. We need city leaders to hear the same message."
Another way is to make connections with community organizations that advocate for and provide service to people in need.
"Learn about the work that they do and the issues that they work to solve for their clients, advised the Shriver Center's James. "Listen and learn about what it is like to navigate our various systems when you are a person with low income."
Finally, organizations need people willing to give their time, and money, to their causes.
"People can volunteer and donate," said Trotter. "We're always in need of both. Donating money to the Food Depository allows us to buy fresh produce and proteins—an increased focus in recent years. People can also get involved by volunteering at the food pantry in their own communities. That's a great way to help your neighbors."