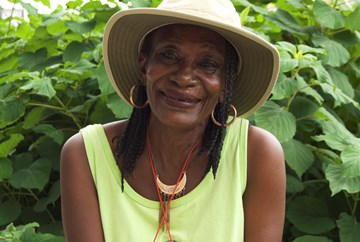 By: Staff
October 3, 2016
2 Gwendolyn Freeman
"In the morning, I work at the Starbucks at Clark & Berwyn. Then, I go and sell at the Walgreens at Clark & Catalpa. I've been selling StreetWise on and off since 1993. I was at Roscoe and Broadway for many years. You get to meet friendly people. Up where I am it's my family now, I'm a family member, they treat me like family. They always vote for me. This is a living, it's a job, I'm my own boss that's the best part. I know how to talk to people, to care and in a nice way give them a smile and say "good morning" and "good evening."  Some of them stop and talk to me. My mother raised me to treat people as you want them to treat you. My customers are nice to me and we smile at each other every morning. I'm known up on Clark at all the stores and everything. I might go to the shoe place and sell some papers or Brown Elephant and sell. I move around. I really like Clark. I feel like family. They feed me. I love them, they love me. I want to thank all my voters. I love all y'all, thank you for your votes and your friendship and your love."
3 A. Allen
"I've been selling StreetWise for close to five years at Chicago and Franklin by the Brown Line going north in front of Dunkin Donuts. I'm the one who established that location when I first started. Anyone in this area can get a StreetWise paper through my "drive thru" service! You can drive up in front of the Dunkin Donuts and I will promptly deliver your paper to you. My favorite thing about StreetWise is the interaction and networking with people. I get to venture out and meet people I normally wouldn't mingle with. I'm from the neighborhood and now I live in the downtown area and it affords me the opportunity to get to know my neighbors. The key to my success is being punctual and being at my workplace at the same time everyday, rain, sleet or snow. Regardless of the cold days or hot days, I'm still going to be at my location from 8:30-10 a.m. I'd like to say thank you so much to the people who voted for me. Thank you for your consideration and networking and helping me become one of the top 10 vendors. It was fun campaigning for the vote and I appreciate everyone who followed up and voted for me. I'd like to congratulate Louis for his victory and winning number #1 vendor of the year, I'm proud of him."
4. Steve Garron
"I sell StreetWise at two locations: Macy's in the Pedway and also on Washington and State by the Disney Store.  I have been selling StreetWise for about seven years now and I like it a lot. I love how cool the job is and the ability to meet new people.  Working here at StreetWise has taught me that I can do anything I want when I work hard and believe in myself.  The key to my success is how I deal with my customers. My customers and I always speak to one another. We have great conversations about current events and even if they do not want a magazine they will still give $2 for the cause.  My customers are caring and authentic and they always seem sincerely happy to see me. I want to say thank you to all of those who voted for me, I truly appreciate it."
5. Robert Qualls
"I sell StreetWise in Southport and Roscoe in Lakeview. I have been selling StreetWise for 10 years now and I love it; this job gives me a great sense of community. What I love best about this job is meeting interesting people and making new friends. The feeling that my customers and the environment give me makes me happy. I have made friends from this job since I began that I am still friends with to this day. While working this job I have learned that anything is possible when you demonstrate hard work and dedication. By continuing to sell these magazines I have gained a better understanding of the business world and how to budget my finances. My system to selling the magazine is to remain calm and comfortable in all situations and to realize that being nervous is okay. Before I introduce what I am selling, I first try to ease my customers into being comfortable with me and then I begin to introduce the magazine.  My customers are nice and generous people; it really shows that they care about helping people make themselves better. To all the people that voted for me, I would like to say Thank You for believing in me being the best in your eyes."
6 JT
"My name is Jimmie Tucker, but a lot of people call me JT.  I have been selling StreetWise for over three years now and I really love it. Before I started working at StreetWise I was living in a hotel with barely enough money to eat and my story was published in StreetWise and once it did people began reaching out to me to help me by giving me food, clothes and money. After that I immediately applied myself to begin working at StreetWise. By selling these magazines I am able to meet new people and make friends with my customers. I have gained a great sense of work ethic and responsibility, and have learned the business of sales. The people I meet are good people; they are caring and sincere and they treat me like I am their friend. I want to thank the people who voted for me and helped me reach being one of the top vendors again for the second year."
7 Diane Wilkins
"I sell StreetWise at the Mariano's on Foster and Sheridan. I have been selling the magazine for just over one year. What I like best about StreetWise is meeting my customers and having conversations with them. The key to my success is getting up every morning and being warm and friendly. Selling StreetWise, I have learned that you have to have a lot of patience. I see myself selling StreetWise for the rest of my life. I love doing what I'm doing! I am also looking into finding a receptionist job, but StreetWise is number one. Being a StreetWise vendor has helped me find myself. I look forward to getting up every morning and going to meet my customers. My customers mean the world to me. They are my rock."
8 Scott Elders
"I sell StreetWise at Damen, North and Milwaukee: 1588 Damen in front of the Starbucks.  I've sold the paper for the last seven years.  My favorite part of the job is watching people walk by and smile when you say, "good morning" to them.  I've learned patience.  Not everybody wants to buy that paper.  I've also learned when to go out and sell.  They don't like to buy when it's raining out. That's why I don't go out when it's raining, I've learned my lesson.  I think the key to my success is my politeness.  My customers are hardworking people. They have kids, some have dogs and they are very friendly and understanding. All of my customers are memorable.   I have very valuable customers whom I dearly love.  Last year I was number 10.  Thank you so much again for making me Top 10 again this year."
9 Clarence Weeks
"I sell StreetWise at 500 N. Michigan at Michigan and Illinois, over the bridge by Nordstorm. I've sold StreetWise since November 2015.  It's fun and I like going by the rules. I take my time: I talk nicely and slowly. I learned when you sell StreetWise don't keep bugging nobody. You gotta dress nice a bit. You can start selling at 7 in the morning if you want to. I usually work 11-7. You gotta say please and they buy my books. We have nice conversations and we talk about everything, you name it. I want to say thank you. Thank you customers for helping me out and everything. I could have done better but I was just too tired to sell more. Next time, next go around I'll probably get better and probably get number 1 or 2.  It's fun making money when you are in business. When money get good, money can make you feel fun. It keep you busy, keep you doing things. I'm gonna do this for the rest of my life."
10 Reneé Ducksworth
"I've been selling StreetWise for 10 years. Currently, I sell StreetWise at Dearborn and Division in front of the Walgreens. My favorite thing about selling StreetWise is getting to know the different customers like the college students, the parents, and the nannies. I enjoy selling StreetWise and I enjoy meeting people. I'm successful selling the magazines because I've gotten to know a lot of people over the years. All of customers are very nice and very polite. I always try to help my customers, greet them with a smile, and let them know I hope they have a great day. Just overall I try to be positive. What I like about working for StreetWise is that I can make my own hours, I can leave when I have to, and I can take days off when I need to. Lastly, thank you to everyone who voted for me – I really appreciate it! It really made my day to hear that I was voted as a top 10 vendor."