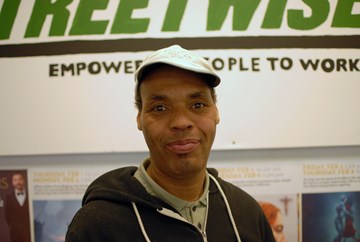 By: Luke Hyland
April 9, 2018
Tony Landers is a native Chicagoan, having grown up in the city's West Side housing near the United Center.
While looking for things to do, Tony stumbled upon The Night Ministry, an organization that provides housing, health care, and human connection to anyone struggling with homelessness. The group recommended he look into StreetWise, and he's now been a part of the team for over two years.
Despite not being a vendor, Tony helps around the StreetWise offices in different ways. He arrives by 7 in the morning, ready to do what's asked of him. He said his job consists of a lot of moving around, but he doesn't mind it at all.
"I love StreetWise," he said. "They got very, very fun employees."
One of Tony's favorite parts about helping out at StreetWise is that it's located on the North Side of Chicago. Compared to the West Side, Tony said the North Side has so much more for him to do, and he knows both sides well. He often visits Wrigley Field during his North Side visits to support his home team, the Chicago Cubs.
Tony loves baseball. He played on his high school team and said he likely had a bright future in the sport.
"I was going to be in the minor leagues but I quit," Tony said. "I just got caught up with the wrong people — drinking and playing cards."
Despite his personal history with the game, Tony can always find enjoyment at Wrigley. He couldn't be happier about the Cubs' recent acquisition of pitcher Yu Darvish and he raved about the team's first World Series win in over a century. Wherever he goes, Tony brings his enthusiasm with him.
An avid traveler, Tony often walks from Englewood to Rogers Park and vice versa — a trip that can take up to six hours on foot. But long-distance traveling is one thing Tony loves to do. He often rides trains around the country — partly to fulfill his own passion for travel and partly to visit his 30-plus grandchildren around the United States.
"My grandchildren are always saying, 'Grandpa, I thought you said you'd be in Seattle,' or, 'Grandpa, you said you'd be in California,'" Tony said. "It's difficult to visit them all when it takes me so much time to get there."
Tony has visited almost every state in the country during his travels, except for Alaska, Hawaii, Connecticut and Virginia. How long he stays in one location is up to him — it could range anywhere from a day or two to multiple months or years. One of his favorite states to live in was Ohio, which he said has good shelters.
Tony lived in "tent city" for a while until it was uprooted by the City of Chicago. When Tony has had to live on the streets, he prefers doing it during the winters, despite the often below-freezing temperatures.
"I'd rather go to a shelter in the summer than a shelter in the winter," he said. "Almost everyone I talk to hates the cold, but I think it's fun to sleep outside when it's cold. I get a whole lot of blankets. My grandkids say I'm crazy, but I just love wintertime in the snow."
As for his future, Tony dreams of owning a big house where he can be around his grandchildren and live a "normal" life. Until then, he's excited to continue working with StreetWise, an organization of which he's so happy to be a part.