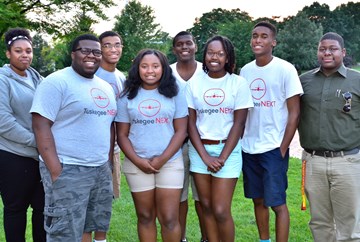 By: Suzanne Hanney
May 27, 2019
With up to half a million new commercial airline pilots needed over the next 20 years globally, the Tuskegee Airmen continue to inspire inclusion.
"In the next 20 years, 100 percent of the pilots that are involved with the airline industry are going to be retired," said Capt. Albert Glenn.
"As one generation moves on, the next one is in the same category," Glenn said of retiring Baby Boomers and the 40-somethings who comprise the bulk of commercial pilots today. "It's a never-ending story that provides better opportunities. The thing that's valuable now is the industry is more color blind and more gender blind than it's ever been. Women make up only 5 percent of the industry. There's a lot of opportunity for growth all around."
Glenn is director of the Organization of Black Aerospace Professionals' (OBAP) new Luke Weathers Flight Academy in Olive Branch, MS. He received Chicago-based Tuskegee NEXT's Trailblazer Award last month for embodying the Tuskegee Airmen's spirit of determination, excellence, perseverance and integrity and for his own leadership to break down barriers and increase opportunities.
Tuskegee NEXT honors its namesake pioneering World War II airmen by transforming the lives of at-risk youth through aviation education and career path opportunities. It quoted Boeing's forecast for pilot demand alongside a Brookings Institution study that said the majority of economically disadvantaged African Americans will remain that way.
On the other hand, the commercial pilot's salary made a difference in Glenn's life, "and also the opportunity to take my passion of being able to fly and give back, to create opportunity for others," he said in a telephone interview.
Glenn began his career with Memphis-based FedEx in 1974. Now retired, he had a 44-year career piloting B777, MD11, DC10 and B727 aircrafts. But he paid for flight training out of his own pocket, with the help of a lot of mentors. "I am sure I spent as much as $15,000 to $20,000 and I estimate it would cost $40,000 to $50,000 now on the low end," he said.Both the nonprofit OBAP and 501 (c)(3) Tuskegee NEXT seek to make flight training more accessible, so that young people who do not enter the military can avoid this debt. As an example, Glenn cites Jeff Mabry, "a student from the Mississippi Delta who never thought about flying airplanes until he went to an OBAP ACE academy. He was on the front page of the local newspaper in Mississippi when he soloed" and is now a captain for American Airlines.
Glenn's inspiration, meanwhile, was Carroll Waters, the first African American pilot hired at FedEx. "He was not a Tuskegee Airman but he set the bar so high that I knew that was what I wanted to do. He mentored me all the way until he passed a few years ago."
In June 2018, Glenn led the establishment of Lt. Col. Luke Weathers Flight Academy, named for the Tuskegee Airman who was the first African-American air traffic controller at Memphis International Airport. Weathers served in the U.S. Army Air Corps from 1942-45 and was awarded the Distinguished Flying Cross. He died in 2011 at age 90.
In less than a year of operation, the Weathers Academy, which is just minutes from Memphis, has trained students to earn six private pilot licenses and one commercial pilot's license. It also has trained three certified flight instructors, two certified flight instructors/instruments, one certified flight multi-engines instructor, three people in instrument ratings; and conducted 11 solo flights. Its goal is to increase diversity by 50 pilots annually.
This year, the Weathers Academy will welcome Chicago-area students with support from Tuskegee NEXT in a two-week aviation immersion training that culminates in a solo flight.
Tuskegee NEXT does outreach to at-risk youth, ACE (Aviation, Career and Education) Camp, and eight-week flight training. It also offers life skills programs including community service and mentorship; and educational assistance including scholarships, tuition assistance and internships.