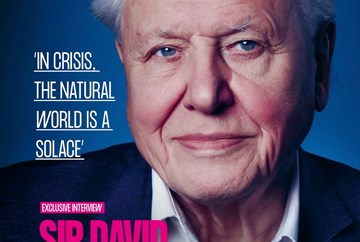 By: Tony Inglis
April 9, 2020
The UK's street papers will be sold in stores across the country for the first time in response to the effects created by the outbreak of coronavirus.
In March, The Big Issue and Big Issue North told vendors to temporarily stop selling magazines on the street in order to safeguard themselves and readers. The UK government then imposed lockdown restrictions in a bid to prevent the spread of COVID-19.
These are now common circumstances across the street paper network, with the majority of street papers moving their sales online or elsewhere so that they can continue to support vendors and provide a means for them to earn an income.
As of this week, The Big Issue and Big Issue North will begin selling their publications in hundreds of branches of major supermarket Sainsbury's and in newsagent chain McColl's. It will be the first time in the 29-year history of the Big Issue title that readers will be able to buy the street paper in shops.
The magazine will be on sale for £3 ($3.71 USD), with half of the proceeds going into The Big Issue and Big Issue North's respective vendor hardship funds.
Big Issue founder Lord John Bird used the announcement to make a plea to readers to continue supporting the UK's street paper vendors.
He said: "We have helped well over 100,000 people over the past 29 years, and on average we put £5 million ($6.18 million USD) into the pockets of our vendors every single year. Now more than ever, we need your support. Our income comes from street sales, and without our vendors on the streets we cannot support those people that really need us now and in the future.
"We are thrilled that the good folk at Sainsbury's and McColl's have partnered with us so that readers new and old can continue to buy The Big Issue during these turbulent times. As usual, we go half and half with our vendors."
The development is just the latest in some forward-thinking measures introduced by the UK street papers, and those further afield.
Big Issue North is offering the sale of individual digital editions, various frequencies of subscriptions, the sale of back issues, and asking for one-off donations. The Manchester-based street paper also recently released the second issue of The New Issue, a beautifully crafted spin-off publication, released quarterly, proceeds from which also ultimately go towards the people who benefit from Big Issue North's social projects.
Glasgow-based The Big Issue is also offering subscriptions and digital versions of the magazine, as well as asking loyal readers and other members of the public to back them financially over the coming period of instability due to how COVID-19 has affected everyday society.
Those behind the stores now stocking the two street papers expressed their delight to be supporting them through this tough time.
Paul Mills-Hicks, commercial director at Sainsbury's, said: "We are proud to be supporting a cause as important as The Big Issue, which exists to offer homeless people, or individuals at risk of becoming homeless, the opportunity to earn an income. Coronavirus has affected everyone in the UK, and it's important that we show our support for each other in these increasingly challenging times.
"We hope that by providing a means for our customers to purchase a copy of The Big Issue, we can encourage people to continue to buy the magazine, which so many vulnerable people rely on."
McColl's chief executive Jonathan Miller added: "We are delighted to be supporting The Big Issue at this important time. We urge our customers to lend their help by buying copies of the magazine available at our stores to help the organization's street vendors who will be struggling to make a living as people stay at home amid the coronavirus outbreak."
While this is an unprecedented move for The Big Issue and Big Issue North, other street papers across the world have already implemented similar alternatives with their vendors also being unable to sell on the streets. Nuremberg-based Strassenkreuzer has been assisted by local bookstores that remain open in selling their magazine. With only essential businesses like supermarkets and grocery stores allowed to remain open as coronavirus keeps cities locked down, their cooperation with street papers to help their publications remain visible and available for purchase is welcome.