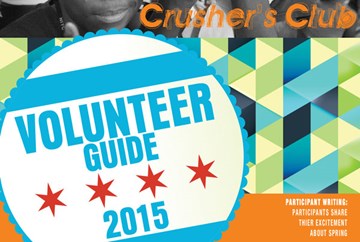 By: Dave Hamilton
May 4, 2015
ADVOCATES FOR ADOLESCENT MOTHERS
Mission: Advocates for Adolescent Mothers is committed to empowering young parents by providing them with the tools, resources, and support needed to break the cycle of poverty, establish prosperity, and prevent child abuse.
Services:
Educational Empowerment Program: Provides financial and socio-emotional support to young moms who are in college.
Holiday Drive Program: We collect and distribute toys and outerwear to homeless young moms and their children each year for Christmas.
Teen Parent Stable Housing Study: We conduct research about homelessness among young moms in Chicago. In the near future, we will provide supportive housing to homeless young moms and their children.
Volunteer Opportunities
Action Council, which is a long-term volunteer opportunity (at least 1 year commitment), that offers volunteers the opportunity be involved with a range of activities including, for example, Event Planning, Volunteer Management, Fundraising, Social Media, and Marketing/PR.
Host Committee for a gala that we will be hosting this year. This is a short-term volunteer opportunity (at least 6 months commitment).
Holiday Help gift wrapping and/or as a collection site coordinator from september through December. Our holiday drive program also offers the opportunity to grant homeless children's Christmas toy wishes, adopt a family, and/or host a private (e.g. at your office or church) toy/coat drive to support AFAM's Holiday Drive Program.
Advisory Commission high level executives and industry experts who provide consultation and support to the organization.
Board of Directors provide governance and support to the organization. We will be recruiting new Directors later this year/early 2016. Lillian Harris, PO Box 43234, Chicago, IL 60643, www.advocatesforadolescentmothers.com, Lillian@advocatesforadolescentmothers.com.
ANIXTER CENTER
Make a difference in the life of a person with a disability with just one hour a week!
Over 20 years ago, Anixter Center realized that literacy was essential in its efforts to enhance the lives of people with disabilities. To answer that need, Anixter Center created the Jack Ehrlich Literacy Program, the first and only Chicago area literacy program that focuses on the unique needs of individuals with disabilities.
Volunteer tutors commit at least one hour each week for at least three months. The tutoring experience can be beneficial to both learner and tutor! We simply couldn't assist so many individuals with disabilities without the dedication of our volunteers!
We offer free pre-tutoring training as well as many continuing training opportunities throughout the year. Anixter Center (located at 2032 N Clybourn Ave) Literacy Program is open Monday-Friday, 8:30 a.m. to 4:30 p.m. and on Thursdays until 6 p.m. Off-site and evenings matches possible (usually at public libraries). We try to accommodate all schedules.
Our services are much needed and we have a long wait list of adult learners eager to be matched. Interested in being a volunteer tutor? Please contact the Literacy Coordinator at LKartali@anixter.org
ASSOCIATION HOUSE OF CHICAGO
Association House of Chicago serves a multi-cultural community by providing comprehensive, collaborative and effective programs in English and Spanish. We promote health and wellness and create opportunities for educational and economic advancement across five service areas: Behavioral Health, El Cuarto Año High School, Child Welfare, Community Services, and Prevention & Educational Development. Learn more at www.associationhouse.org.
Adult Education Tutors – Seeking energetic and culturally sensitive volunteers to tutor our Adult Basic Education classes. Volunteers will work as one-on-one tutors or as assistants in the classroom to supplement the learning needs of the students. Tutoring hours take place Monday – Thursday from 9:30 a.m. – 4:30 p.m. Contact Alejandro at atrejo@associationhouse.org to sign up. Requirements: Dedicate at least three hours a week for 10 weeks; Have a High School Diploma or GED; Complete tutor training at Association House.
Microsoft Instructor – Seeking a volunteer to lead our Microsoft Office Specialist courses in Word 2010. The course takes place Monday and Wednesday mornings from 9 a.m. – 11 a.m. and sessions are five weeks long. Students are typically middle age adults who are eager to receive MOS training in order to improve their job prospects. Contact Stephen at spigozzi@associationhouse.org to sign up. Requirements:Familiarity with MS Office and ability to pass the 2010 Word Certification exam. Association House would provide the certification free of charge; A volunteer willing to stay with us for a few five-week sessions is ideal.
BACK ON MY FEET
Back on My Feet (BoMF) is a national for-purpose 501(c)(3) that uses running to help those experiencing homelessness change the way they see themselves so they can make real changes in their lives that result in employment and independent living. We combine our passion for running with compassion for those individuals who are experiencing homelessness to create a program that acts as a stepping stone for all of the rest of life's meaningful accomplishments. We run alongside our teammates in the hopes that our support and friendship will enable them not just to complete a mile or finish a race, but to also set and reach all other kinds of goals, like going back to school, moving into an apartment, or finding a job.
VOLUNTEER OPPORTUNITIES: The Back on My Feet experience is anchored in teams – comprised of those experiencing homelessness and volunteers from the community – running together every Monday, Wednesday, and Friday at 5:45 a.m. Runs take place at three, soon to be four, locations: St. Leonard's Ministries near the United Center (2100 W. Warren Blvd.), YMCA Lawson House in the Loop (30 W. Chicago Ave.), and in the Uptown neighborhood (Wilson & Marine Drive). Our newest team is at Breakthrough Ministries (330 W. Carroll Ave). We ask that volunteers commit to running at least one morning per week, as this helps create the stable environment necessary for success within each team!
All new members are required to attend a one-hour orientation prior to taking part in a morning run. Sign up here: Chicago.baconmyfeet.org/Chicago-run-with-us
"I wanted to let you know that Back on My Feet has been an integral part of my success since my release and I'll never forget that." – Matt
BEST BUDDIES
Best Buddies' mission is to establish a global volunteer movement that creates opportunities for one-to-one friendships, integrated employment and leadership development for people with intellectually and developmental disabilities.
Volunteer opportunities:
Short term: Best Buddies Annual Friendship Walks take place in the city and suburbs of Chicago typically in April. The event is open to the public, and walkers and donors do not need to be Best Buddies members. The event is also free, but those who donate $50 will receive the official walk T-shirt.
Long term: Matched in a one-to-one friendship with an adult with an intellectual and developmental disability, you speak once a week and meet in person once or twice a month. One year commitment to the program.
For more information, visit http://www.bestbuddiesillinois.org/. Office number 312-828-9313, Email- JoshuaKaye@bestbuddies.org (Senior Program Manager- Adult Friendships)
Training and age requirements: 18 or older, must complete background check
CENTER FOR CHANGING LIVES
CCL partners with those held back by lack of resource and economic opportunity in order to uncover possibilities, overcome barriers, and realize their potential.
Employment Coaching-CCL's Employment Coaching and Placement program works to support participants to achieve employment in the short-term and career advancement in the long-term. Housing and Financial to support participants as they work to achieve financial goals and obtain safe and affordable homes. Resource Development Coaching: Focused on "resourcing participants up" and building their capacity, both internally and externally, the services CCL integrate skill building, relationship building, capacity building and personal development to improve participants' circumstances and move them towards their vision for their life. Resource Development Coaching mobilizes capital – social, human, relational and many other forms – through the course of a participant's personal and professional development to ensure they achieve the change they seek.
Organization Contact Information: Alexandra Canalos, Program Director, 1955 N. St Louis Ave, #101, Chicago, IL 60647, 773-342-6210, alexandra@cclconnect.org.
Volunteer Opportunities:
Front Desk: We are currently looking for a volunteer dedicated to four hours a week in our reception area to welcome clients. The volunteer will assist in signing clients in, explaining core CCL services, coordinating a Pre-Intake with clients, scheduling client appointments, and making necessary service connections with CCL staff.
Computer/Resume one-on-one help: Duties may (based on client need) include providing assistance on topics such as computer basics, resume writing, Word/Excel/Powerpoint, job search skills, and social media. This position will be "on call" and based on matching the needs and availability of our clients with the right volunteer.We ask the volunteers commit to participating once a week for two hours, currently between 10 a.m. – 6 p.m. Mon-Thurs
CENTRO ROMERO
Centro Romero offers classes in Pre-GED, GED, ESL, and Citizenship. Classes take
place Monday-Thursday from 9 a.m. – 12 p.m., and 6 p.m. – 9 p.m. We are always looking for one-on-one tutors to aid our students. We are located at 6216 N. Clark. For more information please contact the Volunteer Coordinator for the Adult Education Department, Yasser Salim: 773-508-5300 ex. 28, or aevolunteer@centroromero.org
CHICAGO CARES
Chicago Cares creates volunteer experiences that connect people and communities to meet critical needs and build a stronger Chicago. With 250 monthly programs, in various issues areas and neighborhoods, you can find a volunteer opportunity that is perfectly fit for you. From hunger to education to job readiness, our hands-on programming benefits hundreds of community nonprofits.
Chicago Cares Serve-a-thon (June 27): Participate in the city's largest day of service, when more than 5,000 volunteers transform Chicago.
Find Your Cause (October 20): Network with peers and identify ways to support area nonprofits at this spirited event.
Ready to make a lasting impact in Chicago? Visit www.chicagocares.org, shoot us an email at info@chicagocares.org, or give us a call at 312-780-0800. Find us on Facebook (www.facebook.com/ChicagoCares), Twitter (www.twitter.com/chicagocares), and Instagram (www.instagram.com/chicagocares)
Volunteer Testimonials:
"Chicago Cares has opened my eyes to Chicago—to people and issues I didn't even know existed. This ability to see the city and the world from the perspectives of others has changed me, making me a better volunteer, a better leader and a better person." – Sara Kronenberg
"Chicago Cares has taught me that true leadership is about empowering others, inspiring them to dream more and giving them the tools to make an impact." – Rogelio Lechuga, Jr.
CHICAGO HOPES FOR KIDS
MISSION: Chicago HOPES for Kids is committed to providing after-school, shelter-based tutoring programs featuring educational support and enrichment activities for Chicago's school-aged homeless children. It is our goal to motivate and empower students to succeed academically despite the challenges of homelessness. Chicago HOPES for Kids is a 501(c)3 charitable organization.
VOLUNTEER:
One-day: Help clean or paint the tutoring area; sort materials for summer activities;
Plan an enrichment activity for the children (art, music, dance, science, etc).
Long-term: Mentor a child over the summer with our Literacy Mentorship program. Sign up for 90 minutes/week for five weeks. Help children improve their reading skills.
Fall: Tutor children experiencing homelessness at a shelter in Chicago: two hours/week for 10-12 weeks.
Become a site coordinator who manages the tutoring program at the shelter site: 3-4 afternoon/evenings per week for 10-12 weeks.
Training requirements: All volunteers who work with children will need to attend a HOPES training and have a background check.
Other areas of need: Board development, grant writing, event planning, strategic planning, website development
CONTACT: Chicago Heightening Opportunity and Potential for Educational Success, DBA: Chicago HOPES for Kids, www.chicagohopes.org, chicagohopesforkids@gmail.com. Mailing address: 5936 S. Kolmar, Chicago, 60629 Office address: 355 N. Laflin, #402. Executive Director: Patricia Rivera, LCSW, #224-595-4482; pat.c.rivera@gmail.com. Program Manager: Amanda Miley, #815-979-6731, amandagailmiley@gmail.com
CHRISTOPHER HOUSE
Christopher House offers free Adult Education classes, such as Adult Basic Education (GED preparation class) and English as a Second Language (ESL). We are always looking for Tutor Volunteers to make a difference in the community and in someone's life. The requirements to become a tutor volunteer are: must be 18 years or older, complete a 12-hour training (at no cost), and provide a minimum commitment of once a week for more than three months. The tutor volunteer can assist an instructor, work with a small group, or do one-on-one tutoring. We have flexible hours and free workshops/trainings.
For the summer we will have ESL classes Monday through Thursday from 6 – 9 p.m. and the GED class Monday through Thursday from 5 – 9 p.m. In the Fall and Spring we have the same schedule with an addition of an ESL class from 12 – 3 p.m. (hours may vary).
Christopher House, 5235 W. Belden Ave., phone: 773 922-7500 ext. 27252, cell: 855 318-8285, fax: 773.922.7559, christopherhouse.org
ERIE NEIGHBORHOOD HOUSE
Erie Neighborhood House Invites You to Make a Difference by becoming a Volunteer Tutor.
Support adult students in the following areas: English as a Second Language (ESL), English Conversation, Reading and writing, Citizenship, Basic Math, General Education Development (GED). No Experience Necessary and training is Provided! For more information, contact: 312-432-2254, 312-432-2257 or sortiz@eriehouse.orgOur locations are 1347 W. Erie St. (West Town) and 4225 W. 25th St. (Little Village).
FRANCISCAN OUTREACH
Our Mission: To provide shelter, food and help in building a better life for our guests and helping to affirm the human dignity of people in need throughout Chicagoland.
Contact: Director of Community Volunteers and Corporate Relations Merrill Gonzalez (773) 278-6724 merrill@franoutreach.org to see our calendars and get more information on volunteering. To fill in an application, please go to our website at www.franoutreach.org
Marquard Center 1645 W. Le Moyne St.
Administrative office: Volunteers are needed to help answer the phone, answer the door and welcome guests to the Marquard Center, provide assistance with mailings and electronic information distribution, and data entry. Hours are between 9 a.m. and 5 p.m. Monday through Friday. All day or half day shifts are available depending on our need.
Soup kitchen volunteers: Volunteers help serve dinner to up to 110 guests each evening. Volunteers will be asked to fill trays, deliver trays to guests at the tables, wash trays, roll silverware, and fill water pitchers.
Franciscan House shelter 2715 W. Harrison St.
Dinner servers: We schedule three volunteers to help with serving the meal to our 257 shelter guests. Staff works alongside volunteers to offer additional help. Servers must be 18 years-old or older.
Intake volunteer: Every night of the year we have a need for an intake volunteer who will help us check in new guests to the shelter.
Franciscan Annex 200 S. Sacramento
Dinner servers: We need three dinner servers each night to help staff at the overnight shelter.
HARTLAND ALLIANCE
Want to make a difference in the life of a family who has just arrived in the United States? Heartland Alliance's Refugee and Immigrant Community Services on Ravenswood is a refugee resettlement agency, resettling families from all over the world, but primarily Burma, Bhutan, and Iraq. We provide services to the newly-arrived families to help them adjust, including case management, helping find employment, providing English classes, computer and job classes, and services for youth and their schooling. We have a variety of internships in these areas, as well as volunteer opportunities. Our volunteer opportunities primarily focus on helping families adjust, mentoring an individual refugee youth, helping kids out with homework after school, mentoring and empowering refugee women, and teaching preschool-aged children. If you are interested to learn more about our internship or volunteer opportunities, please contact our Volunteer Coordinator, Paul Obbagy, atpobbagy@heartlandalliance.org.
H.O.M.E.:HOUSING OPPORTUNITY AND MAINTAINANCE FOR THE ELDERLY
H.O.M.E. helps low-income seniors live independently by providing home upkeep and repair, a shopping bus, affordable housing, and moving assistance. We have all forms of volunteer opportunities short term, one day,long term, and routine. Training is provided when necessary. Some examples of our opportunities are: For groups- Painting, weatherization, hosting activities at our housing locations; For individuals-guest chef, friendly visiting, periodic donation pick up, episodic activities as they arise.A full listing of opportunities is always on our web site www.homeseniors.org. 1419 W. Carroll Ave. FL 2, Tel: (773)-295-2709, Fax: (312) 455-1500
NORWEGIAN AMERICAN HOSPITAL
Norwegian American Hospital is a non-profit, community hospital in the Humboldt Park neighborhood of Chicago. During the last few years, under new Leadership, the Hospital and our CEO are receiving accolades and awards in Becker's Hospital Review and the Chicago Tribune for our quality of care, patient safety, and infection control, to name a few, so it is an exciting time to be part of this community hospital. We need volunteers for: Patient & Guest Visitor program where Volunteers can visit and talk or play games and offer a magazine or book to keep; Reception or office work; Special Event Volunteers
Norwegian American Hospital, 1044 N. Francisco Ave. Office: 773-292-7401 volunteer@nahospital.org
LA CASA NORTE
La Casa Norte's mission is to serve youth and families confronting homelessness. We provide access to stable housing and deliver comprehensive services that act as a catalyst to transform lives and communities.
Homelessness affects a diverse population and La Casa Norte's clients come from all walks of life, from homeless families, single parents, victims of domestic violence and abandoned youth. Depending upon the needs of our clients, we provide not only the most basic needs – a bed, something to eat – but we also give them the tools they need to improve their situation, and change their lives for the better. La Casa Norte, 3533 W. North Ave., Chicago, IL 60647 773-276-4900 773-342-4253 (fax) info@lacasanorte.org www.lacasanorte.org
Volunteer opportunities
Long-term/routine: Emergency Clothing Closet organizers; "Home Cooking" Program – make/serve meals for youth; Administrative assistance; Donation Pick-Up Specialists-pick-up Chicago-area food donations for clients; Marketing assistance – graphic design, website design/management.
Short-term/one-day: Spring Cleaning Drive, donate and sort professional clothes – April; Volunteer Wrapping Party – December; Family Holiday Party – December; Painting/Spring Cleaning.
Training requirements for volunteering: On-site orientation/training given by LCN staff
Additional screening and orientation for volunteers interested in Casa Corazon youth programming.
LITERACY DUPAGE
Our mission is to provide accessible and customized tutoring in reading, writing, speaking, and understanding English to help adults achieve independence. We provide one-on-one tutoring for free to adult learners in DuPage County through the generosity and dedication of our volunteer tutors. Our tutors and learners meet at mutually convenient times and locations about two hours per week. We also provide an adult English-as-a-Second-Language conversation group on a regular basis at many libraries in DuPage County. More information about our services can be found on our website at www.literacydupage.org.
Volunteer Opportunities: We need more tutors! No prior teaching experience is necessary. Every volunteer tutor is required to attend an orientation. Thereafter, a tutor must sign up for 18 hours of training prior to being matched with a learner. Orientations and trainings are offered throughout the year at various locations in DuPage County. Please check out our website at www.literacydupage.org or call us at (630) 416-6699 for our current orientation and training schedule. Executive Director: Bernie Steiger, 24W500 Maple Ave., Ste. 217, Naperville, IL 60540. (630) 416-6699, volunteer@literacydupage.org, www.literacydupage.org
MERCY HOUSING
We are currently in need of adult literacy tutors to assist adult learners within our properties located in Uptown, Lakeview, South Loop, and Englewood communities. Anyone interested must be able to meet with adult learners one-on-one or in groups for at least one hour a week. Tutors are expected to organize lesson plans based on student goals, interests, and life experiences. The subjects covered are broad in range and depend on the individual learner. Subjects may include reading comprehension, writing, spelling, GED preparation, basic math skills, and more. Please contact Dominique Davis for more information.Phone: 312-239-3250 E-mail: ddavis@mercyhousing.org
MICHAEL BARLOW CENTER
The Michael Barlow Center of St. Leonard's Ministries (www.slministries.org) offers job training, job placement, and education services to men and women with criminal backgrounds. We are seeking volunteers to help in our front office by answering the phone, directing visitors and participants, as well as other tasks. Volunteers are welcome to choose one or more morning or afternoon each week. Hours are from 9 a.m. to 1 p.m., or 1 to 5 p.m., Monday through Thursday. We ask that volunteers be as consistent as possible in their schedule. We are seeking volunteers over the age of 21 who can be helpful and enjoy working with people. Computer skills are welcome but not necessary. The Michael Barlow Center is located at 2120 W. Warren Blvd near the United Center. There's easy access to public transportation, and abundant free street parking. Please contact Lynne Cunningham at 312-226-6270 x 11 or mbcdir@slministries.org for more information.
PAN-AFRICAN ASSOCIATION
The mission of the Pan-African Association is to serve, empower, and promote the integration of refugees and immigrants from Africa and around the world. Located at 6163 N. Broadway, we have a variety of volunteer opportunities in numerous program areas.
Help clients receive more individualized attention in one of our classes:
ESL: Monday – Thursday 9 a.m. – 11:30 a.m. Volunteers are also encouraged to plan lesson activities if they wish.
Citizenship: Tuesdays /Thursdays, 6 – 8:30 p.m. and Saturdays, 9 a.m. – 12 p.m. Assist clients in preparing for the citizenship exam.
Beginning Literacy: Mondays/Wednesdays, 5:30 p.m. – 7:00 p.m. Help improve clients' understanding of the alphabet and phonics.
Help PAA with overall program support:
Job Development: Assist the job team in finding/applying for client jobs, interview practice, and assisting in job readiness class.
Marketing/Community Outreach: Assist with contacting potential partners, funders, developing materials, managing website, writing articles for a newsletter or assisting with planning and promotion of events.
Mentoring: Engage in a two-way cultural exchange as a friend to a new refugee in our community. The mentoring program requires a minimum commitment of two hours per week for six months.
Front Desk: Office support and reception Monday – Friday, 9 a.m. to 5 p.m.
Questions? (773) 381-9723, spietruszka@panafricanassociation.org
www.panafricanassociation.org
PROJECT CARE
Project CARE (Community Adult Reading Experience) is Morton College's volunteer adult literacy program. Trained literacy tutors teach adult students seeking assistance with English and Math. Project CARE was founded in 1986 and is grant-funded by the Illinois Secretary of State. We serve the communities of Berwyn, Cicero, Stickney, Lyons, Forest View, and McCook.
Our Mission: To enhance the quality of life of our diverse community through exemplary teaching and learning opportunities, community service, and life-long learning.
Literacy Tutor Position
Provide individual and small-group tutoring in English and Math to adult students and prepare creative lesson plans. Assist students in improving academic achievement by meeting with them on a regular basis. Help students solve their learning problems and work on study skills.
Qualifications: Be at least 18 years old; Have a high school diploma or GED; Be able to volunteer three hours a week for three months; Be willing to complete 15 hours of initial training; Be sensitive to the needs of the local community. Contact information: Irina Cline, Academic Support Specialist, Morton College, 3801 S. Central Ave, Cicero, IL, Room 245C, 708-656-8000 ext. 2383, project.care@morton.edu
A SAFE HAVEN
A Safe Haven Foundation is a 501(c)3 not for profit, social enterprise that helps people aspire, transform and sustain their lives as they transition from homelessness to self-sufficiency with pride and purpose. A Safe Haven provides the tools for each individual to overcome the root causes of homelessness through a holistic and scalable model. A Safe Haven's visible social and economic impact unites families, stabilizes neighborhoods, and creates vibrant, viable communities. There are many different ways to volunteer with us! Corporate, Organizational, Individual opportunities are available: Food Pantry; Tutoring & Mentoring; Special projects; Events; Holidays; Office and Administrative Work; Childcare.
Have a special interest? Plan your own volunteer day or donation drive!
We ask that all new volunteers attend a volunteer orientation before getting started.
If you are interested or have questions please email Volunteer@ASafeHaven.org
Like us on Facebook (A Safe Haven Foundation) and Follow us on Twitter (@A_Safe_Haven)
"Thank you for a great day! I had so much fun. I definitely will be back." Ashley M.
UIC CENTER FOR LITERACY
The Center for Literacy is currently recruiting participants to tutor our GED or English as a Second Language Adult learners between the hours of 9 a.m. – 12 p.m. and 1 p.m. – 3 p.m.
We ask for a minimum of 2-4 hours a week of tutoring and we will work according to your schedule. The tutoring sites are located all over Chicagoland, and one may be near you. Come make a difference in the lives of others while gaining work experience with UIC instructors. You can contact us via email or telephone to set up an appointment so we can get you started as soon as possible! Contact Sharon Osinaike, osinaike@uic.edu or 312-413-9869 for appointments. For more information check out our website, http://cfl.uic.edu/
This project was made possible by a grant awarded by the Illinois State Library, a division of the Office of Secretary of State, using funds designated for literacy.
VIETNAMESE ASSOCIATION OF ILLINOIS
We at the Vietnamese Association of Illinois are currently in need of volunteers who can come
during our class hours of 9-11:30 a.m. Monday to Friday and 10-12:30 p.m. on weekends. We
require that volunteers commit to at least once a week for 2.5 hours. Volunteers who stay with us 45 hours will be given letters of recommendation! We will train you; you will also receive free trainings and an ESL volunteer certificate through Literacy Works.
The benefits of volunteering: Help an immigrant/refugee learn about and adapt to a new culture; The rewarding feeling you'll get from helping others; Form friendships with co-volunteers and students, Learn about other cultures, Free training and access to additional (optional) free workshops. Thinking of going abroad? Your experience as an ESL volunteer could be used as a segue into teaching in other countries! We are located at 5110 N. Broadway in Uptown, near the Red Line Argyle stop. If interested please contact us at caheri.aguilar@hnvi.org.