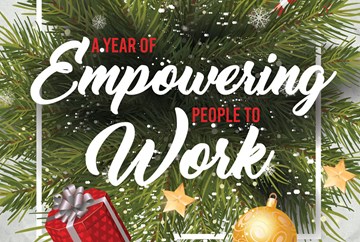 By: Dave Hamilton
December 18, 2017
January
Celebrating Martin Luther King Jr
StreetWise celebrates Martin Luther King Jr. with our annual MLK edition. This year, we had the honor of speaking with six activists who worked alongside Martin Luther King Jr. during the Civil Rights Movement, all of whom shared their personal memories of the time and MLK himself.
Good-bye Obama
StreetWise says goodbye to President Obama's term by discussing with local nonprofits the impact the Obama administration has had on their issues. We spoke with Illinois Coalition for Immigrant and Refugee Rights about immigration, Chicago Coalition for the Homeless about healthcare, Eco-Justice Collaborative about Climate Change, the Center on Halsted about LGBTQ rights, and Dr. Victor Devinatz about Labor Unions. The issue was the first edition to sell out in 2017.
StreetWise Cat Café
Our friends at TreeHouse Humane Society started a special "Cat Café" one Friday a month at the StreetWise Café. Vendors and visitors alike were invited to play with visiting cats for an afternoon to relax and feel the healing and comforting power of our furry friends.
February
the oscars
The Academy Awards were quickly approaching, and StreetWise was proud to be able to screen five of the most-nominated films for our vendors. Vendors were not only treated to a different film each day, but also got popcorn and a much-needed break from the winter cold. The vendors' reactions to the films were published in our special Oscar edition on February 20.
uncovered in Glasgow
The International Network of Street Papers (INSP) opens its art exhibit "unCOVERed: Still Homeless, Still an Issue" at the Lighthouse Gallery in Glasgow, Scotland. The exhibit features covers and vendor profiles from street papers around the world, including StreetWise's "Beyoncé" cover (vol.24, no. 12).
Super Bowl pre-party
StreetWise starts the year off with our first fundraiser. The Super Bowl Pre-Party was held at BEER, 3415 N. Clark St. in Wrigleyville. The event included three hours of all-you-can-drink and eat tickets, as well as a beer olympics, with all entry fees going directly to StreetWise.
#VendorWeek
StreetWise participates in #VendorWeek. This is a special event set up by the International Network of Street Papers (INSP) to pay tribute to the 10,300 vendors selling street papers around the world at any one time. In our special issue, we featured profiles from vendors at The Big Issue Australia, Shedia (Greece), The Big Issue (UK), The Big Issue Taiwan, Hus Forbi (Denmark), and, of course, StreetWise!
March
The karaoke fundraiser
For the first time ever, StreetWise hosted a night of karaoke for a uniquely loud fundraiser at BEER, 3415 N. Clark St. in Wrigleyville.
StreetWise + Storycorps
StreetWise joined StoryCorps Justice Project's "Dismantling Barriers to Life: A Speak Out on Mass Incarceration." StreetWise vendor Steven Riggs shared how StreetWise gave him hope because he knew he could earn an honest living within 24 hours of being released from jail. We are proud to be a resource offering immediate access to gainful employment without barriers!
Support for gwendolyn
Andersonville residents gather to help StreetWise vendor Gwendolyn Freeman after the loss of her partner of 18 years, Joseph Genous, who had a heart attack and was found dead on the Blue Line on March 14. Gwendolyn's customers noticed the memorial she had made and quickly jumped into action, offering condolences and even starting a GoFundMe page to help Gwendolyn through her trying time.
#StarchMadness
Yelp partnered with StreetWise to present #StarchMadness! The event was held at The Chop Shop / 1st Ward Events (2033 W. North Ave.) in Wicker Park. Chefs from around Chicago competed for the title of "Best Sandwich," while mingling and getting to know a little more about StreetWise. Guests got to taste each sandwich and place their votes for their favorite. All admission fees went directly to StreetWise.
April
from founder to alderman
StreetWise founder Judd Lofchie becomes Alderman of the 10th Ward in Aurora, IL.
the rockabilly social
Baderbräu Brewery, on the Near South Side at 2515 S. Wabash Ave., hosted the Rockabilly Social. This unique event featured a marketplace, dance lessons, live music, a food truck, a hair & beard styling booth, free jive dancing lessons, and (of course) Baderbräu beer. Marketplace vendors included Motoblot, Mawjanga, Kira Padilla Art, Give A Shi*t, Asunder Art & Jewelry, Harley-Davidson Illinois, Hot Rod Harlot, Black Out Choir Beard Co., Maxine Ltd., Ton Up Club Chicago, and Terry O'Luc Art. Performers included Them Guilty Aces, Killer Diller, Aces & Roses, Kingoblackabilly, and DJ Doug. 
An epicly tasty fundraiser
In a delicious fundraiser, 20% of sales at Epic Burger, 40 E. Pearson, on the Near North Side, were donated to StreetWise.
the kindness of the big ten network
The Big Ten Network stops by StreetWise and donates hundreds of hygiene kits to distribute to our vendors.
Good-bye friends
The school year comes to a close, and StreetWise bids adieu to our social work interns, who had been working with StreetWise since August 2016.
May
Pope exclusive
Italian street paper Scarp de' Tenis and the International Network of Street Papers (INSP) score an exclusive interview with Pope Francis. This interview is frequently quoted by mainstream media after the pope stated it is "always right" to give to people begging on the streets.
June
Wonder Woman Mania
StreetWise celebrates the ultimate feminist icon, Wonder Woman, with a cover story about her feminist roots, just in time to celebrate the release of the "Wonder Woman" film.
welcome anju
StreetWise welcomes Anju as a permanent vendor. Anju has become a regular contributor to the magazine.
The COOL Party
The StreetWise Associates Board hosts its 4th annual "The COOL Party" fundraiser at The Chop Shop / 1st Ward Events in Wicker Park (2033 W. North Ave.). The goal of the event is to bring together art, music, and dance to help to fund StreetWise's mission of empowering people to work. The event also featured art for sale, live music, raffle prizes, food & drink, and even had live art being created during the event, all of which were raffled off at the end of the night. Performers included Chicago rapper Malcolm London, street musicians Chicago Traffic Jam, and a DJ.
social media award
StreetWise recieves the Social Media Ambassador of the Year Award from the Chicago Social Media Marketing Group for engaging the public online on issues affecting our community. The event also honored Wendy Widom, a 2-time Emmy winning Social Media Editor at CBS2-Chicago and Laura Ustick, who used the popularity of Super Dawg's social media to demand that a hot dog emoji be created.
A. Allen's art on display
Vendor A. Allen was proud to put his photography on display as part of Catholic Charities of Chicago's "After Supper Visions" art exhibit.
July
INSP Award Nominations
StreetWise is nominated for two awards at the International Network of Street Papers' 2017 Awards. StreetWise is nominated for Best Project for EatWise, which allows vendors to get a free meal and get to know the local businesses in the area where they sell the paper; and for Best Vendor Contribution for short pieces by Penny Gearhart, who was killed in a drive-by in 2016.
welcome Johnny
After years of struggling, Johnny becomes a permanent vendor.
Streetwise + The empowerment plan
StreetWise features two Detroit-based nonprofits, The Empowerment Plan and Humble Design, on the cover of the magazine. The Empowerment Plan donates 200 of their EMPWR coats (which turn into sleeping bags for those living on the street) to StreetWise to distribute during our 2017 coat drive.
August
Nutrition program launch
StreetWise launches its brand-new nutrition program. Led by Sara Gentis, the program teaches vendors about healthy eating, taking control of your health, and how to stay healthy when on a tight budget.
25th birthday edition
To celebrate the 25th Anniversary of StreetWise, which was first published August 24, 1992, StreetWise compiles an in-depth special edition of the magazine that traces back to the founding of the organization.
uncovered in Manchester, England
INSP's unCOVERed exhibit moves to Manchester, as part of the 2017 Global Street Paper Summit, with StreetWise's cover art on display at Manchester Town Hall, directly outside of the Lord Mayor's offices.
Teaching internationally
As part of the 2017 Global Street Paper Summit in Manchester, England, StreetWise's Creative Director Dave Hamilton hosted a session "Looking Good for Less," which encouraged other street papers to think outside the box when it comes to aesthetics. He gave tips on finding artists, image copyrights, and on typography.
The streetWise Birthday party
StreetWise celebrates its birthday with a party on August 23 for all vendors at StreetWise's offices. The event featured plenty of food and dancing, and was streamed live to Facebook so that everyone could celebrate with us.
StreetWise's anniversary
StreetWise celebrates its 25th anniversary on August 24! Founder Judd Lofchie, CEO Julie Youngquist, and vendors Carlos, Steven, John, and Allen head downtown to Union Station to meet and greet customers and sell the special 25th Anniversary edition of StreetWise magazine. The event was streamed live to Facebook for those who couldn't make it downtown and wanted to learn more. The event caught the eye of Hosea Sanders of ABC7, who told the story of the event and StreetWise on the "Chicago Proud" segment of the evening news.
September
Renée Fleming + Chicago voices
Soprano diva Renee Fleming graces the cover of StreetWise after she consulted with Lyric Opera to bring the competition "Chicago Voices" to life. The event asked Chicagoans to write operas about real life, in an attempt to tell untold stories about Chicago and bring new audiences to the art form.
a new home for john
After four years of experiencing homelessness, vendor John Hicks was excited to move into his brand new home.
gala edition
As StreetWise gears up for its 25th Anniversary Gala, a special double-size edition of the magazine goes on sale. The issue does double duty and also serves as the program for the gala, so our readers who are unable to attend the gala can still have a glimpse of what it was like to attend.
the StreetWise 25th anniversary gala
StreetWise hosts the 25th Anniversary Gala on September 28, its largest gala to date! To celebrate 25 years, StreetWise honors the 25 most influential people in the organization's history, ranging from donors and board members to staff and vendors. The event is held at the Millenium Park Rooftop Terrace (205 E. Randolph St.) and features an impressive array of food and drink, raffle prizes, and silent and live auction items. The event is attended by over 450 people, and raises nearly $300,000 for the organization. The honorees include: Russell Adams, Wood Chatham & Brooke Baxter, Michael Clune, Bruce Crane, Rob Federighi, Janice Feinberg, Ray Gillette, Suzanne Hanney, Harry & Marcy Harczak, Jon Hennessy, Pete Kadens, Monty Kehl, Judd Lofchie, Ann Lurie, Jim & Kay Mabie, Ron Madere, Lonnie Mosley, Patrick O'Connor, Anthony Oliver, Karen Pittenger, Jon Reinsdorf, Lauren Robishaw, Gail Waller & Tim Schwertfeger, Lukas Walton, Thomas Wells, and keynote speaker JB Pritzker.
October
the 2018 streetwise calendar
The StreetWise 2018 Calendar goes on sale for the holiday season! The calendar is an extra item for vendors to sell and is a way for vendors to have extra income during the holiday season. This year's calendar features inspirational quotes from vendors among photos of Chicago landmarks. Ask your vendor for a copy, they are still on sale now!
November
Streetwise's thanksgiving dinner
StreetWise held its annual Thanksgiving dinner for vendors and all who could attend. The event was held at Inspiration Kitchens in Uptown (4554 N. Broadway) and was catered by House of Blues Chicago. Over 200 Thanksgiving meals were served to the area's poor.
Winter gear drive
The StreetWise Associates Board hosted its annual Winter Gear Drive at Emporium Logan Square, 2363 N. Milwaukee Ave. The event featured video games, drinks, and raffles, while collecting winter gear and over $2,000 in donations.
December
Give a Shi*t
Daily Planet Ltd. held the third annual Give A Shi*t pop-up shop at the McCormick Bridgehouse & Chicago River Museum from 10 a.m. to 8 p.m. on December 7. The event features local artists who made hand-screened T-shirts and accessories, with all proceeds going to StreetWise. The designers, StreetWise vendors and employees, and volunteers staff the event, which has become a Chicago favorite. Shirts are still available at giveashirt.net
Give A Shi*t: part 2
The Daily Planet Ltd. held a second pop-up shop at their own offices (720 N. Franklin St.) on December 14. This holiday party featured food and drinks, DJ Logan Bay, a chance to buy Give A Shi*t products, and a winter gear drive. Shop Give A Shi*t products at giveashirt.net 
Streetwise's holiday party
The StreetWise Holiday Party is a chance for all of our vendors, STEP participants and neighbors to get together and celebrate the holiday season with great food, sweets, prizes, and a raffle.