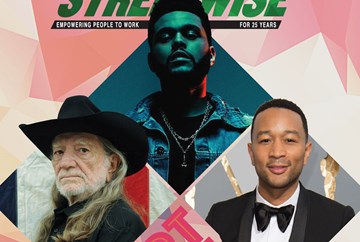 By: Jonathan Corvin-Blackburn
April 10, 2017
April 03
S O H N
Thalia Hall
8:30 pm
$17 ($20 at the door)
Traveling all the way from Vienna, SOHN is heading to Chicago to promote his latest album Rennen. He chose his stage name because it's short, has an "o" sound, and he considers it a "blank" word. His sound is atmospheric and electronic with often quiet and understated vocals. With more of an experimental sound compared to his first album, his signature soft, soulful vocals still keep his sound consistent.
April 04
Thao
Lincoln Hall
8 pm
$20
Thao Nguyen is touring solo, but that doesn't mean you can't still get down to her tunes. Likely to be more of an acoustic set, her bluesy, indie rock sound will switch the focus to her raw vocals, backed by just a guitar and the occasional bit of beatboxing. Always earnest and with clever melodies, this solo show will allow for a more intimate version of her songs.
April 08
Amel Larrieux
City Winery
7 pm
$36+
Amel Larrieux originally hit the scene as one half of Groove Theory, a mid-90's R&B duo who you may not know by name although you would likely recognize their radio hits "Tell Me" and "Keep Tryin.'" She has been finding her own groove as a solo artist since 2000. Smooth and jazzy, she will deliver the perfect night of R&B with sweet lyrics and a loungy vibe.
April 14
SALES
Beat Kitchen
9 pm
$16+
This Indie pop band is traveling from sunny Orlando to (hopefully) sunny Chicago. They first made their way onto the scene by self-releasing singles that were picked up by music blogs that were infatuated with their clever and catchy melodies. Their music is minimal, with most songs being guided by just their guitars and vocals with only small bits of percussion, definitely something new and fresh to check out live.
April 14
Chairlift
Park West
9 pm
$20
You probably first heard this synth-pop duo as colorful iPods flew across your television screen nine years ago, first gaining attention in an Apple commercial. After three full-length albums of sweet, bubbly indie-pop music, the duo announced they're breaking up. Luckily, they want to say goodbye first.
April 19
Generationals
Lincoln Hall
8 pm
$15 ($18 at the door)
Friends since high school, this duo may be together for a generation. Indie rock with Americana vibes, their music is not always pretty, utilizing a distorted and psychedelic sound. No official word on their next album, but with two singles released this year and a tour, a few unreleased tracks are likely to be played.
April 20
Betty Who
Concord Music Hall
7 pm
$20
After taking the world of engagement flash mobs by storm with her single Somebody Loves You, Jessica Newham is back with a new album and tour. Departing a bit from her first album's 80's synth-pop vibes, her first single from the new album "Human Touch" has a distinctly more current vibe with a tropical pop sound.
April 21
Ric Wilson
Schubas
7 pm
$11
Chicago is gaining a reputation for producing the next big thing in rap, and Ric Wilson is here to continue that legacy. With somewhat of a departure from the largely electronic backing of most modern rap, this artist plays with a full band utilizing a mix of eclectic instruments, something especially apparent in his hit single "Soul Bounce." He uses the power of his poetry for good, often with political lyrics from this self-identified prison abolitionist.
April 23
COIN
Lincoln Hall
7 pm
$16 ($19 at door)
If you enjoy Indie pop with hints of surf rock, this Nashville band is for you. This group does their indie sound really, really well. Their latest single "I Don't Wanna Dance" tells a tale of lacking the confidence to approach a crush, something anyone can relate to. And as an extra bonus, each ticket comes with a digital download of their upcoming, currently untitled album.
April 24
Skepta
Concord Music Hall
7 pm
$22
This British hip-hop artist who has hopped across the pond, has a unique, industrial sound. While fresh and new, his music has clear roots in classic rap. His rhymes are the centerpiece of each song with the syncopated, synth beats only there to complement the flow. Wear your comfortable shoes because this show will have you bouncing.
April 27
Allie X
Lincoln Hall
7:30 pm
$15 ($20 at door)
There are a lot of romantic things you can say to someone you love. If you're Allie X that thing is "You make me not want to die." She's worked behind the scenes, co-writing seven songs from Troye Sivan's Blue Neighbourhood. Now she's ready to wow Chicago with her own edgy electro-pop vibe. See her this April at Lincoln Hall as she plays songs from her recently released COLLXTION II: Unsolved.
April 29
gnash
House of Blues
6:30 pm
$22.50
If you hate capitalizing words and love playing songs on repeat, then gnash is the man for you. If you turned on the radio once in 2016, you probably heard his breakout single "i hate u, i love u" twice. His music is hip-hop with minimal backing, quiet and genuine vocals, and often with an imperfect rhythm. Starting as a DJ at the young age of 13, this producer is ready to show you what he has spent years working towards.
May 01
The xx
Aragon Ballroom
6:30 pm
$49.50
Hailing from England, this indie pop band first gained notoriety in 2009 with its hyper-minimal, self-titled debut album. Their latest album I See You has a fuller sound than their previous releases, but still stays on brand with their vulnerable lyrics.
May 02
Clean Bandit
House of Blues
6:30 pm
$20
After finding huge success with their 2014 breakout hit "Rather Be," Clean Bandit is back for an encore. Their sound is electronic and poppy, cleverly blending hints of classical and dancehouse in the mix. They have remained coy about their sophomore album, but their recently released single "Symphony" shows they are sticking with that same, signature sound..
May 04
Overcoats
Schubas
8 pm
$12
If you like folky vocals, minimal synth, and beautiful harmonies, then Overcoats is the concert for you. This duo of best friends values intimacy in their music, and it shows in their emotional tunes. Catch them at this intimate venue as they tour to promote their debut album YOUNG due out April 21st.
May 07
Kehlani
Concord Music Hall
7 pm
$25
Finding success in the music industry hadn't been an easy ride for Kehlani. After leaving the group PopLyfe she struggled with homelessness, having to steal from grocery stores just to eat. It wasn't until she released music on SoundCloud and was noticed by Nick Cannon that she was able to get back on her feet. Her energetic brand of hip-hop with a 90's vibe is definitely an audience pleaser. Join this soulful vocalist as she performs tracks from her 2017 album SweetSexySavage.
May 07
Laura Marling
Metro
8 pm
$25
One of the most important voices in the new British folk movement, this singer-songwriter has a tale to tell. She has returned to her more melodic roots in her recently released album Semper Femina, with critics calling it her best album to date. Wise beyond her years, and more than just a songwriter she's known for her ability as a storyteller, both in her music and in her podcast "Reversal of the Muse." This is a must-see show for fans of folk music.
May 19
Coheed and Cambria
Aragon Ballroom
8 pm
$37.50
While they come off as intense and aggressive at first listen, this progressive rock group is secretly melodic and catchy. Each album tells a story that is part of a greater sci-fi storyline titled The Amory Wars. Led by Claudio's unique voice, they know how to build a chorus that will have you singing along.
May 23
The Weeknd
Allstate Arena
7:30 pm
$85+
If you've ever been so in love (or so under the influence) that you couldn't feel your face, you have something in common with The Weeknd. Getting his nickname and stage name after leaving high school for the weekend and never coming back, this "Starboy" is swinging by Chicago on a weekday. With multiple radio-ready singles and a few Grammy's under his belt, this artist has truly found stardom.
May 25
Perfume Genius
Lincoln Hall
9 pm
$21
Hailing from Seattle, this indie-pop artist has a bit of a melancholy sound, often singing about hardships he has faced as a gay man. With haunting melodies and hints of new wave, this artist aims to make you feel his story. And with his new album No Shape due for release a few weeks before the show he's sure to play some new tunes. As an extra bonus, $1 from every ticket goes towards supporting the ACLU.
May 30 & 31
PWR BTTM
Subterranean
7 pm
$15
This gender-fluid group has been making waves and making friends with the likes of Rufus Wainwright. Their music is pretty standard rock, with simple progressions and some intricate guitar riffs, but their uniqueness comes from their stage presence, including wearing beautiful dresses and makeup. Their relatable new single "Answer My Text" is about the modern struggle of waiting to text that guy you like, and deciding which emojis to use. They will be in Chicago just a few weeks after the release of their latest album Pageant, on May 12.
June 08
Day Wave
Lincoln Hall
8 pm
$15
As spring turns to summer, get in those dreamy beach vibes with Day Wave. This artist is unsurprisingly from California as his music perfectly captures the state's essence. Moving a bit away from his early, more distorted sound, his latest single "Untitled" takes cues from his former synth-pop project Carousel, mixing his surf rock sound with infectiously catchy melodies.
June 10
John Legend
Ravinia
8 pm
$38+
This legend needs no introduction. After 10 Grammy awards and his recent Oscar he has shown he has serious staying power. Mixing R&B beats with soulful vocals, he can perfectly manufacture a catchy tune. Touring to promote his 2016 album Darkness and Light, look for him to blend new and old, including past favorites such as "All of Me" and "Green Light."
June 16 & 17
Kaskade
Aragon Ballroom
9 pm
$45
It's perfect that the birthplace of house music is the birthplace of Ryan Raddon, also known as Kaskade. Chicago's own progressive house DJ. He produces synth beats that can make anyone pump their fists on the dance floor. Often bringing in guest vocalists, he creates melodies that are both catchy and memorable. See him on his "Spring Fling Tour" for two nights at the Aragon Ballroom.
June 16
Willie Nelson
Ravinia
7:30 pm
$49+
At age 83, this iconic country singer is still going strong. One of the biggest names in the outlaw country genre, which rebelled against the conservative restrictions of Nashville, he has defined the genre for over 40 years. A lifelong activist, he's taken on many issues including animal rights, marijuana legalization, and marriage equality. See him while lounging on the lawn this June.
June 24
Common
Ravinia
7:30 pm
$44
Yet another iconic artist from Chicago, this rapper and poet has become one of the biggest names in hip-hop. He first gained a loyal following in 1994 with fans of alternative hip-hop. Since then he has become a huge success, winning Grammys and an Oscar, running his own label, and creating iconic duets with other big names like Erykah Badu, Pharrell, and John Legend. Catch him as he plays classics like "Come Close" as well as newer hits "Glory" and "Real People."
The Venues:
Allstate Arena, 6920 Mannheim Rd., Rosemont
Aragon Ballroom, 1106 W. Lawrence Ave.
Beat Kitchen, 2100 W. Belmont Ave.
City Winery, 200 W. Randolph St.
Concord Music Hall, 2047 N. Milwaukee Ave.
House of Blues, 329 N. Dearborn St.
Lincoln Hall, 2424 N. Lincoln Ave.
Metro, 3730 N. Clark St.
Park West, 322 W. Armitage Ave.
Ravinia, 200 Ravinia Park Rd., Highland Park
Schubas Tavern, 3159 N. Southport Ave.
Subterranean, 2011 W. North Ave.
Thalia Hall, 1807 S Allport St.