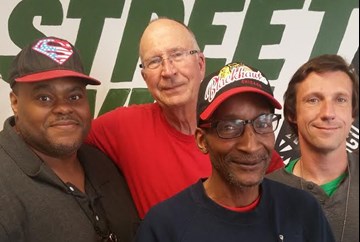 By: staff
May 21, 2018
Russell: My mind is on women's sports. I promised my customers that I would talk about women in sports. Today, I'm gonna dedicate this to women—from college basketball, to soccer, to tennis, golf, whatever. I really enjoy women's sports. I've been watching for the longest time. I started watching tennis and golf. Most of all, I enjoy women's college basketball. I started watching in the 70's and 80's. I liked watching the Tennessee Volunteers when they had Pat Summitt. In the 2000s, the Volunteers met up with the Rutgers Scarlet Knights. Those were my two favorite teams so it was a dream come true. I didn't even care who won. Tennessee ended up winning. That team has Illinois native Candace Parker.
Donald: I would like to say that DePaul is doing a real good job as far as their women's team. In college basketball, this was an exciting tournament. There were so many buzzer beaters, including in the championship game. I have always respected women's basketball. I learned my lesson years ago when I got beat by a girl. Every time I tried to put game on her, she put the game on me. She was shooting threes like crazy. We would play 21 or horse and she always beat me. I was always a hustler, but I couldn't hustle that girl!
John: I love the way that pitchers wind up in softball. I don't know why, but it has always been fascinating to me. There is so much excitement for each pitch. Briefly looking at Major League Baseball, the Chicago Cubs have been much better than I thought. Their pitching has performed well so far. I thought it would be the hitting, but so far it's been pitching and defense. They are coming off sweeping the Brewers and that was almost entirely due to pitching. The White Sox are still going through the growing pains of their rebuild. There has been some excitement with [second baseman] Yoan Moncada beginning to look like the real deal.
Russell: I really enjoy women's sports. In the Olympics, the men always seem to struggle. But the women? They kick some butt! You just know they're gonna win. That's the bottom line. They don't mess around. The WNBA is gonna get started soon and I'm pretty excited, even though it'll gonna be the same two teams again—Minnesota and LA. One day Chicago will break through. I wanna give a shout out to Pat Summitt. She passed away a few years ago. She and Vivian Stringer of Rutgers were my two favorite coaches. To my women customers, this is for you. I love women's sports! Basketball, hockey, or whatever you play, I enjoy it. When the tournament came around, I was glued to my TV. The women's Final Four was way more exciting this year. Go women!
Donald: My last comment is going to be on the Williams sisters. There is no better team of siblings backing each other up. Even when they play each other, they never fight. You win or you lose, but there is always respect. They have been great for tennis. They are something else.
John: One last thing I wanna say. If the NBA the championship trophy is named after Larry O'Brien, I was thinking that the WNBA could spice things up and name theirs after Sheryl Swoopes. What's a cooler last name than Swoopes? It even rhymes with hoops!