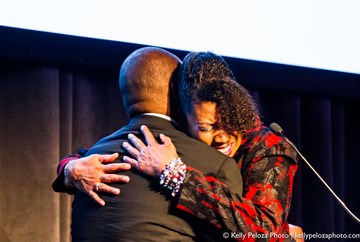 By: Suzanne Hanney
October 24, 2016
StreetWise gala speakers brought out the issue of homelessness in very personal ways.
Cook County Democratic State's Attorney candidate Kim Foxx said that her homelessness has been reduced to a sentence in her bio. But she was raised by a single mom and the family was holding on by their fingernails. They lost their grip when her mom, who had an undiagnosed mental illness that she self-medicated with marijuana, flew off the handle at work when stress became too much one day. As a result, she was suspended for 29 days, which lead to in six months of homelessness for her, for Kim and for her son.
Foxx said her mother "slept with one eye open" at the shelter to be sure Kim would not be molested. Her mom was saddened that Kim's 6-foot, 4-inch brother could not be in the same shelter, which was for women only. Her mom also felt guilty that as a mom she had been unable to provide for her family, Foxx learned after her mom's death, when she read a note her mom had written to her grandmother.
"We have to have other conversations in this country about our priorities in this country. People think all has been well in my life and there has been a silver spoon hanging all around me," Foxx said. "There's so many people just like me, who if given an opportunity can stand before you as a lawyer, doctor, accountant. I don't know where I would be if I didn't have a network of people who helped me, helped my mother."
Keynote speaker Eugene Monroe, a 29-year-old former offensive lineman for the Jacksonville Jaguars in the NFL, told a similar story of growing up in the Newark projects and being where he is today because someone gave him a hand up, not a hand out. He was the youngest of 16 and his father died when he was young.
Some of Monroe's friends are still living in the same Section 8 apartments and others died in high school. Some who had shaky home lives even had to beg for money to eat before they could attend sports practice. But Monroe stayed focused on sports and academics as a way out.
"Every step of my journey someone empowered me. Those people saw I had value and invested in me. A lot of people didn't have people able to see their value." He graduated in the top 10 of his high school class, the number one prospective college lineman in the US. He graduated from the University of Virginia before playing for the Jaguars and the Baltimore Ravens. Now he is an entrepreneur and investor in the real estate and marijuana industries. He and his wife, Nureya, have three children.
StreetWise also gave the Catalyst Award to Ray Gillette, a board member since 2001 who had a 34-year career in advertising, mostly at DDB Chicago, where he served as president from 2000-04. He was also president of Beyond DDB North America, DDB's integrated marketing company; and founder of Spike DDB, a partnership with film director Spike Lee. He is also on the Salvation Army Metropolitan Chicago Advisory Board. In introducing him, board member Jon Reinsdorf said Gillette takes all the thankless tasks and is the one who came up with the StreetWise slogan, "This is My Job."
Gillette said he came to StreetWise because of its model and stayed because of the vendors. He and his wife, Susan, celebrated their anniversary at the gala.
And finally, Louis Hale won Vendor of the Year, with more than 6,000 of the 13,000 votes cast by readers across Chicago. Hale had been interviewed by WCIU-TV's You & Me in the Morning. He did what he promised on the show: propose to his girlfriend, Jhan Knoble. He even had the ring in hand!
"Unequivocably, yes," Knoble responded. "I never thought I would get married but this kind man has stolen my heart. He may not have a mint but we will make a mint together."