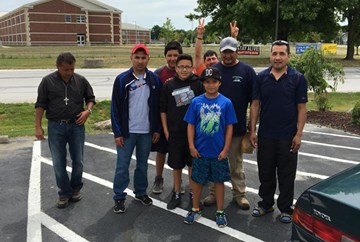 By: Suzanne Hanney
August 10, 2016
A group of Chicago Latinos led by the Rev. Jose S. Landaverde walked to Cleveland to bring Republican National Convention attendees a message to "stop the hate" and to enact comprehensive immigration reform with a path to citizenship.
Landaverde said he was invited to address about 60 delegates from all over the U.S. at an informal breakfast Monday, July 18, the first day of the convention. No media attended.
"I say Donald Trump's speech is creating confrontation with communities, also that Black Lives Matter, [that] this is a big problem we face now, a lot of discrimination," Landaverde said in a telephone interview.
He referred also to what he termed Trump's "rhetoric" about a big fence on the Mexican border. "I told them that this speech has to stop.
"What I understood is that they were not really happy to hear what I said." No one applauded his roughly five-minute appearance and he was asked to leave.
Landaverde said he would like to see all undocumented people legalized and that he supports the rights of refugees, especially those from Syria. He said this message has been well-received as he has demonstrated with other activists in Cleveland. The two days leading up to the convention were peaceful and there were no problems with police, although they avoided confrontations with Trump supporters.
"We demanded respect for the black community, that Black Lives Matter and also Latino Lives Matter. Every life matters. We were very clear and peaceful. In respect and God's love we can live in peace and justice."
Spreading a similar message during their 350-mile walk from Chicago through Indiana and Ohio, Landaverde said, "some people were very racist in the little towns," but that some were welcoming. He estimated the mix at 50-50.
Did he change people's minds?
"I think so."
The group of roughly 75 people left 18th and Loomis in the Pilsen neighborhood on June 20 and camped nightly along roadsides or in churches; a few dropped out and 60 people arrived in Cleveland July 15. They were going to drive back to Chicago after the four-day convention.
Landaverde, who is pastor of Faith, Life and Hope Mission, said he would also likely bring his agenda to organizations at the Democratic National Convention July 25-28 in Philadelphia. Personally, however, he will vote for the Green Party. "Democrats are the same as Republicans on many issues," notably immigration reform and support for multinational corporations.
"President Obama has not passed any comprehensive reform but has increased deportations; Hillary Clinton will do the same as Obama did." He also referred to Obama's support for groups that have destroyed socialist governments in central America.