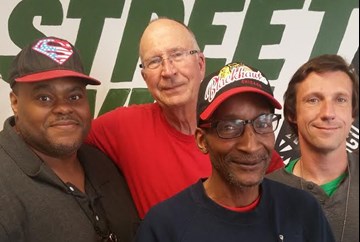 By: Staff
February 26, 2018
Donald: Sports and African American history have always been intertwined. Bill Russell was one of the first great athletes I remember. He was a champion with those legendary Celtics teams. He controlled the game in a way very few had done before. That era shaped the impact African Americans would come to have in the NBA. With him, Lew Alcindor, and Wilt Chamberlain, it was a time of dominant big men. They faced an incredible amount of discrimination, but they spoke out by the way they played. They were ferocious competitors. Another group of athletes that accomplished a lot was the Harlem Globetrotters; they travelled around the world and they spoke to everybody. They brought a lot of joy to a wide variety of people. When I think of Black History Month, I think of Meadowlark Lemon - a true ambassador for us. Basketball may just be a game, but it holds a tremendous amount of symbolism.
John: When I think of Black History in the NFL, a few players come to mind. The first is Doug Williams. He was a dominant collegiate player, leading all college players in yards from scrimmage in 1977. Despite this, he might have gone unknown if not for Joe Gibbs paying a visit to Grambling University. The Tampa Bay Buccaneers took a chance on him. He led them to the playoffs for the first time ever. Williams is most known for his performance in the Super Bowl against the Denver Broncos. He was the first African American to ever start at quarterback in the Super Bowl. He threw for four touchdowns and was named the MVP. Another player that comes to mind is Warren Moon. He won five Grey Cups in the CFL. It was very hard for Black quarterbacks to get a shot in the NFL back in those days. Coaches and scouts clung to the incorrect idea that white quarterbacks were more cerebral. The discrimination cost a lot of potential great quarterbacks their chance. It feels relevant even today when you see what happened to Colin Kaepernick. You cannot tell me that he doesn't deserve a chance. When Warren Moon was finally given his chance in the NFL, he was outstanding. He is now in the Hall of Fame. Moon and Williams really paved the way for a lot of future quarterbacks.
Russell: In 2007, Tony Dungy and Lovie Smith met in the Super Bowl. They were the first African American coaches to ever make the Super Bowl. Dungy went on to become the first African American coach to win that game and Lovie became the first African American to lose the Super Bowl. So I guess either way, they both made history. Another important time in African American history was the Negro League and their competitions against Major League Baseball. At that time, MLB was segregated. The MLB players went up against the Negro League and the Negro League players dominated. That paved the way for Jackie Robinson, which then led to players like Willie Mays and Willie McCovey. African Americans have come a long way from those days in baseball. There have been great Black athletes in all sports. Tiger Woods became the first great black golfer and then you have the Williams sisters in tennis. I just want to close out by saying that I am so thankful we can all sit down together and play sports together—Black, white, Asian, Latino, or whatever. Livin' and jivin' and diggin' the skin you are in!