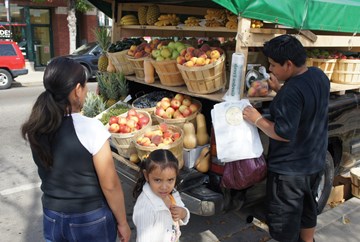 By: Hel F. Kiernan
May 11, 2012
Albany Park is one of the most economically-, ethnically-, and age-diverse areas in Chicago, ranking fifth in a 2008 DePaul study. Here you'll find Chicago's "Koreatown," and other immigrants from around the world: Mexicans, Filipinos, Ecuadorans, Indians, people from the Middle East, from the former Yugoslavia and Bosnia, including refugees. More than half the population is foreign-born and 40 languages are spoken in neighborhood Chicago Public Schools, according to the Albany Neighborhood Council web site.Situated at the end of the CTA Brown line, the Albany Park area is shared between two neighborhoods, Albany Park proper, bounded by Montrose from Mayfair to the Chicago River in the South, to Foster Avenue in the North, and North Park, which extends along those boundaries, taking a jagged path to Devon. Foster, Lawrence and Kedzie Avenues are bustling centers of diverse commerce; the North River Commission, in fact, has installed 40 banners on the latter two thoroughfares marketing Albany Park as the "Gateway to the World." Its other eco¬nomic development initiatives include assisting eight new businesses to create or retain 40 jobs.
StreetWise spoke to Liz Griffiths, eco¬nomic development director of the North River Commission's Albany Park Chamber of Commerce. Griffiths cited one of the commission's missions: "to foster and maintain housing opportunities in which a mix of incomes, ages and immigrant groups are welcome." The idea behind maintaining mixed income housing, she said, is that "if you have lived here, you should have the opportunity to continue to live here." She said that in the last few years Albany Park's rentals have declined from roughly 70 percent to 60 percent, for reasons that she says are unclear. The commission has preserved 213 rental units to keep over 800 low-income families in their homes through partnerships with private and non-profit developers and connections to private, city, and federal resources for energy efficiency, building renovations and tenant referrals.
Among its education initiatives, the commission has sponsored its second year of an after-school collaborative for 570 Chicago Public Schools; the students were exposed to activities such as chess, knitting, Middle Eastern dancing, theatre, concert band and global arts.
"Families always say Albany Park is the spring board," Griffiths told StreetWise, "You bring your family, work here, open a store, …[grow] your wealth. You buy a two-flat, move your family in and rent out the rest. Then move out of the neighborhood."
Another community project in which the North River Commission is involved is the "Multiethnic Sculpture Park" begun in Ronan Park, on the Chicago River, last year. The park is open to any artist, on a Request for Proposals basis. The current exhibitors are Chinese and Nigerian, respectively. New artists will be on display starting this summer, for a one- or two-year period. The park was proposed by Kompha Seth of the Cambodian Association of Illinois and is a collaboration with Northeastern Illinois University and Lawrence Hall Youth Services; it reflects the neighborhood's connections to refugees (including the youths) and is intended as a place of healing. There's also an urban agriculture plot at Lawrence and Sacramento run by community elders.
Albany Park is diverse in terms of income levels, and this means that while some people in the area are comfortably well-off, others are very poor. We spoke to a representative of the North Park Friendship Center, a local food pantry.
Founded in 1998, the private 501(c)(3) nonprofit center currently operates out of a storefront at 3448 W. Foster Ave. The center grew out of the North Park Covenant Church's pantry program (established in 1970); it is supported by several local churches (the NPFC is secular), and works with the Greater Chicago Food Depository. In addition to food, it distributes toys, clothes, and other goods to families out of their "Mother's Closet."
"People say to me, 'who do you serve?' and I say 'we serve everyone,'" says Joanne "Joey" Ekberg, executive director of the NPFC. "This is a very ethnically diverse ZIP code and we serve many different people, many of them families, residing within an area bounded by Pulaski, California, Lawrence, and Touhy, although you do not necessarily have to be a resident to be served." The pantry serves roughly 1,400 households a month, reaching a record high last year, just prior to Thanksgiving, of 113 households in one day. In 2011, according to their annual report, the pantry purchased 201,996 pounds of food.
In the past few years, due to the recession, it has struggled more than usual to keep food on the shelves. According to its 2011 annual report, "cutbacks in government food programs and the decrease of corporate donations to the Greater Chicago Food Depository caused our food costs to double during the year."
Ekberg, a resident of Albany Park herself, has been with the NPFC for the past five years. In that time, she says, the neighborhood is "constantly changing, people moving in, people moving out." She says they have a very friendly relationship with clients and among the staff, "we're very busy, get a lotta work done, but we get along very well."
Ekberg observes that "quite a bit" of her clients, despite being unable to afford to buy food, are nevertheless unable to qualify for the Illinois Link card, which works like a debit card to provide federal food stamp assistance. In addition,"We have a number of homeless clients who come to us."
"The clients that we serve, most of them come on a regular basis, but we do have clients that only come when they need to be here…Most of our clients are served on a regular basis, but there are some who come here only episodically, under certain circumstances [i.e. job loss]". She adds that, "when people come here to the pantry, they don't want to be here. The best way we have to deal with that is to treat people with respect and realize that they don't necessarily want to be here but they are and treat them with respect and dignity, that is something we really value."
Another concern for residents is gang activity, Ekberg says, although she notes that the center has "not been harassed by gangs at all."
NBC reported that the city's first murder of 2012, apparently gang-related, occurred in Albany Park. However while gang activity may be a constant, crime is relatively low compared to other neighborhoods. The Chicago CLEAR Map, an online database of Chicago Police Department reports, shows a handful of crimes in the most recent two-week period recorded; the majority (roughly 20) of crimes in the area were related to lar¬ceny and theft, with a few instances of bat¬tery/assault, vandalism, and other offenses.
Compared to neighborhoods like Lincoln Park, Logan Square, and North Lawndale, this is a low number of criminal instances.
Ekberg says the center is struggling to meet an increasing need in the community. What they have going for them, she says, is "we've been a pantry for over 40 years, we're solid, we have a great board of directors, we have solid finances, and we have longevity going for us." She stresses that she believes it is important to "keep city services constant [and intact]. Keep the shelters open…. [The city should] not be looking at cutting programs that are really helping people on a daily basis…[we should] realize that for a lot of people that's a true safety net, and without those kinds of services, their lives are much more tenuous."