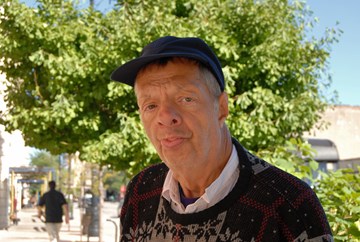 By: Luke Hyland
August 6, 2018
Andy Pappas has been a loyal StreetWise vendor for 10 years and has seen many of his fellow employees come and go. After visiting the StreetWise office for lunch one day, Andy started talking with residents, who convinced him to try his hand at selling what was at the time a newspaper. Since then, StreetWise has evolved into a successful magazine.
Growing up off Lake Shore Drive, Andy had a good relationship with his mom, but not his stepdad.
"[My stepdad and I] didn't have what you'd call a good relationship," Andy said.
His stepdad was a landscaper from Mexico. Andy would often ask him if he could go to work with him, and the answer was usually "yes," but without pay. Andy would help his stepdad with various tasks at his work until he lost his business later.
Andy loves to play billiards around Chicago when he can. He used to be an avid swimmer at the pool at Niles College, which is now Saint Joseph College Seminary at Loyola University Chicago in Rogers Park. Today, he unfortunately hasn't swum in years.
Recently, Andy has been dealing with the aftermath of being evicted from his Chicago apartment. After he received his eviction notice, Andy met with his social worker, who directed him to The Clayton, a recovery-oriented service in Lincoln Park that promotes mental health and wellness. He receives a Social Security check monthly, but began looking for another job in addition to StreetWise — he has yet to find one.
For that reason, Andy stresses the importance of vendors staying with StreetWise as long as they can. Many of his old friends from his early days at the company have left in pursuit of "better jobs with better money."
Andy, however, has stayed his course at StreetWise. He often sells his magazines on the corner of West VanBuren and South Wells Streets, as downtown Chicago is his favorite part of the city. For the most part, passersby are kind to Andy.
He starts every sale with his go-to phrase: "Good morning, do you want to buy a copy of StreetWise today?"
According to Andy, the best way to become a successful StreetWise vendor is to build up and keep your loyal customers. If you can convince frequent passersby at your location to buy each issue of the magazine consistently, you're on your way to success. Andy insists being kind to his customers is more important than anything else in establishing a strong vendor-customer relationship.
If Andy could leave one piece of advice to future StreetWise vendors, he'd simply tell them to work hard.
"Money is not going to come to you in the nursing home," he said. "You've got to go make the money."