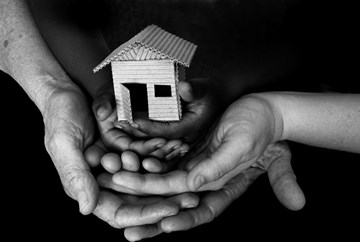 By: Suzanne Hanney
April 27, 2016
Latisha* is a 15-year-old girl referred to the Salvation Army's Anne's House by her school counselor. The counselor had noticed that Latisha — typically a straight "A" student — was skipping school and failing some of her classes. After several conversations, Latisha disclosed that she had run away from home because of problems with her mom and was living with her boyfriend "Jay"*. He was a 22-year-old unemployed man whom she had met a year before, shortly after she ran away from home.
Latisha spoke about Jay's generosity; not only did he provide her food and shelter but he would even buy her jewelry and designer clothes and make sure her hair and nails were done. She initially denied having to do anything in exchange for these goods but later admitted that Jay had her sleep with his friends for money and then bought her whatever she wanted as a reward. She also said that even though Jay had other "female friends" who made him money, he always told her that "he loved her and wanted to have children with her."
Latisha later admitted that Jay would often beat her- especially when she refused to sleep with his friends- and that she could not go to bed each night until she had made a least $300 for him. She said that "even though she was in love with Jay she was tired of the lifestyle." She was willing to live somewhere else "as long as it wasn't with her mother."
Anne's House is a residential home for young ladies age 12 to 21 who have been victims of the commercial sex trade –one of the few such homes of its kind in the United States. The Salvation Army opened the house in October 2010 in Chicagoland but keeps the location secret out of fear pimps will try to track girls down. StreetWise interviewed the founder of Anne's House, who is also director of the Salvation Army PROMISE program, and agreed not to use his name as a matter of the same protection.
The Anne's House founder describes the residential home for eight girls as the "signature moment," or the fourth provision of the PROMISE (Partnership to Rescue Our Minors from Sexual Exploitation) program. The PROMISE mission is to combat the sex trafficking of children through the three preceding steps of "awareness," "prevention" and "intervention."
Prevention takes the form of the Salvation Army's TraffickEd curriculum in Chicago middle schools and high schools. Intervention takes the form of two programs to reduce underage sexual exploitation: ACT (Active Communities against Trafficking) in the Pullman and Roseland neighborhoods and HALT (Hotel And Law enforcement Training).
The Salvation Army in Chicago began the awareness initiative and training seminars in 2005 after it won a $1 million competitive grant from the U.S. Department of Justice. The federal department had reasoned that human trafficking was on the rise, so minors must also be increasingly affected.
Poverty was partly to blame, the Anne's House founder said. But it was the internet that caused human trafficking to flourish.
"The world became much smaller and human trafficking became more identifiable, more obvious," he said. "The other issues were always some of the same –poverty – but the internet was the vehicle for the proliferation of it. The ease of securing, identifying, advertising on Craig's List, My Space, Black Planet and all these pornography places where you could advertise for this activity were flourishing"
The internet was also a way to solidify the way one girl or boy could be used over and over without being traced back to the people controlling them, unlike the drug trade, he said. "It's so lucrative because you can use the kids over and over again that more people are involved in it, from the street perspective – a one-on-one pimp – to brothels, massage parlors up to international cartels."
Thanks to the Department of Justice grant, the Salvation Army developed a curriculum around the Commercial Sexual Exploitation of Children (CSEC): any involvement by a person under 18 in prostitution, escort service, stripping, pornography or erotic/nude massage.
According to this curriculum, a CSEC victim could experience any of nine variables. He or she could be a minor in the company of a controlling third party. This minor could also have a well-rehearsed or inconsistent story, unexplained material goods or even a brand or tattoo on their body.
Since being awarded the grant in 2005, the Salvation Army subcontracted with partners like the Polaris Project, the Bilateral Safety Corridor in San Francisco, Girls Educating Mentoring Service (GEMS) in New York and the University of Southern California to train over 20,000 first responders: law enforcement, legal professionals, social service providers, medical/mental health providers.
These adult professionals learn how kids become involved in the sex trade as well as the cultural mores that feed it. The director of PROMISE and founder of Anne's House refers to the "sexualization of youth, younger is better, Toddlers in Tiaras, Jon Benet Ramsey, all over again."
Kids who are drawn to the commercial sex trade are often foster children, runaways or "throwaways," the director said. Their parents can't deal with them and so they kick them out of the house, where they quickly become prey for the traffickers.
Yet still others, he said, are middle- and upper-income kids at home surfing the internet when someone starts hitting on them. "You come live with me and you won't have to go to school or do all those chores," their newfound boyfriend promises.
The naïve young people think their new internet friend is also 12 years old. Instead, he turns out to be 50, "not just a pedophile but an exploiter," the Anne's House founder said.
The TraffickEd curriculum teaches kids first that trafficking has nothing to do with cars but a lot to do with labor and sex. And it's not just happening in faraway countries but close to home. The curriculum has them listen carefully to the popular songs they have heard over and over.
"Jayzee and other artists are using very condescending language even when the rhythm is good. When you dissect it word for word the kids are flabbergasted that they are calling women 'hos," the founder said.
The kids take a look at the CSEC identifiers. (commercial sexual exploitation of children) Do their friends have tattoos such as a boyfriend's name on their neck or breast? Are they going places they shouldn't and do they have an online sexual profile? Maybe they are being pimped out.
Sometimes the program gives them a mirror for themselves, the founder said. "Some young ladies don't know because of the terrible circumstances they grew up in that this activity is incorrect and it's not good for them to have sex with their stepdad because if you don't you may be required to move or your mom may have to move to a lesser accommodation. That's CSEC: the promise of goods or services for sex. That can be survival sex at home and it often is."
Some parents have already pimped out their daughters to take care of a drug habit. "A lot of our population have never met their biological father, they wouldn't know him if he walked into the room. They live unbelievable lifestyles: transient, moving from place to place finding their relationship with their mother being tenuous because she has her own vices."
Interventional programs such as ACT in Pullman/Roseland stem from the Salvation Army's $100 million investment there in the Kroc Center, a community center with facilities for aquatics, arts, family life and education, fitness, sports and senior activities. The Salvation Army met with 5th district Chicago Police and recruited CAPS (Chicago Alternative Policing Strategy) meeting attendees who could work incognito and report suspicious signs of commercial sexual exploitation happening in their communities.
For example, a man might be dropping off three girls every morning at 113th and Michigan and driving a certain kind of car, the director said. The ACT recruits report details to him and to the FBI and CPD on a completely secure site so police can follow up.
HALT, (Hotel And Law enforcement Training) which started with trainings at the Elgin convention bureau, educates hotel personnel to be aware of details such as bruising, branding, or too much jewelry on a girl staying at their hotel.
The hotel personnel learn also how to gain more information, the director said. "Young lady, I see you are here with your dad, where are you from?" Later, the clerk might ask the same question slightly differently to see if she anxiously looks for permission to respond or if her well-rehearsed story changes.
In addition, the hoteliers note if someone regularly rents a room near a fire escape or an exit and if they request a lot of towels. Perhaps the guests order pornography on their in-room TV and have lots of visitors as well as someone watching from the parking lot.
However, interventions such as ACT and HALT are not enough to get a girl out of prostitution, because the pimp has controlled her whole world. She may even be brainwashed into thinking she is in love with him, "a trauma bond" akin to PTSD, the founder said.
Acknowledgment of trauma bonding has changed federal and state law. Due to these changes, prosecutors no longer need to prove force, fraud or coercion against pimps of girls under 18. In addition, girls under 18 cannot be prosecuted for prostitution. Pimps can also be wiretapped under warrant and if they are proven to be traffickers, their assets can be confiscated. The proceeds are split between law enforcement and social service providers.
Trafficked girls are referred to Anne's House by the FBI, other law enforcement or non-governmental organizations, or sometimes parents, the founder said. The girls can stay as long as they need to, as long as they are moving forward, or until they age out at 21. Breaking the trauma bonds can take up to two years through a combination of "time, love, energy, therapy, neurotherapy, a heavy emphasis on psychiatric help," the founder said.
The home is dual-licensed by the Illinois Department of Children and Family Services as a group home and child welfare agency and funded by private donors. Girls volunteering to come to Anne's House agree to give up drugs, cell phones, X- or R-rated movies and promise to dress modestly and to keep the location confidential. Anne's House maintains two staff members at all times who monitor the grounds with Red Hawk security and the cooperation of local police, the Cook County Sheriff's Office and an FBI advisory board member.
However, the half-million dollar home is not clinical in nature with its well-kept lawn and flowers, the founder said. The girls eat off china plates, do chores and have study time. "The rules are not force-fed, you have to be methodical, incremental and loving about it," the founder said.
They also sleep two to a room for their own protection. Two in a room helps the girls look out for one another. If a girl is cutting herself, for example, her roommate will know and report it to the staff, thus possibly keeping a girl from bleeding to death, the founder said.
"We want to promote sisterhood because they haven't had it," the founder said. "They are all getting care for the same issues so they really identify with each other."
The girls attend regular schools. Many enjoy studying and are A students, despite irregular attendance earlier in their lives. One girl is on scholarship to become a pastry chef, thanks to a mentor/volunteer from Heavenly Creations who noticed her interest.
And a new therapeutic pastime among the girls is making beautiful Anne's House soaps, thanks to another volunteer who offered to show them how. The girls like mixing the lye, the aloe vera and the fragrance, and they understand profit margins. If the costs of ingredients are $1.89, the soap should retail for $5 a bar. They decide as a quorum how to spend the profits; with their first $1,000 they bought backpacks, not bling.
While at Anne's House, Latisha re-established consistent attendance in school and started getting her grades up. She started making friends at Anne's House and at school and was glad that she could do normal activities like going to the movies, skating and going to the gym. However, she still held on to the belief that Jay was her boyfriend (not a pimp).
She claimed that even though Jay had other girlfriends, she was his favorite. She often said she missed him and wanted to go back to him. She had to be constantly monitored to make sure that she would not try to see Jay or contact him via phone or Facebook. After eight months of therapy and education on healthy relationships Latisha realized that Jay was exploiting her, that he was a pimp — not her boyfriend. Then Latisha began establishing friendships with boys her age and made a commitment not to contact Jay again.
*Pseudonyms used to protect confidentiality.