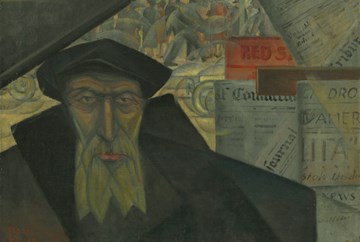 By: Barret Newell
April 3, 2013
In the early decades of the 20th century, Chicago was a burgeoning metropolis. It offered the promise of stability to immigrant and migrant workers in the forms of work, education and community. As a result, the city's population expanded dramatically during this time.
Often this period of growth is presented with just cold statistics of the city's shifting demographics. However, the Art Institute of Chicago's current exhibit They Seek a City explores the art world these newcomers to the Midwest established. It is a fascinating look at the struggles and triumphs of these various racial, ethnic and religious groups, who ultimately helped define Chicago's cultural identity as we know it today.
The first "Great Migration" refers to a period of time from roughly 1910 to 1930 when millions of individuals, mostly African Americans, relocated from the economically-depressed South to northern, urban population centers like Chicago, Detroit, and New York. As They Seek a City explains, this shift in population coincided with the immigration of hundreds of thousands of European and Mexican immigrants to the United States. People came to Chicago for different reasons and They Seek thoroughly delves into those various circumstances through approximately 80 works of art.
Sarah Kelly Oehler is curator of the exhibition and the Henry and Gilda Bookbinder Associate Curator of American Art. Oehler said three paintings held in the Art Institute's permanent collection inspired the development of the show. Todros Geller's Strange Worlds (1928), Walter Ellison's Train Station (1935), and Eldzier Cortor's The Room No. VI (1948) depict what an outsider-come-citizen may have experienced in Chicago during this time.
Other displayed artwork includes paper media, paintings, woodcut prints, sculpture and ceramics. Additionally, there are works of photography and notable books on the topics of social justice and migration from the period, including the show's namesake by Arna Bontemps and Jack Conroy. While diverse in content, the show has a strong undercurrent of expressionist styling. In much of the work, the restrained abstraction, the stylizing of the human figure and face, and the colors chosen seem to heighten the emotional resonance of the subject matter. It leaves a pervasive sense the artists of this era sought to convey stirring, communicative narratives as much as literal ones. Oehler explained: "They're never going to place purely formal concerns over the importance of conveying an idea or message."
However, she also pointed out these artists were by no means holding back stylistically. "We often think of Chicago as this conservative art culture and yet I think certainly a lot of these artists were well-versed in more modern ways of expression," she said. The Cortor painting (The Room No. VI) demonstrates this particularly well. While it features the squalor of Chicago public housing at the time, it is also a strong example of ingenious stylistic choices. Highly texturized paint is applied to a wood stove to indicate rust and decay. Also, a thin nude shares a bed with several other figures as a nod to issues of hunger and over-crowding. The flattened perspective causes this central form to appear as though it is standing upright, looking elegant rather than weary. The form may represent an struggling individual, but it is rendered with dignity.
For most of the artists, relocation to Chicago meant gaining the freedom to speak their mind on not just local topics, but also those related to their family's place of origin. Southern black artists could create images depicting the racial violence and injustices they witnessed in the South without facing retaliation. Many European immigrants could speak up for the first time about the experiences of political and religious persecution in their former home countries. German-born artist Carl Hoeckner's The Homecoming (1935) shows an endless sea of nude, emaciated bodies walking towards the viewer, capturing the trauma and horror experienced by Jews who immigrated to the United States to escape certain death if they remained in Eastern Europe.
The work in the show, however, is not all of a darker or "political" nature. There are many colorful and romanticizing works illustrating the nation's captivation with Mexican culture at the time as well as works of portraiture. The opening centerpiece is the vibrant Archibald J. Motley painting Nightlife (1943). One of the artist's most well-known works, this painting captures the high energy of Chicago nightlife in a bar scene full of lively dancers and happy patrons rendered with vibrant shades of red and violet.
Oehler was also able to describe what makes the art unique to Chicago. Artists in Chicago were not just living amongst each other, they were interacting in ways that kept them very aware of what others in the community were creating. The community was far smaller than that of the more-established and sprawling New York. Therefore it was much more close-knit. Chicago artists borrowed stylistic themes and even narratives from each other across an entire community, not just smaller social circles. Many also shared a similar interest in exposing social injustice through their art.
Did the artists consider themselves to be documentarians of their lives and surroundings or were they activists? Oehler responded: "I think many of them would have thought of themselves as more political activists." They believed their subject matter "warranted a vigorous means of expression that would draw attention [to their subjects]."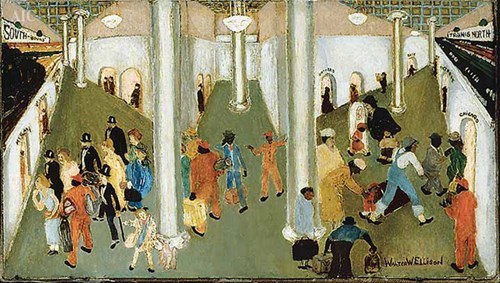 There are distinct themes in They Seek a City and the discourse between artists is well-illustrated because of it. "I think what I'm really proud of doing is showing that this really was a community," Oehler said. "Even though we tend to sort of sub-divide and parcel out different parts of the art world, or frankly of our Chicago world, that was not the case at this time."
Seeing these works together also illustrates how the personal can be political, especially in art. It is an enriching way to become acquainted with Chicago's history and those who experienced it firsthand.
Seeing these works as an ensemble also illustrates how the personal can be political, especially in art. We get a vivid picture of Chicago history from these people who experienced it firsthand.
A very interesting and in-depth catalog by Oehler accompanies this exhibit for those looking to learn more on the subject and the art on display. Those who share their family migration stories at theyseekacity.tumblr.com will be automatically entered for a chance to win one of the catalogs. The exhibit extends through June 2.