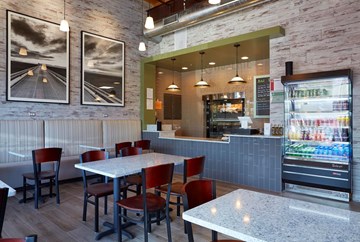 By: Liz Mengyan
August 10, 2016
A new hot spot has just popped up in the north suburbs of Chicago! Avli Estiatorio is a local Winnetka favorite and it just opened a sister location, Avli Rotisserie, both located in the Laundry Mall off Chestnut Street in Winnetka. It is known for its authentic Greek food including homemade items like macaroni & cheese and gyros. Veteran StreetWise vendor Gerald Farmer has been a long-time customer of Avli Estiatorio. He has sold StreetWise magazines across the street for the past 10 years.
The new location, Avli Rotisserie, opened this past May and features a smaller menu, but the food's quality and authenticity has not been compromised. "If you are a person who likes gyros, pork shoulder, macaroni & cheese, or authentic-type pizza, this place is for you," Gerald says. When visiting the new location, Gerald ordered Avli's new Berkshire Rotisserie Pork Roast. It comes in your choice of a sandwich or rice bowl and in three styles: plain, tamarind BBQ, or housemade mustard. Gerald opted for the Tamarind BBQ and recommends it to new or returning customers. While Avli serves traditional and authentic Greek food, it still caters to those whose roots are embedded in Chicago.
Avli Rotisserie, as Gerald describes it, has more of a "fast-food" feel compared to Avli Estiatorio, which is more of a sit-down family restaurant. "They do have chairs outside so when the weather is nice you can sit outside and eat," he said. Another great feature of the Avli restaurants is the kindhearted and proud owner, Louie Alexakis. Since Gerald has been working and selling StreetWise magazines for close to a decade near Avli, he has gotten to know Louie and his staff. "They treat me very nice when I go there," Gerald smiles, and also mentions Louie has offered him free meals in past when he wasn't able to purchase any on his own.
Louie Alexakis comes from a long bloodline of hard working restaurateurs and gets his cooking enthusiasm from his mother's side. His great-great uncle came to Chicago in the 1880's and started the trend; selling bananas at the World Expo in Chicago in 1893. Shortly after WWII Louie's mother came to Chicago and eventually opened nine hot dog concession stands, which she operated in the Chicago Park district for over 50 years. Today, you can still see Louie's mother at the age of 85 coming into Avli to help run the shop!
So the next time you are hungry and up in the NorthShore, stop by and try Avli Rotisserie or Estiatorio. You'll eat amazing food, be greeted by a friendly staff, and be supporting a kind and generous family business.