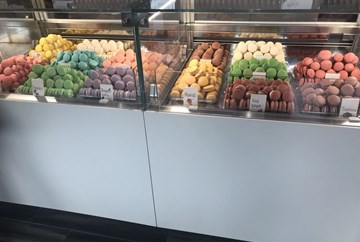 By: Alexandria Maloney
July 15, 2019
In Uptown, StreetWise vendor V.W. visited family-owned Ba Le at 5014 N. Broadway. In addition to Ba Le, the daughter also opened T'Oui Macaron & Patisserie in June 2018. You can go from Ba Le right into T'Oui through a side door. Both are part of Asia on Argyle businesses and are relatively close to the CTA Broadway 36 bus stop and the Red Line Argyle stop. She visited both restaurants more than once and the employees were great at both. She promises to visit again.
Ba Le is a medium-sized restaurant. It has many different types of seating options including window seats, booths, and tables near the back of the restaurant. In the summer, Ba Le has seating outside their sidewalk patio. It also has nice, clean bathrooms for customers to use.
The fresh-prepared, packaged foods get taken up quick. All meals are under $10 and vary in price depending on size. Small and medium meals are $3.95-$5.95. Large meals are around $8.95. Food options include rice, chicken (legs or thighs), pork, and salads (shrimp and garden). Ba Le's sub sandwiches are $6.95 and looked about eight to nine inches long. Sides ranged in price from $1.65 to $2.95. V.W. suggests you get there before noon to get the best options. In addition to the meals, they also sell fruit smoothies and desserts that look like sushi rolls. Fillings looked like beans and coconut rice that was vegan and wrapped in a leaf.
V.W ordered an avocado smoothie that had a very sweet fruit flavor, almost like ice cream, as well as a fried shrimp roll. The shrimp roll came wrapped in clear noodles and the shrimp tails extended out of the roll. She also got a soda pop from the refrigerator behind the counter. Altogether, her order came to $9.29.
Afterwards V.W. went next door to T'Oui. T'Oui is also a medium sized restaurant with a comfortable atmosphere. It features wide seats and pine wood tables that can seat four people. Utensils and napkins are self serve. T'Oui had many drink options including bottled, iced, hot coffee, and matcha green tea. They also have a variety of frozen yogurts including plain, green tea, and rotating selections. Other desserts included cookies, handmade candy, croissants, and single serve cake. They also have whole small and large cakes available.
V.W. ordered plain frozen yogurt and a waffle topped with strawberry slices. You bypass the toppings for the waffles or yogurt if you are watching your sugar intake. She enjoyed the blend of waffle and yogurt. The yogurt had both a sweet and tart taste. She also ordered two small pre-packed cookies. Her order altogether came to $9.34.