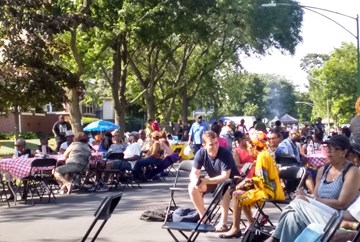 By: Patrick Edwards
September 2, 2019
First thing I saw when I crossed 74th Street on Paxton was a tent halfway down the block and a smattering of older, well-dressed, and very beautiful folks sitting around focused on something I couldn't yet see. As I approached, I caught the subtle A's and high C-notes and near-muted pluckings that held the guests rapt. Five young gentlemen popped those instruments (piano, bass, guitar, drums and trombone) as if they hailed from Arkansas and were already legends.
The 2nd annual Back Alley Jazz: Spinners Block Party edition was inspired by DJ-led events of the 60s and 70s and brought the funk to a gorgeous Saturday afternoon and evening July 27. Fans brought their own coolers and chairs to sit on lawns of willing hosts on South Paxton Avenue between 73rd and 74th Streets for the show created and led by Fo Wilson and Norman Teague. The well-kept and very nice homes, the manicured lawns, and, of course, the lovely sounds of jazz all meshed together to help create a masterpiece.
Musicians young and old pulled together to bring the people love. I had come in on Urban Aspirations, which pairs established musicians with younger ones with the intent of maximizing the latters' gifts. I could have listened to them the entire day and night. But as podcast giant Reggie G said, "Give the guys a round – or three—of applause and let's keep it moving."
Grand marshal Jimmy Ellis was up next and he got the party rolling – or more rolling. Saxophonist Ellis, 89, studied under Capt. Walter Dyett at DuSable High School and was inspired by Charlie Parker and the bebop era of the 1940s and 50s. He teared up as he said, "Music belongs to all the people – not just black folks. It belongs to all the people. It just starts with my people."
Then the "Ladies and Gentlemen of Jazz" kept the mood rolling as if there were no speed bumps or dead ends in sight. Interspersed with straight instrumentals, their jazzy and strong bluesy mix inspired a few steppers to light up the pavement.
Throughout the crowd, there were smiles and laughter, and reminiscences of old times on the block. Tracey returned from L.A. and ran into childhood friends she hadn't seen in over 30 years. Accompanying her were her two rescue dogs. She allowed one of them, a tiny white bundle of energy who had been found wandering dirty around South Central L.A., to play with children who jumped with joy at the sight of him and an earlier pooch she had rescued.
The Rush Hour Blues Band mixed old school R&B with their own sounds. They reached out into the crowd to cover The Temptations in a lengthy set, which ended up with line dance instruction that inspired many participants. Then they played background to a surprise guest: Godfather. He was good. Really good. And he even ended his surprise appearance with the unexpected blessing of a juke. He walked in with a cane, did some crazy legs move, then walked off with his cane. My man.
Back Alley Jazz was promoted as a means for the community to open up and be strengthened in its governing, its ability to resolve issues and the pooling of available resources. The Neighborhood Network Alliance, its sponsor, also hosts every-Tuesday "stroll and talks" in South Shore and "South Shore Speaks" every third Saturday at the Stony Island Arts Bank. Back Alley Jazz, however, became much more than just a tool to improve quality of life: it was pure love.
As one organizer said to me early in the evening, "It's more out here than just shooting and babies having babies and things like that. We can come together as we are and have a good time. One that can only bring us – all of us – together for the better good. It can be- and is – a beautiful thing."