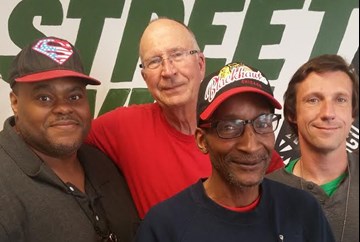 By: staff
October 16, 2017
Russell: Hello everybody and welcome to the next edition of SportsWise! It is time for the NBA season. Today we are going to do our predictions.
John: The Eastern Conference is pretty cut and dry. There are only two teams that can get to the NBA Finals. The first is the Boston Celtics, with newly acquired Kyrie Irving. The second is the Cleveland Cavaliers, who have picked up D. Wade. The rest of the East is going to be mediocre. The only other team that might be interesting is the Philadelphia 76ers. They are full of talented number one draft picks, especially Joel Embiid. If he can somehow stay healthy, this team can make the playoffs. Outside of that, the rest of the teams are like watching paint dry. In the Western Conference, Oklahoma City may make some noise, but I highly doubt it. Carmelo [Anthony] has poisoned every team he has been with. Houston plays well on offense but comes up short on defense. San Antonio is good, but they are getting older. You add all that up and Golden State will hop out of the West yet again. I'm picking the Warriors to win the Finals, but I wouldn't be surprised if the Cavs win either. Now Donald, what are your feelings about the NBA?
Donald: My feelings are: excitement, excitement, excitement! With Carmelo going over to the West, there are going to be a lot of interesting matchups. The Bulls, unfortunately, aren't even in the picture. I see Cleveland and Golden State coming back. Kevin Durant is the story. He's got a lot of power and scoring ability. LeBron James, for Cleveland, does a solid job commanding the game. It's going to be interesting to see what happens with the Oklahoma City Thunder and how Carmelo gets added to that offense.
Russell: I predict San Antonio, OKC, and Golden State will win their divisions in the West. Oklahoma is going to make a strong push because they've got Melo and [Russell] Westbrook. They are going for the crown. I'm not sure about Minnesota. Tom Thibodeau plays his guys hard. They've got a good team on paper, but we'll see if they're still healthy at the end of the season. In the East, I see Boston, Washington, and Cleveland. I see Philadelphia finally making the playoffs this year. At the bottom of the East, it's gonna be the Bulls. I know they're using this year to rebuild.
John: Minnesota, if they make the playoffs, is going to be so exhausted. They might want to change coaches. As far as the NBA, in general, it's going to be a lot like last year. Unless you think Cleveland or Golden State is going to get a rash of injuries, it's going to be those two teams at the top again. The biggest disappointment is the Toronto Raptors. The past couple years, they've been right on the cusp of going further in the playoffs. This year, however, they are going to take a step back. The Bucks are going to be a surprise this year and finish as one of the top four teams in the East.
Donald: I can't wait to see Golden State and what Kevin Durant is going to do. He's a mystical player. You don't know what his moves are going to be. He can roll in either direction and finish over defenders. He's Magic Johnson mixed with Kareem Abdul-Jabbar. Golden State is going to rack up a lot of wins. Cleveland and Golden State are going to go at it again, and LeBron James doesn't care what the Warriors think. He wants to shut them down this year. The Warriors and Cavs are going to battle for NBA supremacy.
Russell: Kevin Durant, Steph Curry, and Draymond Green - Golden State's set a deep lineup. OKC is going to meet them in the conference finals. They've got Westbrook, Carmelo, and Paul George, whom a lot of people are forgetting. On top of that, they've got a good coach. They're gonna be a good challenge for the Warriors. The most interesting team for me is Philadelphia. With all those draft picks, it's time to get down to action.