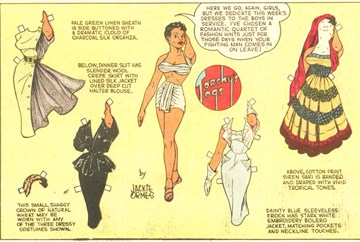 By: Suzanne Hanney
March 7, 2017
Over roughly 100 years between the Reconstruction and Civil Rights eras, African-American cartoonists created fanciful characters who looked fabulous, traveled the world on amazing adventures, and voiced pithy opinions on political issues.
Cartoonist Tim Jackson researched and wrote "Pioneering Cartoonists of Color," recently published by the University Press of Mississippi. His goal was to take readers on a decade-by-decade tour of creative contributions by African-American cartoonists in the Black Press from the 1870s through 1968, when mainstream press began to seek out Black lead comic strip characters and Black artists who drew them.
"I wanted to show that African-Americans made a contribution to the industry of cartooning and that often if their talent was good enough, they did get the good jobs," Jackson said in a telephone interview. "I wanted to make sure the world knew we as African-Americans made a contribution and wanted it to stop being a surprise whenever they found out someone was African-American: 'Wow, I didn't know Black people drew cartoons'. That was the seed of what made me do this. Yes, we've contributed something. It's not a big surprise. It's right there."
Jackson also wanted to provide the public with Black cartoonists' perspective on pivotal moments in African-American history: the Great Migration, race riots, the Great Depression, World Wars I and II.
A native of Dayton, Ohio and a graduate of the School of the Art Institute of Chicago, Jackson initially wanted to find more examples of people like himself and the life he lived. An older cartoonist who was still drawing for the black newspaper in Philadelphia shared scrapbooks from his youth, from which Jackson extrapolated the names of newspapers across the U.S. In addition to the Chicago Defender (for which Jackson was a cartoonist for 13 years) there was the New York Amsterdam News, the Pittsburgh Courier, the Baltimore Afro-American.
All of these newspapers were on microfilm at the Chicago Public Library's Carter G. Woodson branch on Halsted and 95th Streets, so starting in 1997, Jackson combed them for cartoons and obituaries of their creators. It turned out that other Art Institute alumni like Leslie Rogers, Robert S. Pious, Charles C. Dawson and E. Simms Campbell had also developed strips or single cartoons.
Jackson wrote an initial story on "African-American Cartoon Pioneers" in StreetWise in 2001 (Vol 9., No. 18 February 26-March 4) and later created the website, "Salute to Pioneering Cartoonists of Color," until he published the book.
"Cartoons spoke for the everyman, every Joe who could pick up a paper and read it had a character he could identify with," Jackson said. "Characters like Bungleton Green were important because he got into trouble like we did, got out of trouble and was the voice for the everyday person – something that is still needed," Jackson said.
Green was introduced to readers of the Chicago Defender as a "visitor to the staff" in 1919, although the strip did not appear until 1920. Initially Green was a little tramp who had to find ways to make a living but gradually he evolved into a regular guy who wore tuxedos.
Jackson doesn't see Green's attire as too fanciful but makes a comparison to his own parents – who always went out dressed in their best – and to the mainstream cartoon "Barney Google," whose titular character has worn a tuxedo since 1919.
Leslie Rogers created Bung Green and when Rogers' health failed in 1928, Green was taken over by Henry Brown, then by Jay Jackson in 1933 and later by Daniel Day, who had apprenticed to Jackson and been mentored by Rogers. Green at times had a wife (seen very rarely) and at times was a bachelor, although the Defender had a naming contest for his baby in 1930. Sometimes he was just a gag strip and at other times a serial.
Similar to a Barney Google situation, Green tried to stage a car accident to profit from the insurance but instead wound up being prosecuted for obstructing traffic. More often, readers could be engaged by his exciting exploits: he traveled to Africa and acquired a diamond mine, solved a mystery in Egypt, dabbled on Wall Street, became a Hollywood film star, helped out as a spy during the war against Ethiopia, then returned home to mentor a group of teens who were considering forming a street gang.
Jay Jackson, (no relation to Tim) who was also art director at Johnson Publishing (Ebony, Jet) in the late 1940s, was responsible for many of Green's adventure story lines. Earlier, in the 1920s and 30s, Jackson had penned another cartoon for the Defender, "Cream Puff: a Family Man." This cartoon, which ran on the sports pages, early on featured a prospective boxer and his trainer – the only person he couldn't beat -- who turned out to be the brother he never knew he had.
All these characters were plucky and made the best of their situations, always trying to improve their lives, Jackson said.
Simultaneously, the cartoonists discussed racial issues and mistreatment that their readers must have suffered. It was done jokingly, but with a political edge.
Jackie Ormes was a master satirist who created a variety of strips with characters much like herself: curvy and smart. Born Zelda Jackson (no relation to Tim) she created a gender-neutral nom de plume from her maiden name and her married name just as did Dale Messick, creator of the mainstream comic strip Brenda Starr, Jackson said.
Ormes' first strip was "Torchy Brown, from Dixie to Harlem," started in 1937 for the Pittsburgh Courier. Torchy was a pin-up character for black GIs during WWII because having a white pin-up would have gotten them into trouble, Jackson said.
Meanwhile, Torchy had incredible adventures all over the world. She took a nursing course to help a doctor friend who was running a hospital in the South but who because of his color, was deprived of a newly-built facility. The doctor wound up being the only one who could save the facility owner's ailing grandson after the owner's plastics manufacturing company had poisoned the ground water.
Another time, Torchy took a freighter to South America and had to fend off unwanted advances from the ship's second mate. This was in 1953, Jackson noted, way ahead of sexual harassment as an issue in the mainstream news. The strip finally ended in 1954, when the doctor proposed to Torchy.
In 1945, Ormes started a strip in the Pittsburgh Courier called "Patty Jo 'n' Ginger" about a young woman and her little sister who is savvy beyond her years. Patty Jo comments about the legality of the atom bomb compared to firecrackers and even about the murder of Emmett Till. As Ginger hides a newspaper behind her back with a headline about Till, Patty Jo says that their new white teapot just whistled at her: a reference to the alleged incident that caused a white mob to murder Till.
Also in 1945, Ormes created the "Candy" strip about a maid who ran her household, similar to the 1960s mainstream TV show "Hazel." The strip ran for one year on the Chicago Defender editorial page.
Ormes' regular job was as society page writer for the Defender. Because her husband managed the Sutherland Hotel at 47th and Drexel, she routinely met black celebrities who stayed there in the 50s and 60s before integration.
Since the late 1960s, "Blackness has become mainstream," Jackson said. The cartoon strip "Boondocks," for example, portrays black characters with strong points of view and language that are accepted in mainstream media.
"The characters didn't have to stop being what they were. They weren't presented in negative fashion. They were presented as people, with a certain attitude they brought with them," Jackson said. Simultaneously, the cartoonist had enough control over the strip that he was able to choose not to draw it anymore when it became a TV series. It's a far cry from the days when mainstream media ignored the black community.
Meanwhile, Jackson is casting a wider net on his research, to find more cartoonists on newspapers in smaller cities who may have captured everyday events otherwise lost in Black History.